Does Magic Kingdom Do Fireworks in The Rain?
Rain can really put a damper on a day in Magic Kingdom, especially when you've been eagerly waiting to watch the marvelous firework show.
Thankfully, Magic Kingdom doesn't halt its firework shows when there's only a slight drizzle. However, in the case of a downpour, the authorities wait for the weather to pass through the area before they go ahead with the fireworks.
In hindsight, rainfall doesn't cause an outright cancellation of the firework shows in Magic Kingdom. In most cases, there's only a slight delay in proceedings or removal of certain parts (Tinkerbell flying) from the firework shows.
However, you should bear in mind that there are other reasons fireworks can be canceled or delayed in Magic Kingdom. Let's go through some of them.
3 Reasons Fireworks can be Canceled or Delayed
Lightning
Fireworks can either be canceled or delayed if lightning is spotted within ten miles of Magic Kingdom.
Though guests may sulk over this Disney policy, it is obviously done for their safety.
Truth be told—when there's lightning, you should be more worried about seeking shelter than watching the fireworks.
Additionally, lighting in a nearby area also leads to a temporary shutdown of outdoor activities, shows (fireworks), parades, carts, and attractions such as Splash Mountain, Barnstormer, Thunder Mountain, Tomorrowland Speedway, Jungle Cruise, Dumbo, and Seven Dwarfs Mine Train.
The attractions are only allowed to resume operations once the lightning passes.
Thankfully, there are more than enough indoor Magic Kingdom options to keep you busy as you wait for the outdoor rides to reopen.
Indoor attractions such as the Pirates of the Caribbean, Under the Sea, Winnie the Pooh, Haunted Mansion, It's a Small World, and Space Mountain all continue operations, irrespective of the weather conditions.
Read More > Is Space Mountain Scary?
Technical Issues
Disney is well aware of the consequences of negative publicity and as such, always puts the well-being of its visitors at the forefront.
Therefore, if Disney doesn't feel confident enough to put out a safe firework display due to technical glitches, it will put a halt on proceedings.
However, rest assured that this situation rarely occurs. Even in the off chance that a problem arises, the firework shows are normally only delayed, not canceled.
Other Unpleasant Weather Conditions
Other unpleasant weather conditions such as snow, hail, tornadoes, high winds, and fog can also lead to a cancellation or delay in firework shows.
How to Keep Abreast of Firework Show Proceedings
Thankfully, Disney's Magic Kingdom isn't a theme park that keeps its visitors in the dark, in regards to proceedings that occur within its premises.
It usually communicates and relays major announcements either through the My Disney Experience app or through its audio system.
So, keep your ears open when there's a delay in proceedings.
You can take your queries to the cast members too as they are usually the first ones to be provided with updates.
Where Are the Best Places to Watch the Fireworks?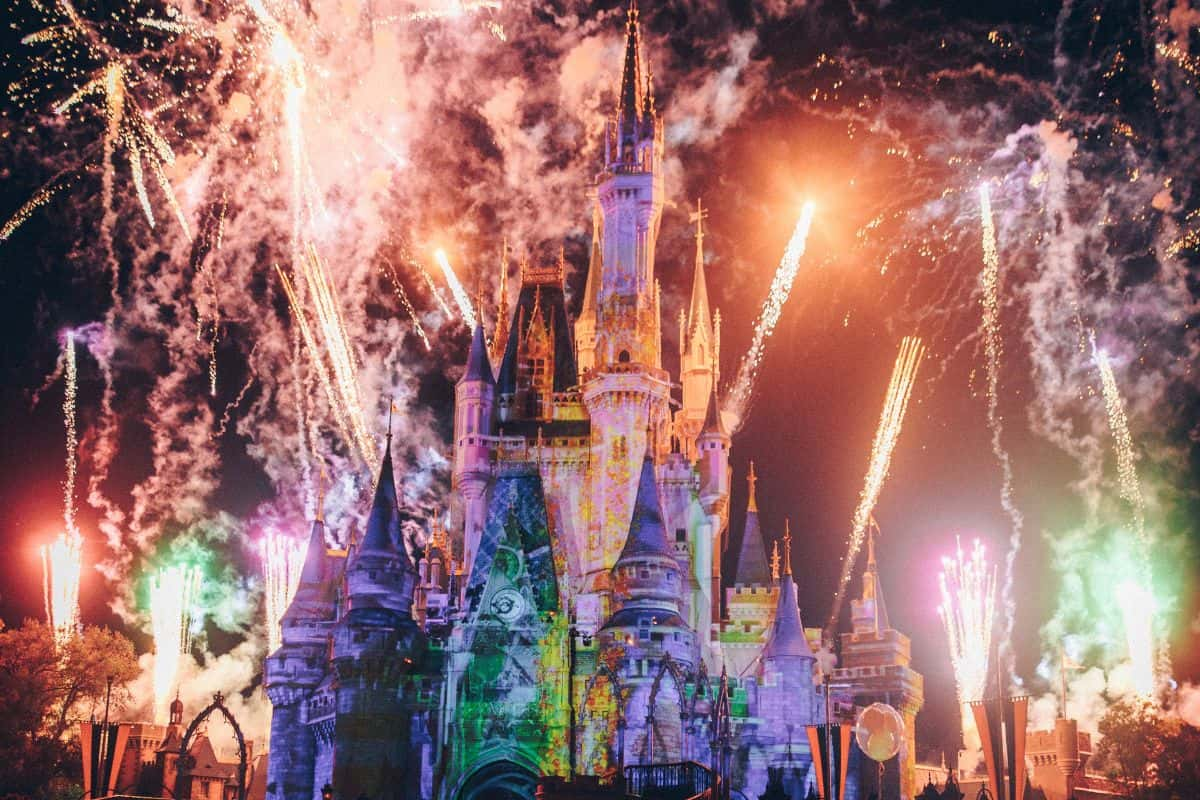 Now that you're aware that firework shows rarely get canceled in Magic Kingdom, it's time to identify the best places to watch the fireworks, apart from the front area and the area near the Walt Disney bronze statue.
We won't focus on those areas as securing a spot there is tough and requires you to get there well ahead of time.
Some of the other secret spots that can offer an equally beautiful view of the fireworks in Magic Kingdom include the Main Street in USA Train Station and the Fantasyland walls located directly behind Cinderella's Castle.
Additionally, you can also splurge on Fast Pass + to gain access to Disney's fireworks viewing areas.
Where Are the Best Places to Watch the Magic Kingdom Fireworks Outside the Park?
If you're outside the park but don't want to miss out on its fireworks, I'd recommend the following places: California Grill, 4th-floor observation deck, and Magic Kingdom bus stop in Contemporary Resort, Ferry dock, and Monorail station in Disney World's Transportation and Ticket Counter, and Gasparilla Grill patio and Grand Floridian boat deck in the Grand Floridian Resort and Spa.
You can also catch beautiful glimpses of the fireworks from the beach and the OHANA restaurant at Disney's Polynesian Village Resort.
Conclusion
A word of advice—you should go to Magic Kingdom bearing in mind the possibility that you might not be able to enjoy the fireworks due to inclement weather.
Irrespective of how you feel, Disney never compromises the safety of its visitors.
Therefore, it's best to manage your expectations especially when you go to Magic Kingdom during the Florida monsoon season (May to October).