Islands Of Adventure vs Busch Gardens: Which One Is Better?
Sometimes it isn't possible to visit every available theme park in one vacation.
Choosing where to spend time can be difficult, especially when two parks have similar reputations, amenities, and attractions.
Islands of Adventure and Busch Gardens are both home to amazing thrill rides and super-fast roller coasters, but which is "better" depends on what visitors are looking for.
Generally, guests should pick the theme park with more appealing rides and attractions and the one with the widest range of activities for their group. Overall, Busch Gardens is larger and has a bit more to offer than Islands of Adventure. It's not just a theme park – it's a zoo housing over 200 species of animals from around the world.
In this article, we'll discuss what makes Islands of Adventure and Busch Gardens great parks, highlighting their attractions and giving some advice about which one we think you should visit.
Where To Go: Islands of Adventure or Busch Gardens?
Islands of Adventure and Busch Gardens are two of the best theme parks in the United States and determining which one is worth the time and money can be a challenge.
What Makes Islands of Adventure Great?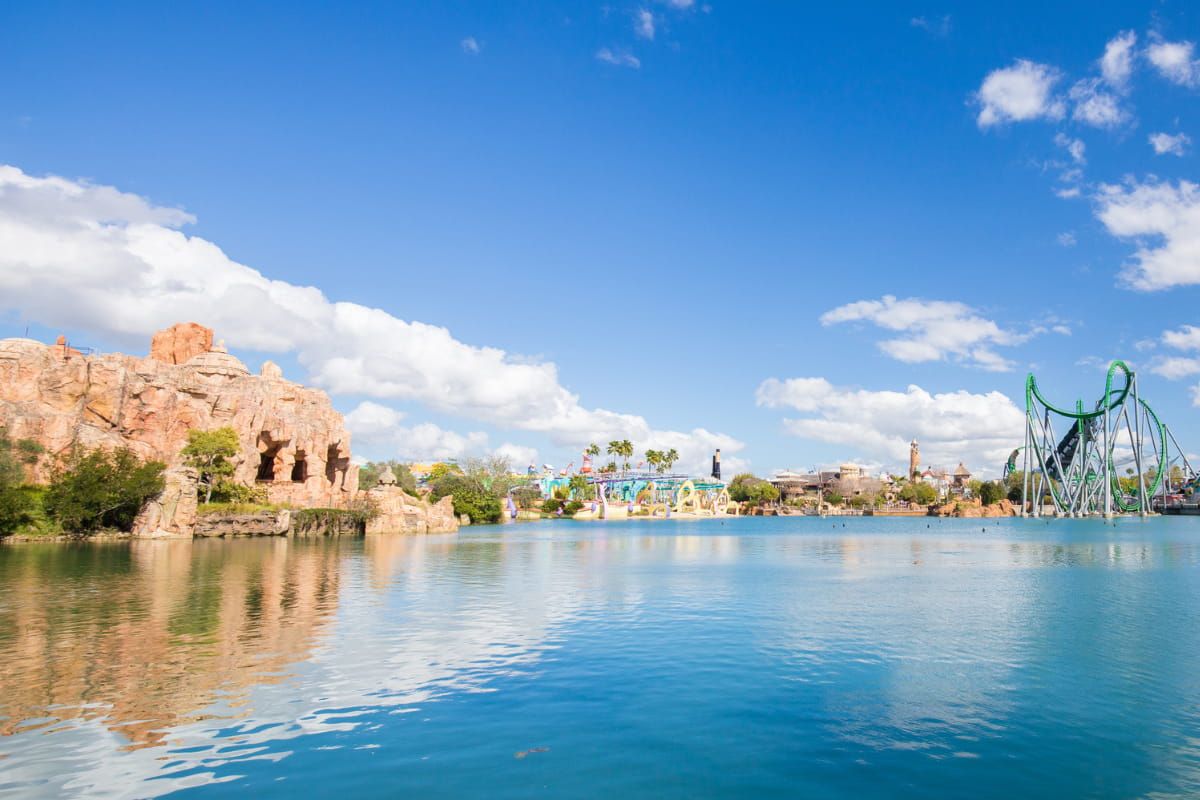 Islands of Adventure is a 110-acre theme park centered around the movies and TV shows created by NBCUniversal. It's the thrill-ride-focused sister of Universal Studios Florida.
While it doesn't offer many live performances, it has easy access to the CityWalk entertainment district, Universal Studios, and the Volcano Bay water park.
Whether you want to be chased by the dinosaurs of Jurassic Park, fly through the sky with Spider-Man, or stroll through a Dr. Seuss-inspired fantasy land, Islands of Adventure has something for everyone.
The ride selection at Islands of Adventure differs from Universal Studios Florida in that it caters to a more adult crowd.
It features way more thrill rides with taller height restrictions and only has a few kid-friendly rides.
That being said, there's plenty for kids to do, like meeting their favorite movie characters.
One big advantage of Islands of Adventure is its Harry Potter-themed area, half of The Wizarding World of Harry Potter shared with Universal Studios.
There are three Potter-based attractions, and guests can explore Hogwarts Castle and Hogsmeade village.
Islands of Adventure features 16 rides:
Flight of the Hippogriff
Hagrid's Magical Creatures Motorbike Adventure
Harry Potter and the Forbidden Journey
Pteranodon Flyers
Jurassic Park River Adventure Ride
Jurassic World VelociCoaster
Cat in the Hat Ride
High in the Sky Seuss Trolley Train
Caro-Seuss-El
One Fish, Two Fish, Red Fish, Blue Fish
Doom's Fearfall
Incredible Hulk Coaster
Amazing Adventures of Spider-Man
Popeye and Bluto's Bilge-rat Barges
Dudley Do-Right Ripsaw Falls
Skull Island: Reign of Kong
What Makes Busch Gardens Great?
Busch Gardens is a 336-acre theme park and zoo. It's themed around the African continent, with matching ride names and attractions.
The park is full of thrill rides, featuring some of the tallest and fastest rollercoasters in the world.
But don't let its reputation for adult-oriented thrill rides fool you – Busch Gardens is a great place for younger children as well, and there are plenty of rides for the little ones based on Sesame Street characters.
In addition to their massive coasters and passive kid's rides, Busch Gardens functions as a large zoo. In fact, they're one of the most highly-accredited zoos in America.
The park is three times as large as Islands of Adventure, mostly because of its large animal exhibits.
Guests can traverse a 65-acre safari area via a raised walkway, viewing many animals from the African Plains.
They also offer multiple behind-the-scenes tours that allow visitors to interact with many of their favorite animals, such as sloths, tigers, gorillas, and rhinos.
While primarily African and safari-themed, the park features animals from around the world.
Some of their most famous attractions include lions, elephants, tigers, penguins, and kangaroos. In total, you can watch and learn about over 200 different species.
Busch Gardens features 28 rides in total:
Iron Gwazi
Air Grover
Elmo's Treehouse Trek
The Count's Zambezi Rally
Rosita's Djembe Fly Away
Elmo's Safari
Snuffy's Elephant Romp
Big Bird's Whirly Birdie
Telly's Jungle Jam
Zoe-Patra and the Hippos of the Nile
Bert & Ernie's Watering Hole
Cookie Monster Canopy Crawl
Smiley's Sahara Sands
Cookie Monster Cloud Bounce
SheiKra
Stanley Falls Flume
Tigris
Wild Surge
SandSerpent
Kumba
Falcon's Fury
Congo River Rapids
Scorpion
Montu
Skyride
Cobra's Curse
Cheetah Hunt
Serengeti Express
So Which Park Should I Choose, Islands of Adventure or Busch Gardens?
It's hard to say definitively that one park is better than the other.
In truth, it all depends on personal tastes and what guests want out of the experience.
For families with small children, Busch Gardens is a better option. There are more rides and things for younger kids to do.
That said, even when traveling with children, there are plenty of heart-pumping rides at Busch Gardens for adults to enjoy.
Busch Gardens also operates as an amazing zoo if visitors want a park with more than just rides.
Some sections, like the Serengeti Plain, are separately ticketed but well worth the price of admission.
Adults who just want to spend the day going on thrill rides should choose Islands of Adventure.
The park is more suited to mature audiences, but there are still a few rides for the little ones to enjoy.
It's also the better option for super fans of Harry Potter.
The Wizarding World area in Islands of Adventure is based around Hogsmeade and lets fans of the franchise eat, shop, ride, and play out their fantasies in the magical world of Harry Potter.
If you can only visit one of these amazing parks, base it on what you want to do.
For a full day of thrill rides, character meet-and-greets, and extra nearby entertainment, choose Islands of Adventure.
Busch Gardens may be the better option if you want to combine thrill rides with a trip to a one-of-a-kind zoo or are bringing along small children.
Conclusion
Both Islands of Adventure and Busch Gardens are amazing theme parks with plenty of thrill rides, incredible attractions, and a variety of amenities to enjoy.
Busch Gardens is worth your time if you're traveling with small children or love animals and want to visit a zoo while on vacation.
If you love films and television shows and want to experience the magic of Harry Potter in real time, Islands of Adventure is the park for you.