Is Universal Studios Part of Disney World?
Considering their proximity to each other, it's easy to assume that Universal Studios is part of Disney World.
But how do you know if the two parks are part of the same company? We've looked into who owns both theme parks and discovered the answer for you.
Though both groups have theme parks in Florida and California, Universal is not part of or owned by, Disney. The Universal Company owns Universal Studios. Since separate entities are responsible for the theme parks, it's reflected in the different attractions.
To make it as simple as possible, Disney Parks focus on Disney-owned characters, products, and properties.
Disney World is the largest combination of Disney parks in the world, with four theme parks, two water parks, and a dining and shopping area.
Universal Studios focuses on other themes and properties that are owned by their group, as well as focusing more on rides and coasters over shows and experiences.
Universal Studios Orlando is made up of three parks, Universal Studios Florida, Universal's Islands of Adventure, and Universal's Volcano Bay water theme park.
Universal vs Disney
Universal is not part of Disney, but both groups have resorts in the same locations in Florida, California, and globally.
In Orlando, Florida, Universal Studios and Disney's Hollywood Studios are only separated by 12 miles (19 km).
Park Structure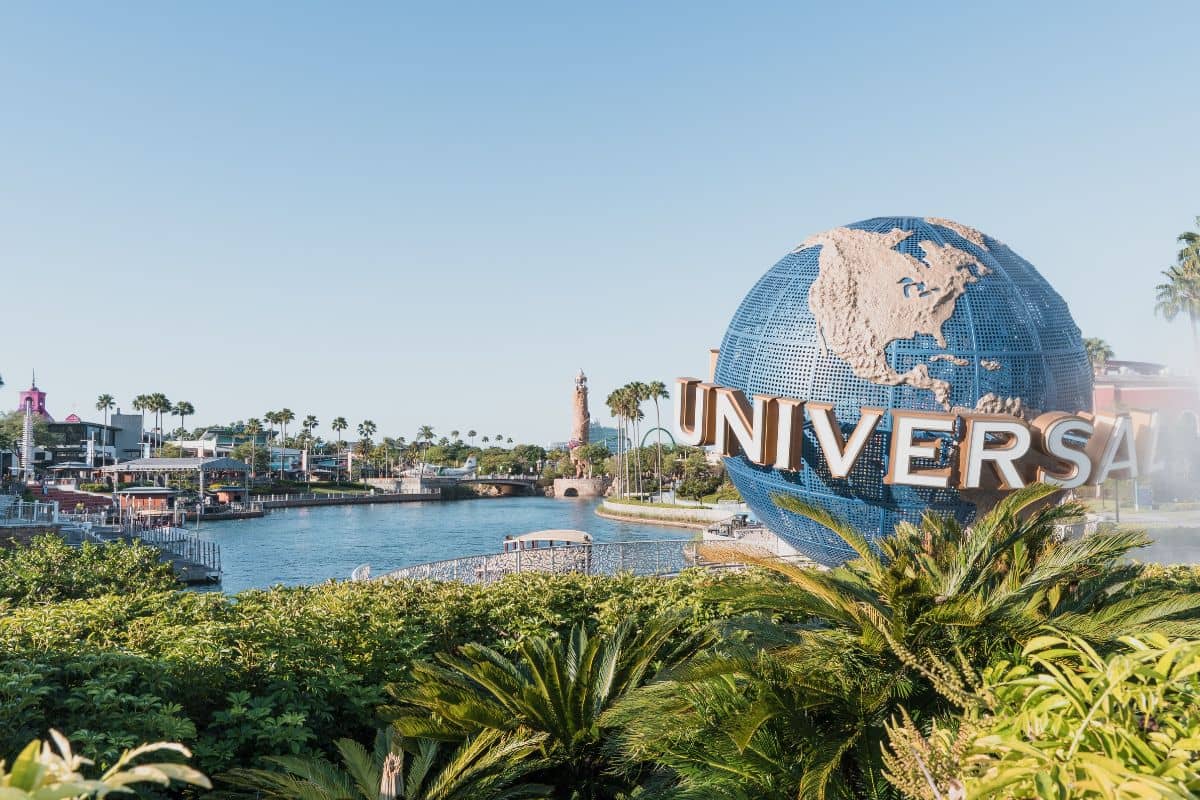 Both Universal and Disney World are massive resort areas that include parks, hotels, dining, and shopping centers. One major difference between them is their size.
Disney World covers 43 square miles (25,000 acres), about the same size as the city of San Fransisco. The four major theme parks, and main attractions, are Magic Kingdom, Animal Kingdom, EPCOT, and Hollywood Studios.
Also within the property are more than 25 hotels and four golf courses. The mind-blowing part of the property is that half of the area is undeveloped wetlands which are left untouched for conservation purposes and possible future expansion.
Universal Orlando is the second-largest resort in Orlando, but only covers around 541 acres of land. Three parks, Universal Studios Orlando, Universal's Islands of Adventure, and Universal's Volcano Bay are the main attractions.
They're currently working on another theme park, but the property includes over eight hotels and an entertainment district.
Theme Park Comparisons
Visitor numbers, themes, and attractions are pretty good indicators for comparing the two parks.
The attractions will have their own sections since they take longer to go through, but the first two are pretty straightforward.
In 2019, Universal Studios Orlando brought in 10.92 million visitors. The pandemic brought those numbers down to 4.1 million in 2020.
Disney World breaks its attendance down by park visitors for 2021: Magic Kingdom (21 million), Animal Kingdom (13.8 million), EPCOT (12.4 million), and Hollywood Studios (11.3 million).
Even individually, each Disney park rivals or massively exceeds Universal's visitor numbers.
When it comes to themes, both parks differ quite a bit but take their inspiration from movies.
Disney focuses on its own properties and you'll find Disney characters in every ride, show, shop, restaurant, and bathroom (no exaggeration). Mickey, Donald, Disney princesses, and Star Wars are all featured throughout the parks.
While the parks are full of rides, Disney focuses more on kid-friendly ones with roller coasters being the exception to the rule.
Guest experiences take precedent as well, with photo ops with characters, shows, parades, and extravagantly-themed areas.
Universal Studios is more of a thrill-seeker's kind of park with a focus on traditional rides. Big, adrenaline-pumping roller coasters are found more often in Universal, but they still have plenty of options for families and younger children.
Marvel characters like Spiderman have their own area of the park, as well as a section dedicated to the Transformers.
Universal has also focused heavily on Harry Potter themes, constructing fully-realized areas from the movie franchise.
The best but longest way to compare the two resorts is to look at a breakdown of the major attractions in each.
Universal Attractions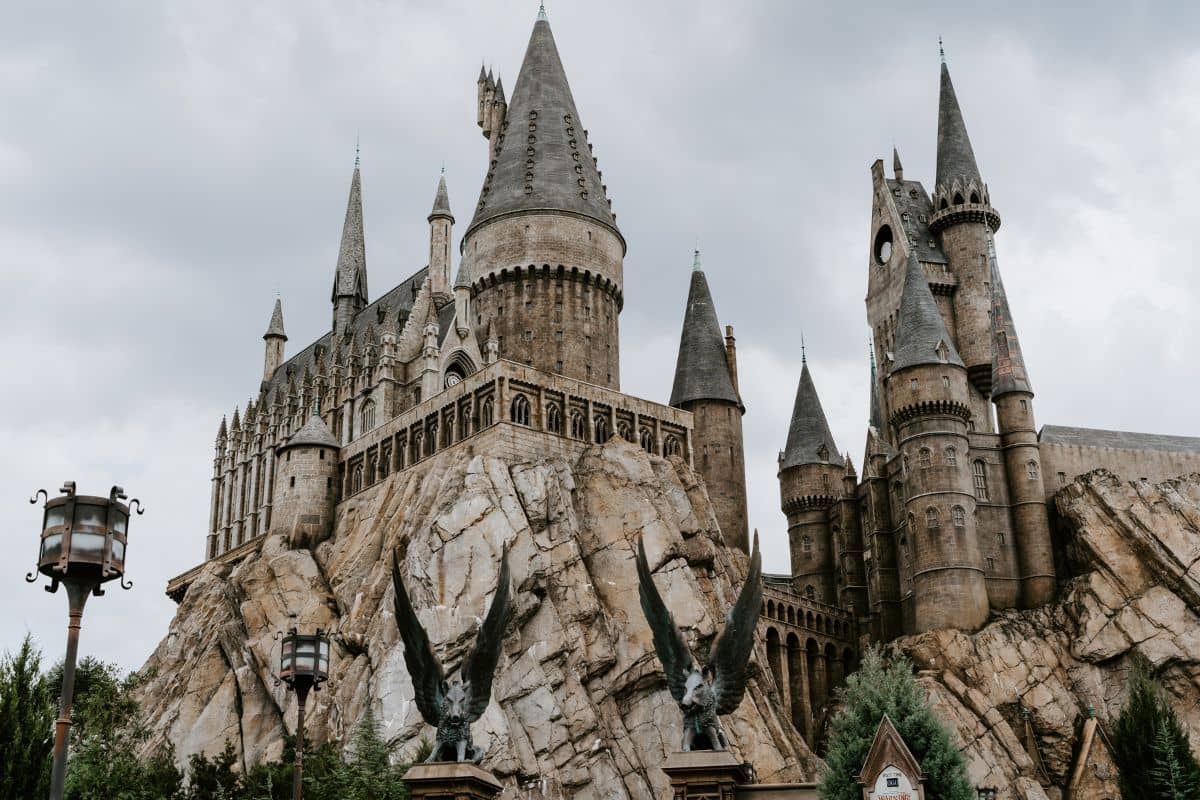 Universal Studios is made up of three parks, Universal Studios Orlando, Universal's Islands of Adventure, and Universal's Volcano Bay.
We'll start by looking at some of the top attractions in each park. One thing to keep in mind with Universal is that the parks are connected and can overlap in attractions thanks to their train that operates between areas.
Universal Studios
Despicable Me Minion Mayhem
Harry Potter and the Escape from Gringotts
Hogwarts Express
Stunt shows
Character Encounters
Jurassic world Velocicoaster
Hollywood Rip Ride Rockit
Universal's Islands of Adventure
Ripsaw Falls
Doctor Doom's Fearfall
Bilge-Rat Barges
The Amazing Adventures of Spiderman
The Incredible Hulk Coaster
Universal's Volcano Bay
Cabana Rentals
Krakatau Aqua Coaster
Waturi Beach
Lazy rivers, waterslides, swimming pools
Tube Rides
Disney Attractions
Disney World's main parks are Magic Kingdom, EPCOT, Animal Kingdom, and Hollywood Studios.
Magic Kingdom
Cinderella's Castle
Big Thunder Mountain Railroad
Splash Mountain
Haunted Mansion
Space Mountain
Pirates of the Caribbean
Character meetups, many shows, fireworks, and photo opportunities
EPCOT
Soarin'
Test Track
World Showcase of countries
IMAX shows
Mission: Space
International Flower and Garden
Animal Kingdom
With hundreds of live animals, the park is also a zoo
Kali River Rapids
Lion King Festival
Dinosaur Ride
Bug's Life show
Expedition Everest
Hollywood Studios
Twilight Zone Tower of Terror
Rock n Roller Coaster
Star Wars: Galaxy's Edge
Indiana Jones Stunt Spectacular
Walt Disney Presents
Film and animation history
Conclusion
Universal Studios is not part of Disney, though the two are the two largest resorts in Orlando. While they are competitors, Disney World typically dwarfs Universal in sheer size, visitor numbers, and the number of attractions.
Both resorts have amazing parks and can cater to any visitor's tastes. Each features all-inclusive lodging and park packages, but if you have enough time to experience both parks on your vacation, it's absolutely worth it.