Is Universal Studios Orlando Busy in February?
Trying to decide the perfect time to plan a trip to Universal Studios can be a challenge if you're not from Florida and unfamiliar with what months are busy at the park.
We'll be going over what to expect during a visit to Universal Studios Orlando in February, including how busy the park is at that time of year, whether ticket upgrades are worth buying, and the average weather you should expect.
Theme parks and resorts can be extremely crowded during peak season and this can make guests' experience less enjoyable.
One of the best months to visit Universal Studios Orlando is in February when the park is less crowded, you can usually get a discount on tickets, and Florida's weather is at its mildest.
February at Universal Studios Orlando
February is one of the best months to visit Universal Studios if you're looking to beat the crowds.
In the dead of winter, the park slows down, making January and February ideal months to visit.
The end of August and especially September are also slower months thanks to kids going back to school and the overbearing heat of Florida summers keeping families away.
How Crowded Is The Park In February?
February tends to be a slower month for Universal Studios Orlando.
Park crowd calculators expect much of the month to experience below-average crowd sizes for both Universal Studios and Islands of Adventure.
Weekends during February still tend to bring in above-average crowds though, with Mondays, Tuesdays, and Wednesdays bringing in the lightest attendance.
Ticket Prices In February
There are a lot of factors that go into ticket prices for parks, including time of year and specific date, expected attendance, special events, multi or single-day tickets, how far they're booked in advance, and ticket upgrades like the Express Pass.
A single-day, single-park ticket to Universal Studios Orlando has an average cost of between $109 and $154.
Slower days in February, such as the beginning of the week, will tend to be on the lower end of this spread.
Booking your vacation well in advance, catching special pricing on the park's website, or booking tickets for multiple days can lower the daily ticket prices as well.
Average Orlando Weather In February
Florida is a warm, humid state and the perfect winter vacation to escape frigid temperatures and snow.
In Orlando, the average daily high tends to be around 75 degrees Fahrenheit (23.8 degrees Celsius).
The nightly lows average around 54 degrees Fahrenheit (12 degrees Celcius).
It doesn't rain much in Orlando during the month of February either, with an expected four days of rain during the month.
January and February are the best months to visit the park when it comes to weather.
Summertime temperatures in Orlando exceed 90 degrees Fahrenheit (32 degrees Celsius).
This doesn't take into account the 90% or higher humidity expected that can bring the heat index to well over a sweltering 100 degrees!
Thanks to their mild winter weather, Volcano Bay water park and water attractions are open year-round and can still be enjoyed without freezing guests.
Are Express Passes Worth It and How Long Are Lines?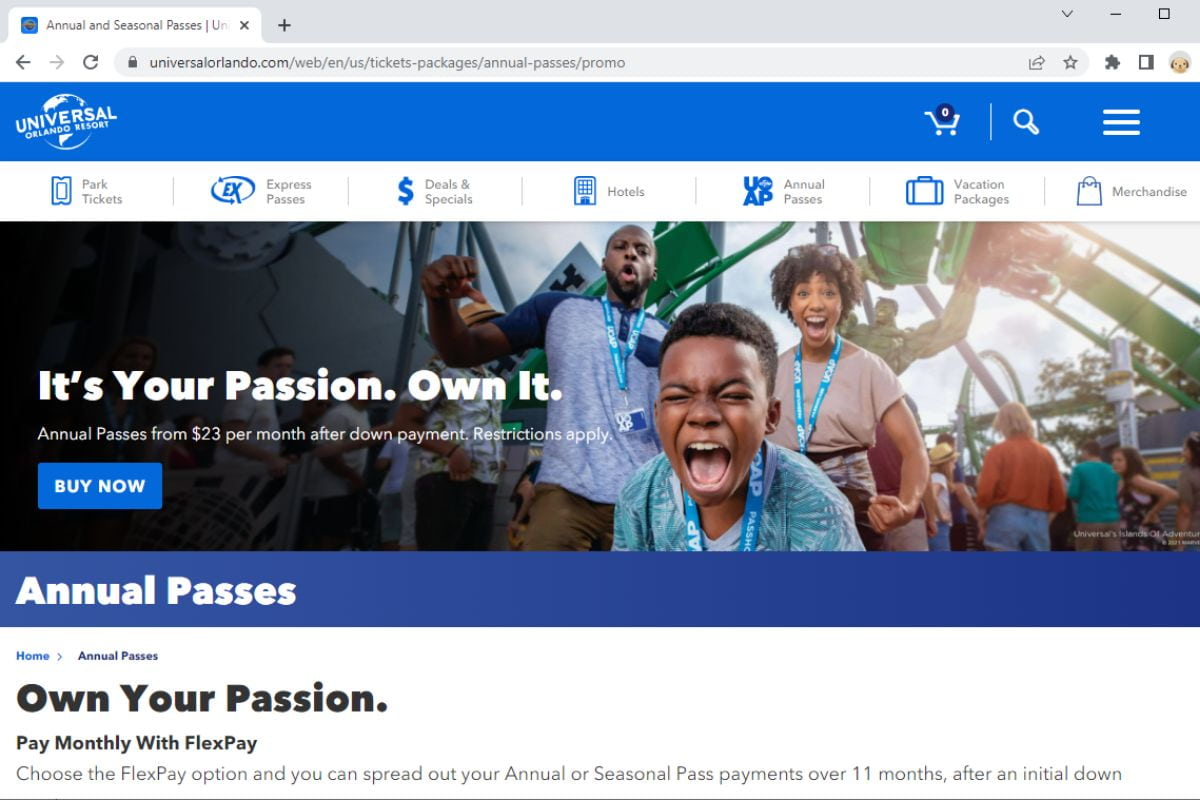 With the right planning, you can find significantly shorter wait times for attractions in February.
At peak times with large crowds, guests should expect to queue for anywhere from 30 minutes to well over an hour, depending on the popularity of the attraction.
Visiting the park in a slow month like January or February, you can expect shorter queue times for these same attractions.
This means you'd be waiting in line for anywhere from fifteen minutes to 45 minutes depending on the attraction.
If you get extremely lucky, you might be able to just walk right onto a ride during these slower times.
Express Passes are a ticket upgrade that gives guests access to a separate, expedited queue for attractions.
When the park is very crowded, this takes an hour wait time down to usually no longer than 15 minutes.
For some guests, Express Passes may not be worth buying during slower months.
Unlimited Express Passes are a $120 addition to the standard entry price.
During busy days, these can save hours in the park and are generally worth the cost.
When it's slow, they're not as valuable but will still save time you'd otherwise just be standing in line.
Express Passes can be added to tickets at any time while guests are inside the park.
If you're unsure of whether you'll want them, check queue times for attractions while you're in the park and then decide if the Express Pass will be worth it.
The Absolute Best Times to Visit Universal Studios Orlando
January and February are great months to visit Universal Studios Orlando.
The parks are usually less crowded during this off time and the weather is pleasant.
Ticket prices also tend to be lower, as expected attendance is also low.
Most of September is a great time to visit as well.
While you will be dealing with the end of the summer heat, the parks generally have below-average crowds.
Kids going back to school means much smaller crowds and ticket specials to keep attendance up.
If you don't mind crowds and aren't looking to save money on tickets, the special events at Universal Orlando are amazing times to visit.
Seasonal events are the largest, including Halloween Horror Nights, Christmas in the Wizarding World of Harry Potter, Grinchmas, and Mardi Gras.
While booking, check for any events going on in the park, whether it be a live concert or one of their large seasonal events.
The parks will have different pricing for these tickets and will expect larger crowds, so avoiding these days can help save money and experience the park with fewer people around.
FAQs
When are the worst times to visit Universal Studios Orlando?
The worst time to visit Universal Studios Orlando is the middle of summer.
Not only are June, July, and August peak seasons for the parks, but they're also ridiculously hot.

During these months you should expect to see heavy crowds and have to deal with extremely high heat indexes.
The week of a major holiday is also a bad time to visit the parks.
Thanksgiving, Christmas, and New Year all see huge attendance numbers.
Ticket prices will also be at the high end of their spectrum and add-ons like Express Passes will be needed to avoid spending most of the day standing in line.
What are the cheapest months for park tickets at Universal?
The cheapest months to visit Universal Studios Orlando are the slowest months that don't have any seasonal events.
January and September are the slowest, with a post-holiday lull and kids going back to school respectively.
You'll usually find online ticket specials for these times of the year, letting you snag tickets for cheap.
February is a close third and is only not included because of Universal's fairly new Mardi Gras celebration.
This event takes special pricing and runs nearly the entire month of February this year.
Conclusion
February is generally less busy than most of the year for Universal Studios Orlando.
Below-average crowds are expected and the weather is usually pleasant, making it one of the best times to visit the park during the year.