How Scary Is The Big Thunder Mountain Railroad At Disney World?
Towering from the back of Magic Kingdom stands the crumbly orange peaks of Big Thunder Mountain.
Looking closely, Walt Disney World parkgoers will see pitch-black tunnels and rickety tracks crisscrossing the mountainside – and might be intimidated by its formidable size and the occasional screams from within.
For guests wondering how scary the Big Thunder Mountain Railroad is, the answer is 'mildly.' This roller coaster-like attraction does jostle riders around, often in the dark, but its speed is moderate, and the drops, twists, and turns are manageable. The Big Thunder Mountain Railroad is suitable for all riders as long as they meet the minimum height requirement.
This article explores just how daunting the Big Thunder coaster really is, discussing its stats, features, backstory, target audience, wait times, and possible ride alternatives.
Where Is the Big Thunder Mountain Railroad Located?
Big Thunder Mountain is embedded in the back corner of Frontierland in Walt Disney World's Magic Kingdom theme park.
If its large orange existence isn't indication enough, guests can find Big Thunder Mountain next to its counterpart Splash Mountain, across from Tom Sawyer Island.
Visitors can map out their quest to Big Thunder Mountain by downloading the MyDisneyExperience app.
How Big Is the Big Thunder Mountain Railroad?
Based on the name alone and its looming presence in the park, it's safe to say that Big Thunder Mountain is, well, big.
The Mountain itself is 104 feet tall (32 m), and the actual lift hill is 50 feet (15.2 m) high.
What Are the Ride Features of the Big Thunder Mountain Railroad?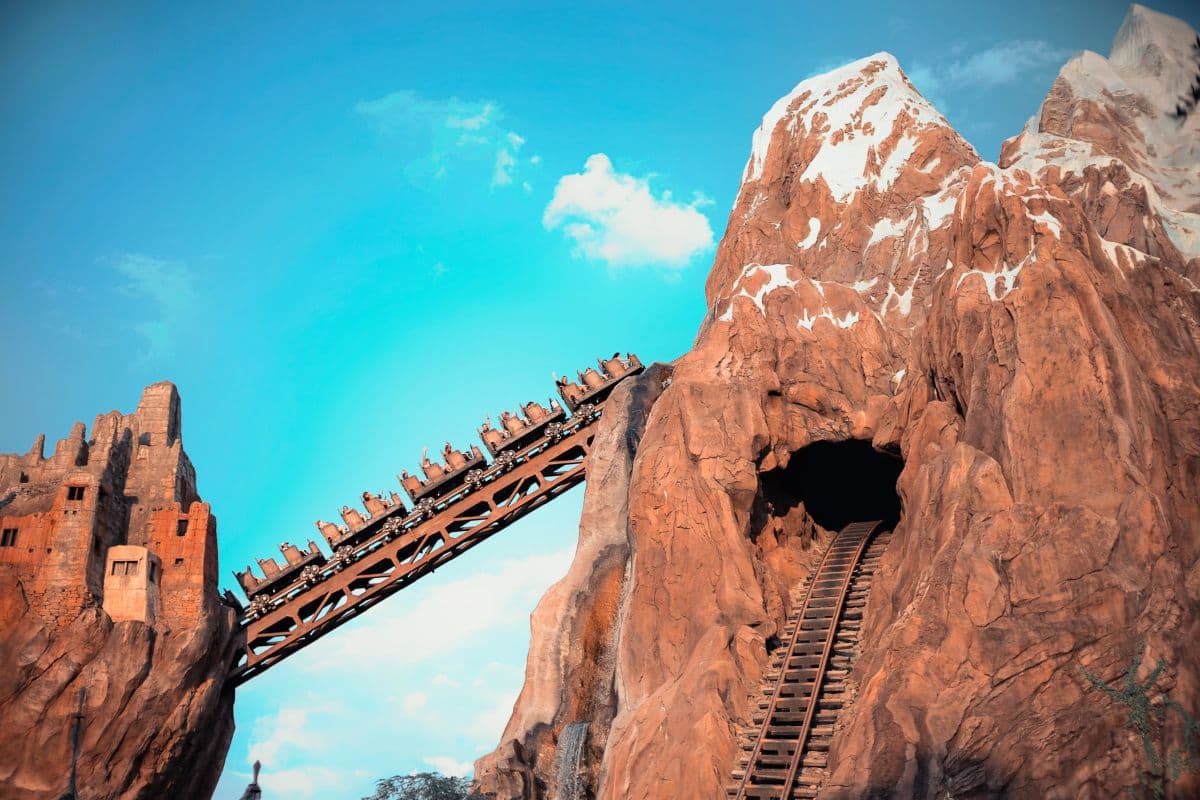 The Big Thunder Mountain Railroad offers an exceptional mix of tolerable thrills and immersive design.
Thrills
Even though the size of Big Thunder Mountain is daunting, the coaster itself offers moderate thrills.
Guests should expect a bumpy ride along Big Mountain's rickety vintage-style track.
They'll need to hold on tight as they lose their center of gravity while the open-air train cars jolt them from side to side.
However, fear not when it comes to drops – Big Thunder Mountain descends with ease and loses its momentum just before your stomach can tie itself in knots.
Cautious riders can also rest assured that Big Thunder Mountain has no inversions.
The coaster is decently fast, traveling at 30 mph (48 km/h), but the lack of straightaways dampens the speed, and the entire ride is about three minutes long.
Design
From the queue to boarding, the Old West design teleports guests to the mining days of the American Gold Rush.
The line weaves through the abandoned mining company's offices and fake explosion rooms filled with 19th-century memorabilia.
The ride then roars its way through a cursed cavern filled with bats, dark tunnels, geysers, and dug-up dinosaur bones.
Who Can Ride the Big Thunder Mountain Railroad?
The Big Thunder Mountain Railroad is a family-friendly coaster everyone can enjoy.
With its subtle introduction to classic roller coaster features, Big Thunder Mountain is a great beginner ride for aspiring thrill seekers.
With that being said, all riders must be at least 40" (102 cm) tall, and it is often recommended that children be over the age of five.
What Is Big Thunder Mountain's Backstory?
All rides at Disney World often have a backstory, and Big Thunder Mountain is no different.
Set in the Old West, the Big Thunder Mining Company reportedly discovered gold at Big Thunder Mountain in the 1850s.
As the story goes, mysterious events have been occurring ever since these riches were discovered.
Trains start up on their own and venture through dark tunnels, cursed caverns, and the creepy ghost town of Tumbleweed.
While riders set off on their own eerie departure, this haunting backstory doesn't play much into the actual ride itself.
That said, guests who overlook the backstory while in the queue can miss this coaster's "haunted" concept altogether.
What's the Seating Like on the Big Thunder Mountain Railroad?
On this shaky ride, it's helpful to know what the seats are like and which cater to specific experiences.
Seating Features
The Big Thunder Mountain coaster has long seats that can fit two adults or one adult and two small children per row.
Each seat is fastened with a pull-down lap bar to safely secure passengers in place.
Where's the Best Place to Sit?
The best place to sit and experience all the technical features and Big Thunder scenery is nearest the front row.
However, riders directly in the front row might encounter sightline obstructions from the faux locomotive pulling the train.
For guests looking to increase the thrills on the Big Thunder Mountain Railroad, seating towards the back offers a more chaotic ride.
When Can You Ride the Big Thunder Mountain Railroad?
For those eager to experience this authentic roller coaster, the following explains when Big Thunder Mountain operates, how long the wait times are, and the best time to ride.
When Is Big Thunder Mountain Open?
The opening hours for the Big Thunder Mountain Railroad fluctuate.
For daily information on operating hours, guests can visit the official Disney World website and use their calendar feature.
What Are Wait Times Like at Big Thunder Mountain?
Big Thunder Mountain is part of the iconic mountain trio in Magic Kingdom: Big Thunder Mountain, Space Mountain, and Splash Mountain.
Big Thunder Mountain is close to Splash Mountain, so the queue can get quite long as guests like to ride them one after the other.
This tendency makes the area busy and hot under the Florida sun.
To avoid crowds, heat, and long lines, guests can use the MyDisneyExperience app to monitor wait times.
When Is the Best Time to Ride Big Thunder Mountain?
While daylight offers a clear view of the ride's intricate design, visitors also rave about riding Big Thunder Mountain after dark.
The nighttime might add to the eeriness of the ride, but this unease is sure to be soothed by enchanting lighting and amazing views of the Castle.
For the full Big Thunder Mountain Railroad experience, guests should consider boarding the train both during the day and at night.
Is There a Tamer Alternative to Big Thunder Mountain?
If the kids don't meet the height requirements or Big Thunder Mountain looks a little too intense, the Seven Dwarfs Mine Train is a great alternative.
In fact, the two rides are often confused with each other due to their similar themes.
For guests wanting to feel the rush of the railroad, the Seven Dwarfs Mine Train is another mild thrill ride with small drops, tilted tracks, and creaky turns.
Riders can explore an old mine shaft, encounter the melodic seven dwarfs, and discover sparkling jewels amid the darkness.
This attraction is slightly more kid-friendly than Big Thunder Mountain, with a minimum height requirement of 38" (97 cm).
Which Rides Are Scarier Than the Big Thunder Mountain Railroad?
It's time to revisit Big Thunder Mountain's mountainous relatives.
Space Mountain and Splash Mountain offer even scarier experiences for the avid thrill seeker.
Guests only need to travel a few steps away from Big Thunder Mountain for an increased fear factor at Splash Mountain.
Splash Mountain includes 950,000 gallons of water and tons of thrills.
This classic log flume ride is filled with animatronics, dark passages, teaser drops, and one epic 5-story (16.5 m) drop that guarantees a massive splash.
Currently, passengers must be a minimum of 40" (102 cm) tall to take the plunge.
The scariest peak at Magic Kingdom is Space Mountain.
While only blasting off at a top speed of 27 mph (43 km/h), the ride's special effects and twists and turns in the darkness make Space Mountain all the more thrilling.
With the tallest height requirement of all three mountains, guests must be 44" (112 cm) or taller to ride.
How to Know if the Big Thunder Mountain Is Too Scary
Everyone's tolerance for excitement and fear is different.
Whether the Big Thunder Mountain Railroad is too much depends on what each rider considers scary.
Groups with small children or uneasy riders might want to err on the side of caution.
Big Thunder Mountain's shifty ride is said to be moderate, but its jostling might be startling to some people.
Visitors should also consider the attraction's features.
If dark caverns, rickety tracks, bats, or dynamite seem unsettling, this ride might cause a good scare.
On the other hand, guests who constantly ride roller coasters or love a good thrill might find this particular coaster to be calmer.
Conclusion
In general, the Big Thunder Mountain Railroad is mildly scary but intended to be enjoyed by families.
Despite its size and speed, the roller coaster sticks to the basics when it comes to ride features and offers incredible designs and technology.
Guests trying to gauge how scary this coaster is will have to consider its layout and assess the fear factor for themselves.
Those who want something a little gentler can opt for rides like the Seven Dwarfs Mine Train.
Parkgoers who want Big Thunder Mountain's scares (and then some) have two more treacherous mountains to conquer.