How Far Are Universal Studios Orlando and Disney World?
Travel plans always include a solid itinerary and that requires knowing how far away different attractions are in relation to each other.
We encourage you to read on as we discuss the distance between Disney World, Universal Studios, and a few other major Orlando attractions.
Orlando, Florida is the theme park capital of the world, boasting the largest, most numerous, and most expansive theme parks you can find.
The two largest park groups, Universal Studios, and Disney World are both located there.
Only around 9 miles separate the two parks, making it incredibly easy to get between them.
Distance Between Universal and Disney World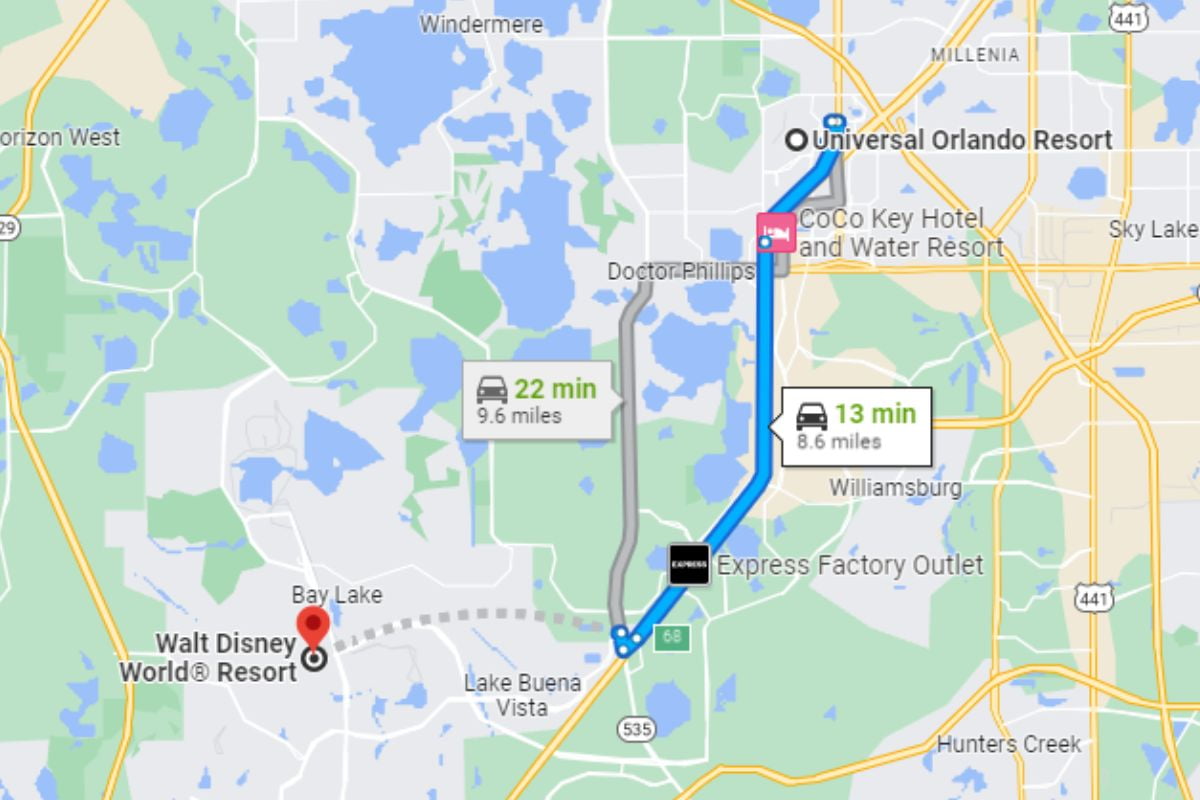 Universal Studios is located 9 miles away from Disney World in Orlando. Accounting for extra drive time due to traffic, you can travel between the two parks in as little as 15 minutes.
Disney World is located directly off of Interstate 4, the highway that is the main thoroughfare between it and Universal. The drive time and distance can be a little confusing though, thanks to both park's expansive property size and parking areas.
Size of the Parks
Universal Orlando and Disney World are the two largest resorts in Orlando, both in visitor numbers and in size. While competitors, Disney World dwarfs all other resorts in both categories.
Disney World owns and covers over 25,000 acres of land, around 43 square miles. Around half of that land is left undeveloped to allow for future parks and projects, as well as conserve the wetlands they sit on.
In comparison, Universal Orlando's resorts, parks, and attractions only cover around 840 acres of land. Most of it is developed, however, Universal nearly doubled the size of its lands in recent years.
The size of the two theme parks is due to the fact that both Disney World and Universal Studios are really a conglomeration of parks, resorts, and other attractions rather than individual theme parks themselves.
Breakdown of Park Structure
As previously mentioned, both Disney World and Universal Orlando are resort areas that include hotels, theme parks (multiple), shopping, dining, and live entertainment venues.
Theme parks are the major attractions for each, and both resorts contain parks themed around popular movies.
Universal Orlando has three major theme parks: Universal Studios Orlando, Universal's Islands of Adventure, and Volcano Bay (a water park).
The parks are full of coasters and exciting rides, but also have shows, parades, and character meet-and-greets.
Universal's resort area also includes more than eight hotels and a couple of entertainment districts.
Disney World has four major theme parks: Magic Kindom, EPCOT, Animal Kingdom, and Hollywood Studios. The resort includes two water parks (Typhoon Lagoon and Blizzard Beach) and a Downtown Disney shopping district.
Located on the resort grounds are over 25 hotels, four golf courses, multiple live entertainment districts, and plenty of shopping.
Considering the size of the parks, it can also be helpful to know how to travel between them as well as inside of them.
Transportation
Each resort offers transportation from their massive parking areas to the parks, as well as transportation inside and between their own parks.
Connecting both Wizarding Worlds of Harry Potter is the Hogwarts Express train ride. It's an excellent way to get between Universal Studios and Islands of Adventure while getting your Harry Potter fix.
If you're staying at hotels within the resort, there are also shuttle bus options that will help you save on gas and parking.
Disney World is massive, so no matter where you park it can take a while to get where you want to go. They operate three monorail lines that connect a few of their hotels to Magic Kingdom and EPCOT.
Ferry boats are another option that will take you across the lakes from the resorts and staging areas to the parks. In the parking lots, shuttles run and transport guests to the park gates.
Both parks operate buses that bring guests onto the resort from hotels outside of the resort.
Staying in Orlando instead of onsite is a good way to save some money, and the buses get you to the park in a timely manner.
Whether you want to take a bus or drive yourself, both resorts are impossible to miss on Interstate 4.
Even when you approach from the north, south, or want to go between the parks, this interstate is the best way to get there.
Park-hopper passes and packages are available for both Disney World theme parks and Universal Orlando parks, allowing you to visit more than one park on the same day without needing separate tickets.
Directions Between the Resorts
Driving yourself around Orlando is one of the most cost-efficient ways to get around so you may want to drive yourself to the parks.
Here are some quick directions to take you directly from Universal Studios Orlando to Disney World's main parking lot.
Leave Universal's property and get onto I-4 West.
Take exit 68 from I-4 W.
Turn right onto S Apopka Vineland Rd
Turn left onto Hotel Plaza Blvd
Where Should You Park at Universal and Disney World?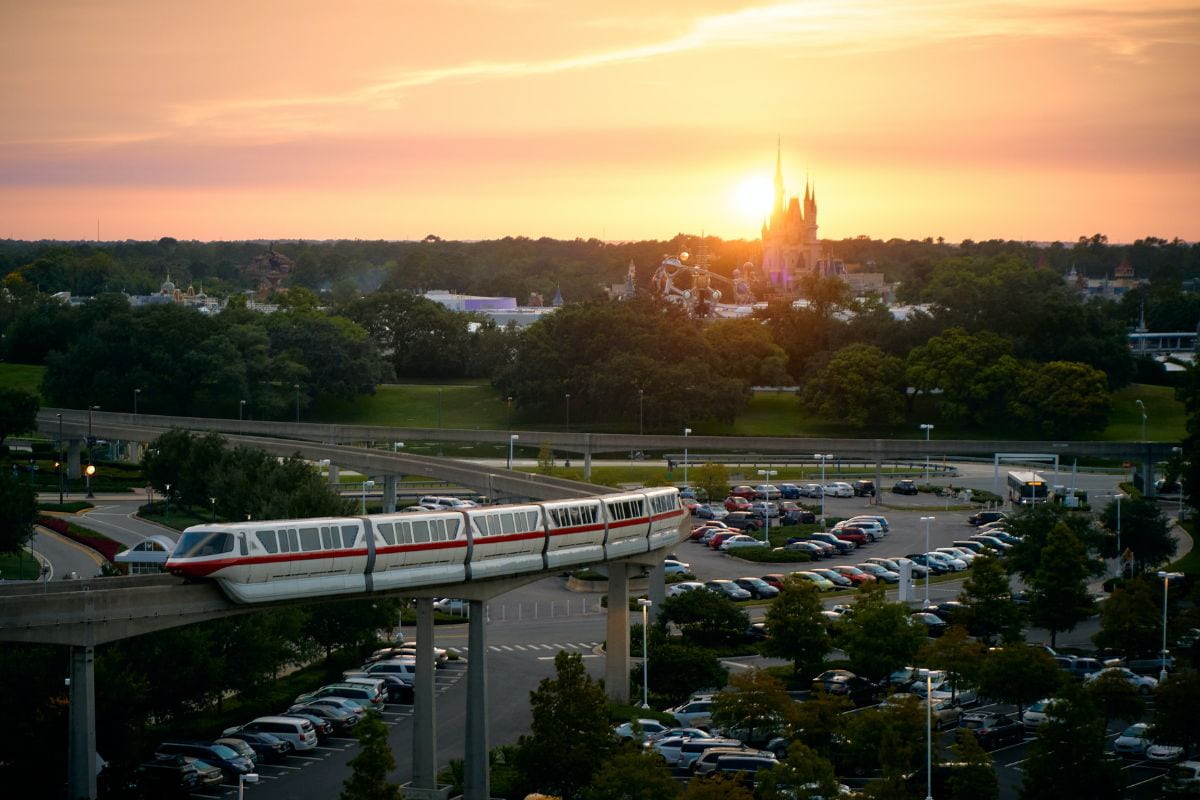 Disney offers parking lots for each theme park that are close to the park entrances.
Normal parking costs around $25 if it isn't included in a resort vacation package. Since the lots are so big, the parks offer tram services to bring you from the parking lot to the park entrance.
Universal Orlando offers parking for each of its parks as well, with signs directing you to the section of their parking garage designated for the park you want to enter.
After 6 p.m., parking is free, but the rest of the time it costs $27 for standard parking.
Are There Shuttles Between Universal And Disney?
The parks do not offer shuttle services between each other, but shuttle services do run between the parks and resorts.
For example, shuttles will run between Disney resort hotels and Universal studios parks, as well as from Universal's hotels to Disney parks.
These are operated by third-party companies and will usually cost a few dollars to ride.
Buses run all around Orlando to theme parks from many hotels in the area. Before booking, check out shuttle options offered at the hotels you're considering.
It can save you on gas and parking fees while visiting the theme parks.
Is Trying to Visit Both Resorts In One Vacation Worth It?
The thing about both Universal Orlando and Disney World that may surprise some people is that each park is a multi-day trip on its own.
Experiencing everything in a park can take more than a single day and trying to visit more than one in a day can make you feel rushed.
That being said, Universal and Disney both offer unique experiences that have something for everyone. If you have enough time built into your vacation, it's absolutely worth visiting both Disney and Universal.
Between thrill rides and Harry Potter World, Universal has plenty of reasons to visit for people on a Disney Vacation.
The same can be said about Disney for families visiting Universal. Check out attractions at each of the parks and try to prioritize the experiences that are most important to you.
You can get to see everything, spend plenty of time in the parks, and enjoy yourself without rushing.
Conclusion
Universal Orlando and Disney World are only separated by a distance of nine miles.
These two massive resort areas are a vacation unto themselves, but their close proximity makes it easy to visit both in a single trip.
Orlando itself is a destination city, attracting people from all over the world.
Be prepared for hot weather if you plan to visit in the summer and be sure to plan plenty of time to fully experience whichever park you choose.