Hotel Rates for Universal Orlando Passholder: Is It Worth It?
Universal Orlando Annual Passholders enjoy a practically endless list of benefits.
No matter which Annual Pass parkgoers choose, the perks don't end with great savings on admissions prices – passholders also receive special hotel rates when staying at any of Universal Orlando's eight onsite hotels.
Annual Passes pay for themselves after just a few days at Universal Orlando, making them worth the investment for frequent visitors to the parks. Passholders are also eligible for discounted hotel rates of up to 25% for Premier and Preferred hotels and up to 30% for Prime Value and Value properties. Periodically, Universal increases Passholder discounts, offering up to 35% off hotel stays.
In this article, we'll look at how to become an Annual Passholder, the benefits of staying at a Universal Hotel, and ultimately, if an Annual Pass is worth the investment.
What Is a Universal Orlando Passholder?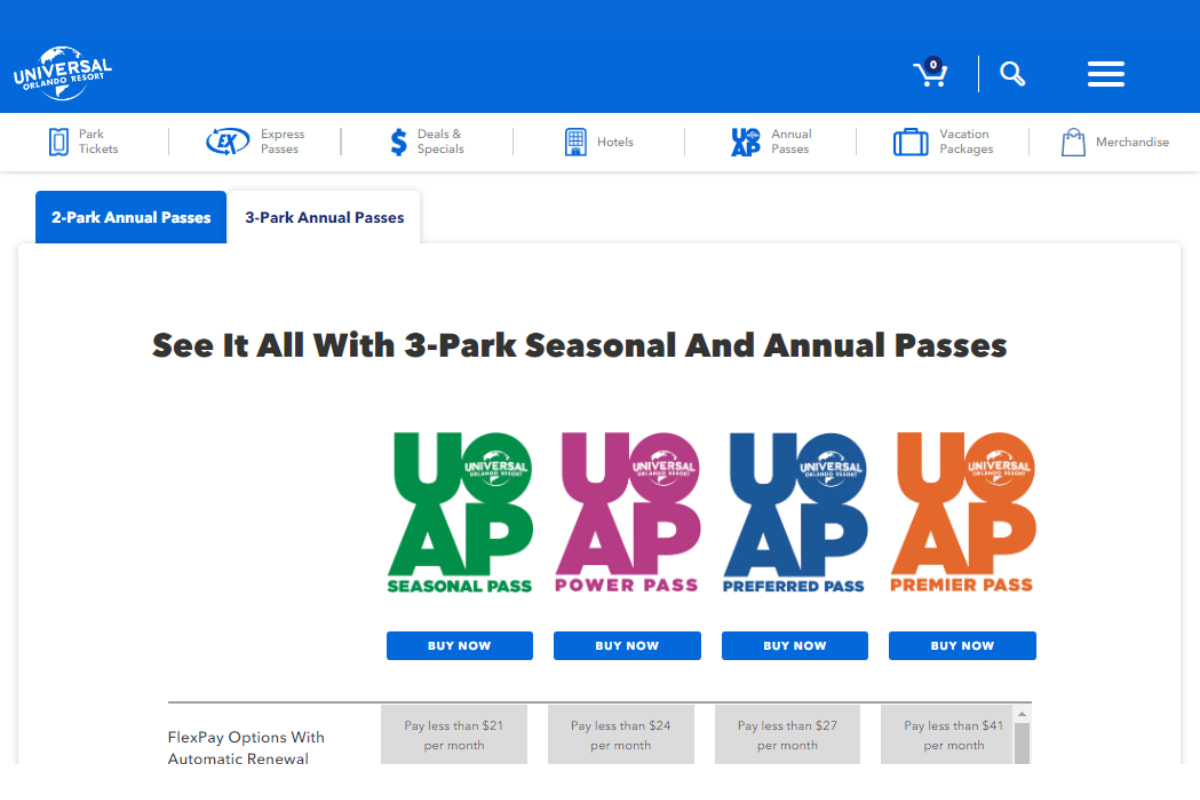 An Annual Passholder is anyone with a valid Annual Pass to Universal Orlando.
Universal Orlando has four tiers of Annual Passes, each allowing entry into two parks or three.
The four types of 2- and 3-Park Annual Passes are:
Each pass has its own set of benefits and is priced differently.
Frequent parkgoers typically become Passholders to offset the cost of visiting the parks multiple times throughout the year.
For example, after just three days at Universal Studios Florida and/or Islands of Adventure, the lowest tier of Annual Pass (i.e., the Seasonal Pass) pays for itself.
Annual Passes entitle their owners to discounts throughout all Universal Orlando properties, including hotels/resorts and CityWalk.
Hotel discounts are not only reflected in room rates; guests also enjoy savings at hotel restaurants, shops, and on select services.
How Can I Become a Universal Orlando Passholder?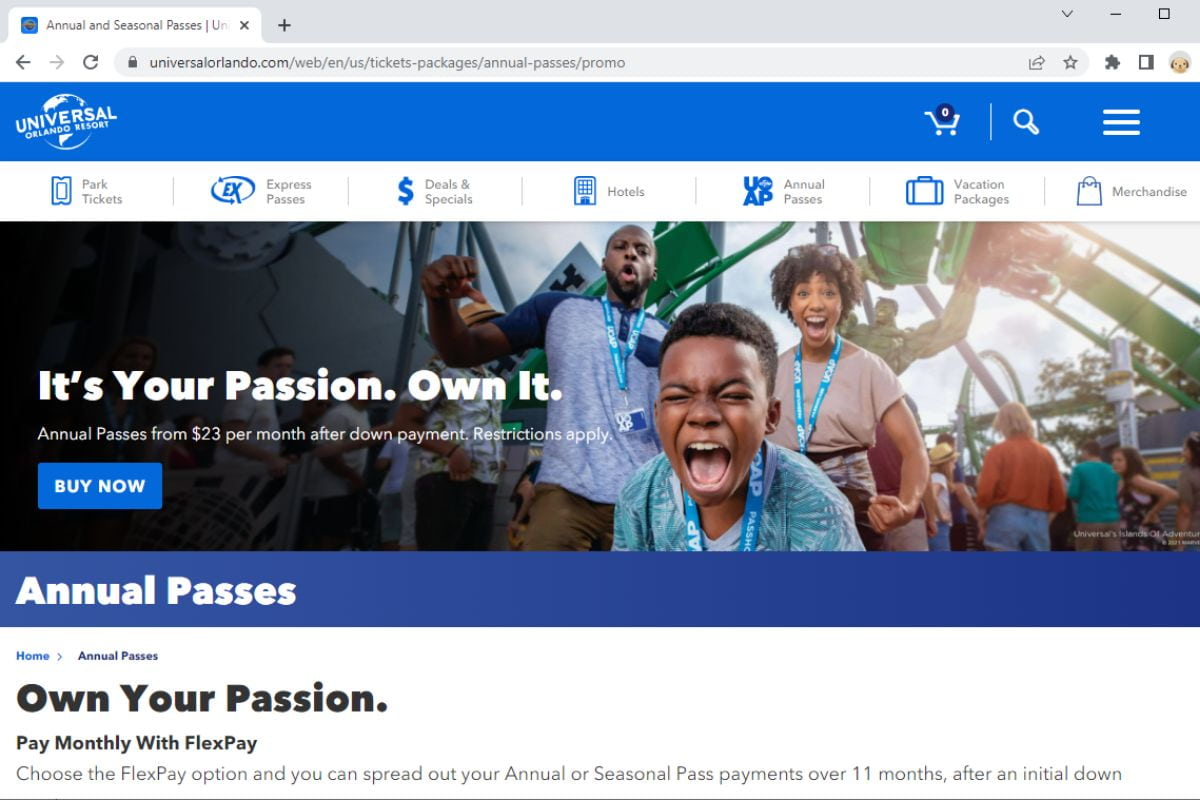 Becoming a Passholder at Universal Orlando is fast and simple.
Annual passes are available online through the Universal Orlando website or at the Ticket Office inside the park.
When Annual Passholders visit the parks for the first time, they must pick up their pass in person at the Ticket Office using a valid, government-issued photo ID.
Universal links each Annual Pass to its owner using their ID and fingerprints as part of their security protocols.
Visitors with valid single-use tickets for any Universal Orlando theme park can also upgrade to Annual Passes by calling ahead or visiting Guest Services inside the park.
New Passholders only pay the difference between their current (unused) ticket and their new pass.
While upgrading to an Annual Pass is easy, hotel guests who switch after booking their stay do not retroactively receive Passholder discounts.
Visitors are advised to become Passholders before reserving their hotel to take advantage of all their status has to offer.
Do Hotel Rates Change Based on the Type of Annual Pass?
With four tiers of Annual Pass and four classes of hotels/resorts, there are a few different discounts available to Universal Orlando Passholders.
The discounts on hotel rates stay the same regardless of pass type; however, while the type of Annual Pass doesn't affect hotel rates, the type of hotel does.
Universal Orlando categorizes their hotels as Premier, Preferred, Prime Value, and Value, each offering guests different perks, amenities, and price points.
What Are the Benefits of Staying at a Universal Orlando Hotel?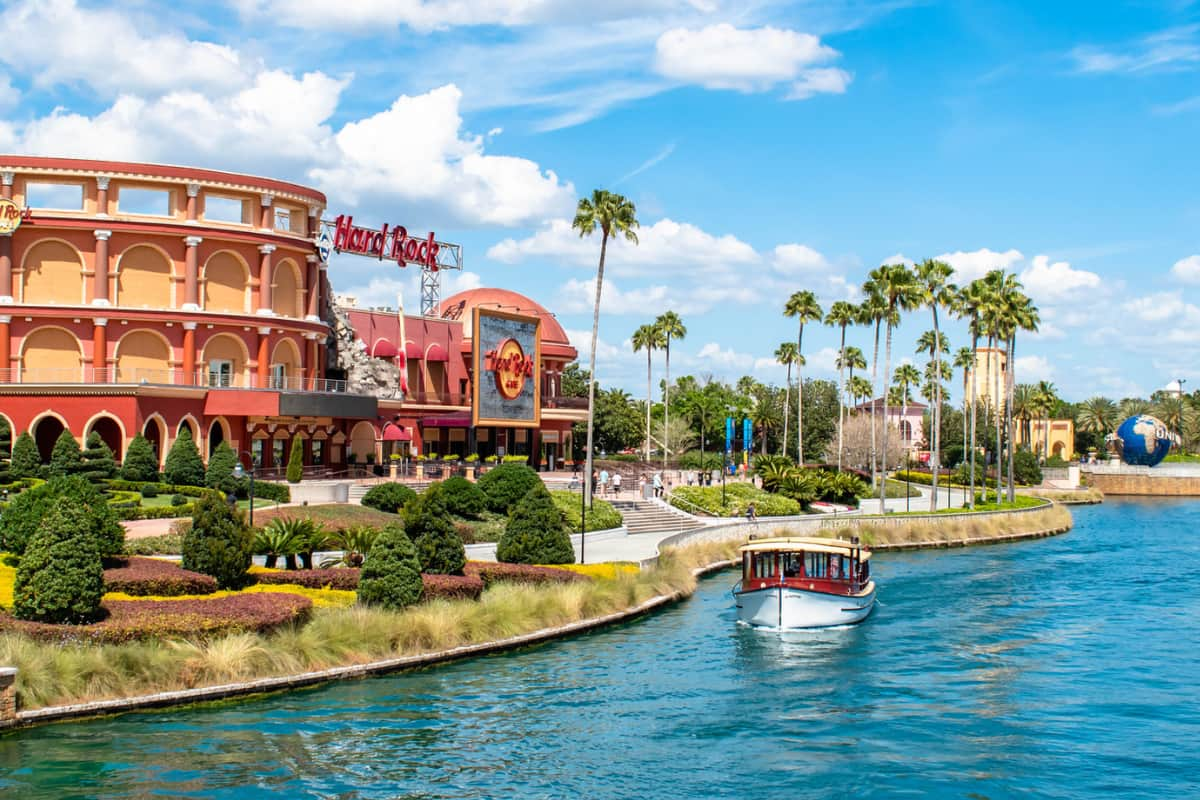 Universal Orlando has eight onsite properties divided into four categories based on their amenities and price.
The main benefits of staying onsite are the proximity to the theme parks and the discounts offered on food, services, and merchandise.
The properties all offer free wifi, Early Park Admission, themed pools, game rooms, bars and lounges, complimentary transportation to the parks, and more! – but they vary in terms of other perks.
Premium hotels are the most expensive but offer the best amenities and services, including water taxi access, complimentary Universal Express Unlimited Passes, and priority seating at select restaurants.
The Premier hotels at Universal Orlando are:
There is only one Preferred hotel at Universal Orlando, the Loews Sapphire Falls Resort.
This property offers almost the same benefits as the Premier hotels but excludes Universal Express Unlimited Passes and priority restaurant seating.
Prime Value resorts include many amenities for the price, including pizza delivery and poolside movies.
These properties include:
The Cabana Bay Resort even has a lazy river and a bowling alley – amenities not offered at any other property!
The hotels attached to Universal's Endless Summer Resort (the Surfside Inn & Suites and the Dockside Inn & Suites) are Value properties, the most affordable accommodations Universal Orlando offers.
Please see the Universal Orlando website for a comprehensive breakdown of the amenities, room types, and different theme park benefits available at the hotels.
What Discounts Do Annual Passholders Get at Universal Orlando Hotels?
All Annual Passholders can get up to 30% off room rates at Premier and Preferred hotels and up to 25% off at Prime Value and Value Hotels.
Each tier of Annual Pass also offers different discounts on food and beverages at Universal hotels.
Seasonal and Power Passholders enjoy up to 10% off at hotel restaurants (excluding alcohol).
Preferred and Premier Passholders receive up to 15% off at hotel restaurants (excluding alcohol).
But the Passholder discounts don't end there.
Universal hotel shops offer up to 15% off at select properties, and the Mandara Spa at Loews Portofino Bay Hotel gives all Passholders 20% off.
Finally, the Hard Rock Hotel extends special discounts on shows to Preferred and Premier Passholders.
Discounts can change without notice, so guests should review current Passholder perks on Universal Orlando's website before booking their trip.
Do Hotel Rates for Universal Orlando Annual Passholders Ever Change?
Occasionally, Universal offers special rates on hotels throughout the year, temporarily increasing Annual Passholder discounts by up to 35% at select hotels.
All Annual Passholder rates, including special discounts, are available three months before the intended arrival date.
The best times to look for special rates are around the holidays or the end of Summer.
Check the Universal Orlando website often, as discounts can appear anytime!
Do Some Annual Passes Have Better Benefits Than Others?
The different Annual Passes have various benefits, but access to these perks depends on the pass.
For example, Seasonal and Power Passes have blockout dates for Early Park Admission, but these passholders can take advantage of this perk when staying at a Universal hotel.
As for Universal Express Unlimited, only Premier Passholders have this perk included with their Annual Pass, but any passholder staying at a Premier hotel gets Express Unlimited privileges.
Overall, the perks given to Universal Orlando hotel guests enhance the benefits Annual Passholders already enjoy.
Is the Universal Orlando Annual Pass Worth it for Hotel Guests?
Whether an Annual Pass is worth it depends on how often guests visit the parks and how long they plan to stay.
Typically, those looking to become Annual Passholders do so for various reasons.
Some visitors live near the park and often visit, making this a very economical decision, especially when considering Annual Pass discounts for Florida Residents.
Other visitors purchase Annual Passes when planning longer visits to the park.
Hotel stays, park tickets, and food can add up quickly.
The discounts offered to Passholders on all these things (and more) make it a great investment when planning a visit.
Do Universal Orlando Hotel Guests Have to be Annual Passholders to Get Discounted Hotel Rates?
When booking hotel rooms at Universal Orlando, only the individual reserving the room must be an Annual Passholder to receive the better rate.
Annual Passholders can also purchase additional tickets to Universal Studios Florida and Islands of Adventure for 10-15% below regular rates, depending on which pass they have.
If one group member visiting Universal Orlando has an Annual Pass, the whole group can take advantage of lower hotel rates and discounted admission.
However, ticket discounts only extend to 6 people per day.
Conclusion
Any visit to Universal Orlando is made easier by staying at one of the park's many hotels.
Annual Passholders doubly benefit when staying onsite because the perks of their passes are enhanced by the benefits offered by the hotel properties.
Universal offers several pathways to becoming an Annual Passholder, which comes with a plethora of discounts on hotel rates.
Regardless of which Annual Pass guests have, all Passholders enjoy 30% off Premier and Preferred hotels and 25% off Prime Value and Value hotels.
Passholders also get up to 15% off food and non-alcoholic beverages at hotel restaurants.
Becoming an Annual Passholder is worth the investment indeed, especially when combined with the built-in advantages of staying at a Universal Orlando hotel or resort.