Guide to Countries in EPCOT: What To Do At Every Country?
Since its opening in 1982, EPCOT's rides, attractions, and amenities have emphasized human achievement, technological innovation, and international culture.
As part of this underlying vision, EPCOT hosts the World Showcase, one of the four thematic areas at the park.
Within the World Showcase are 11 pavilions representing different countries from around the world.
The World Showcase is the largest section of EPCOT, and the 11 pavilions circle the lagoon at the center of the park. Each pavilion features food, drinks, and attractions exemplifying the cultures of the countries they represent. From trying new cuisines to 'Drinking Around the World' to learning a little about each country's history, there is plenty to explore at EPCOT's World Showcase.
This article explains how to 'tour around the world' at EPCOT's World Showcase, highlighting the experiences offered at each pavilion.
Which Countries Are at EPCOT?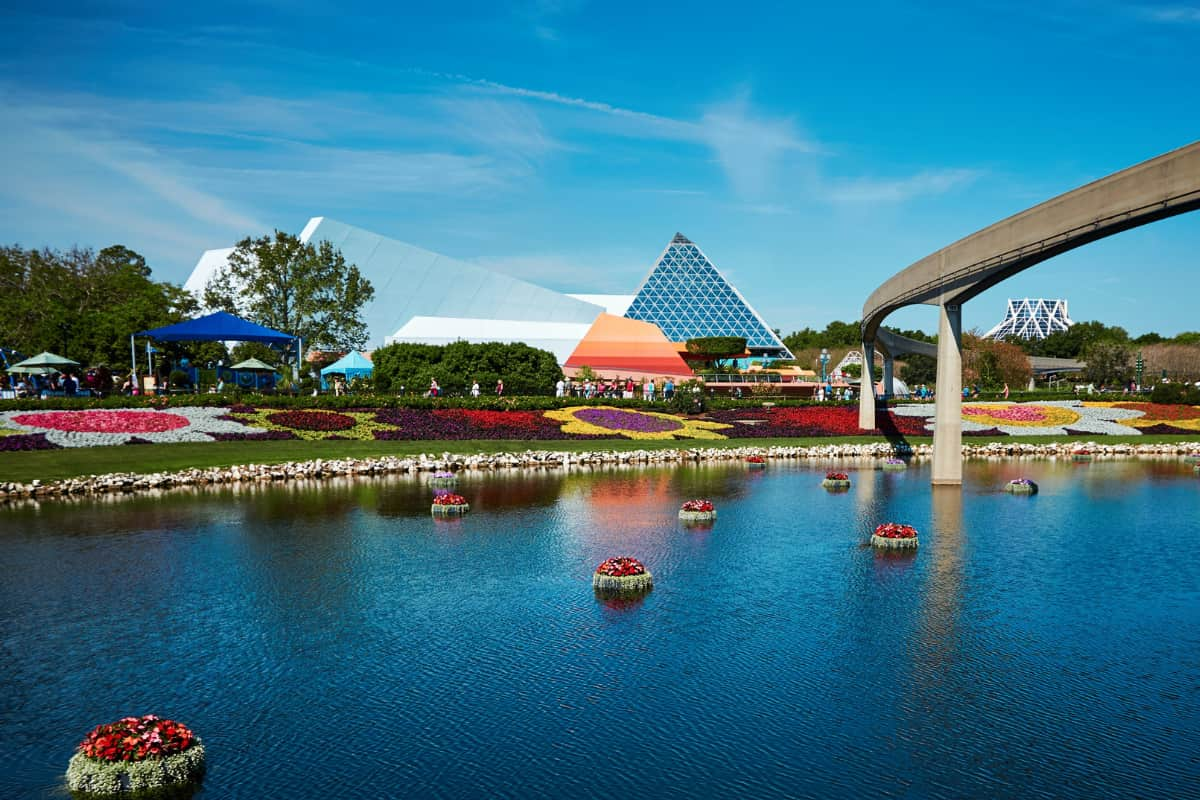 EPCOT's World Showcase is the southernmost section of EPCOT, located around the aptly named World Showcase Lagoon.
There are 11 separate pavilions, each representing different nationalities and their cultures and traditions.
The countries at the World Showcase include Canada, the United Kingdom, France, Morocco, Japan, the United States, Italy, Germany, China, Norway, and Mexico.
Starting at the entrance to World Showcase, visitors can begin their 'worldwide tours' at either the Canadian or Mexican pavilions.
Guests who begin their journeys with tacos and tequila will travel clockwise around the lagoon, and those who want to visit the Great White North (in Florida) will continue counterclockwise.
The following gives a brief overview of each country's pavilion at the World Showcase, starting with Canada.
1) Canada
The Canada Pavilion transports visitors to the great outdoors with the help of a canyon, a waterfall, and gardens.
Food and Drinks
Guests can visit Le Cellier Steakhouse, one of Walt Disney World's most talked about restaurants. 
Le Cellier Steakhouse offers steak, seafood, and an incredible selection of wines.
Canada also features the Popcorn Cart and beer stands, offering casual Canadian fare.
Attractions
The Blueberry Grass Band and Bodh'aktan, both from Quebec, perform in the Canadian Pavilion, offering a range of folk music and Celtic punk.
For visitors wanting a walk with a view, be sure to check out Victoria Gardens.
Inspired by Butchart Gardens of British Columbia, Victoria Gardens features a waterfall surrounded by fields of flowers.
This pavilion also offers Canada Far and Wide in Circle-Vision 360, a stunning 12-minute video highlighting the natural beauty of the Great White North.
2) United Kingdom
The United Kingdom Pavilion introduces visitors to the diverse histories of England, Scotland, Wales, and Northern Ireland.
Food and Drinks
Visitors can kick off their tour of the UK by heading to the Rose & Crown. 
This traditional British public house features classic entrees like shepherd's pie, bangers and mash, and fish and chips. 
Guests over 21 can wash down typical English cuisine with a pint of draught (draft) beer, British cocktails, or spirits like Scotch or Irish whisk(e)y.
Alternatively, parkgoers can visit the Yorkshire County Fish Shop for a casual, quick-service option that serves battered fish and chips, soft drinks, and British or Irish beers.
Attractions
Rose & Crown is a must-see when visiting the UK Pavilion.
Guests can experience several unique dining experiences, including the Rose & Crown Fireworks Dining Package, which gives guests a waterfront view of Harmonious, EPCOT's nightly fireworks display. 
The pub also hosts the Rose & Crown Musician at select times throughout the day.
3) France
This charming Parisienne wonderland attracts visitors with its incredible food and attractions.
At this pavilion, visitors often run into lovable characters from Disney films such as Ratatouille, Beauty and the Beast, and Sleeping Beauty!
Food and Drink
The five restaurants featured in the French Pavilion range from upscale table service to quick-serve patisseries.
Chefs de France and Monsieur Paul are the two sit-down restaurants offering exquisite French cuisine. 
Monsieur Paul has a strict dress code, prohibiting tank tops, swimwear, hats, and torn clothing.
France's other dining options include Crêpes À Emporter, L'Artisan des Glaces, and Les Halles Boulangerie-Patisserie. 
Guests can find authentic pastries, crepes, and ice cream at these French mainstays.
Attractions
At the Palais du Cinéma, guests can start their Francophone adventure with the Impressions de France, an enchanting, 18-minute cinematic tour of France's most well-known landmarks.
Parkgoers who love the music from Beauty and the Beast will get a kick out of the Beauty and the Beast Sing-Along film experience, also at the Palais.
After the short movies, visitors can tour the Palais' museum-like displays full of costumes, music, and art representing French cinema, theater, ballet, and opera.
For the younger members of any group, Remy's Ratatouille Adventure is a 4D ride experience based on the Disney Pixar film taking riders through Gusteau's restaurant with Chef Remy at the wheel.
4) Morocco
The Moroccan pavilion is an authentic look at this diverse North African nation and is the only pavilion in EPCOT sponsored by its home country.
Food and Drinks
The most notable restaurant in Morocco is Restaurant Marrakesh. 
This dining experience offers Moroccan and Arabian dishes accompanied by live music and belly dancers.
Spice Road Table is another full-service eatery in Morocco, offering waterfront views and Mediterranean cuisine. 
For a more casual dining option with loads of vegetarian and vegan options, Tangierine Cafe is the place to be.
Attractions
Fez House is the premier attraction in Morocco.
This replica of a Moroccan mansion was designed with the approval of King Hassan II himself.
Other attractions include a meet and greet with Jasmine and Aladdin or an evening of belly dancing at Mo'Rockin.
5) Japan
The Japan Pavilion is known for its iconic scenery, including the Japanese pagoda and world-class dining options.
Food and Drink
Takumi-Tei is the spot for foodies visiting the Japan pavilion. 
Known for its stellar preparations of Wagyu beef and sashimi, the Omakase menu will have guests raving long after their meal.
Teppan Edo is another fantastic culinary option in Japan, offering Hibachi-style stir-fry with a fun, laid-back vibe.
There's also a beverage shop near Katsura Grill serving Japanese beer and sake. 
It's the perfect quick stop for those 21 or over looking to try Japan's famous alcoholic beverages.
Attractions
Japan's biggest attraction is the Mitsukoshi Department Store, where guests can find everything from Japanese katanas to kimonos to candy.
Guests interested in learning more about Japanese visual culture can stop by the Bijutsu Kan Gallery, where they'll see exhibitions on art styles, cultural movements, and Japanese history.
Visitors can also enjoy live drum performances with Matsuriza, a daily presentation showcasing the skill and excitement of this traditional Japanese art form.
6) USA (American Adventure)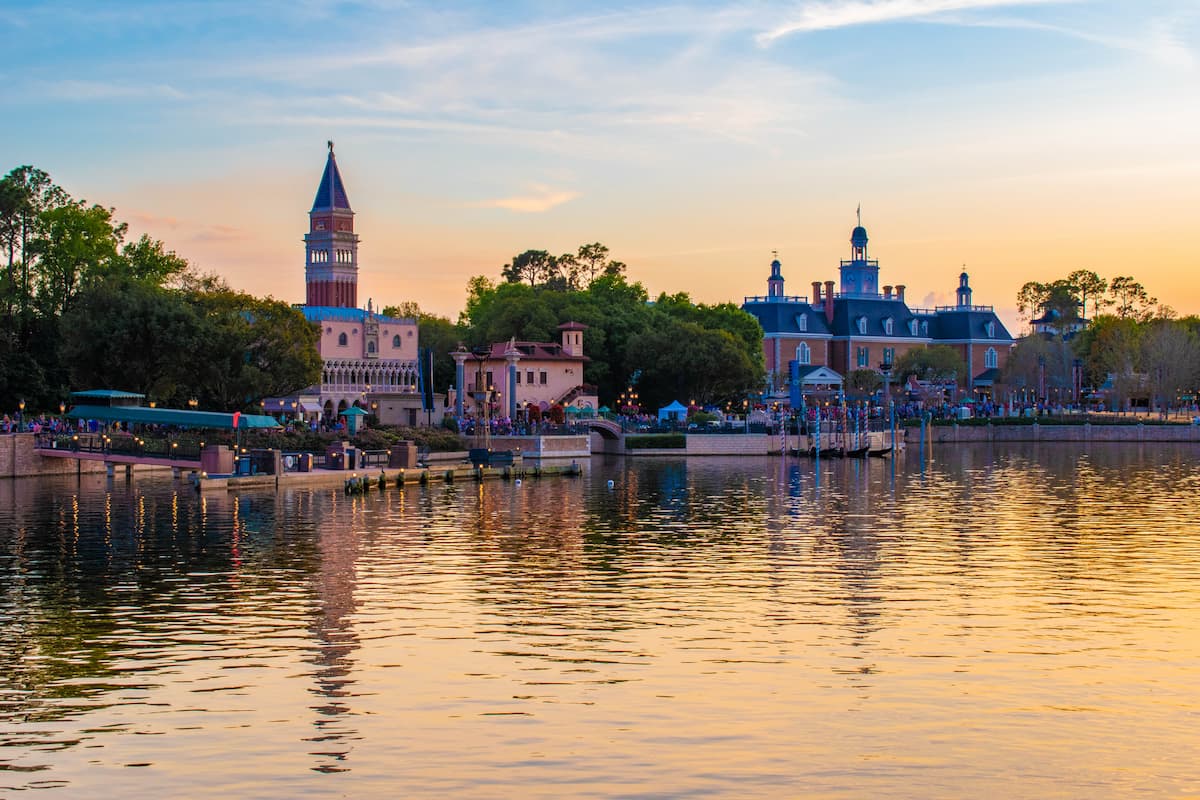 American Adventure is at the center of the World Showcase, featuring cultural experiences both Americans and international visitors can enjoy.
Food and Drinks
American Adventure has various dining options, including the Fife and Drum Tavern, the Regal Eagle Smokehouse, and a Funnel Cake stand. 
Visitors on their way to the America Gardens Theater will pass by Block and Hans, a great spot to stop for a beer or cider before the show.
Attractions
The USA Pavilion is most known for (and nicknamed after) the American Adventure show.
This 30-minute film takes guests through America's history with Benjamin Franklin and Mark Twain at the helm.
Guests can also stop by the American Heritage Gallery to see their rotating exhibit or catch a performance by Voices of Liberty, American Adventure's own acapella group.
The America Gardens Theater also offers seasonal shows and live entertainment, so check with Guest Services on the day of your visit to see what's going on.
7) Italy
The Italy Pavilion combines scenes from Venice, Florence, and Rome to create the ultimate Italian experience.
Food and Drinks
Italy has two table service options, Tutto Italia Ristorante and Via Napoli Ristorante e Pizzeria. 
Tutto Italia offers a multi-course Italian and Italian-American menu, whereas Via Napoli is the place to go for pizza in the Italian pavilion.
Those looking to explore Italy's incredible wine selection should look no further than Tutto Gusto Wine Cellar.
Attractions
Guests can enjoy a gelato while walking past the Neptune Fountain, Columns of San Marco, and St. Mark's Campanile.
While touring Italy's landmarks, guests may catch a glimpse of the Sbandieratori di Sansepolcro flag throwers or Sergio the Master Juggler performing in the plaza. 
They may even get to meet Pinocchio!
8) Germany
The German Pavilion is filled with iconic German architecture inspired by countryside villages.
Any time you visit EPCOT's Germany, there will be a host of visitors enjoying lagers and live music inside the Biergarten (beer garden) at the center of the pavilion.
Food and Drinks
The Biergarten Restaurant allows guests to experience Oktoberfest any time of year. 
The restaurant has a full buffet of German dishes, such as strudel and schnitzel, to keep guests satisfied while they enjoy live music.
Germany's Sommerfest is a walk-up dining option serving bratwurst, pretzels and strudel. 
For visitors with a sweet tooth, Karamell Kuche bakery is a must.
Attractions
The Romantic Road Miniature Train Village and the Glockenspiel delight visitors as they walk through the German Pavilion.
Guests can also visit Glaskunst to find personally engraved beer steins or watch glass blowers work in their studio!
9) China
China is by far the most breathtaking of EPCOT's pavilions.
At its center is a replica of the Temple of Heaven surrounded by gardens, sure to enchant any visitor.
Food and Drinks
The Nine Dragons Restaurant and the Lotus Blossom Cafe offer familiar Chinese favorites for lunch and dinner.
For those guests in a hurry, the Joy of Tea is a drink cart offering herbal, milk, and bubble teas with a few snack options, such as egg rolls.
Attractions
It's no secret the Temple of Heaven is the most popular attraction at the China Pavilion.
Inside, visitors can see Reflections of China, a 14-minute film about Chinese culture. 
Guests can also catch a performance from the Jeweled Dragon Acrobats or run into Mulan and some of her friends.
10) Norway
From princess meet and greets to charming Disney rides, the Norwegian pavilion has something for everyone.
Food and Drinks
Akershus Royal Banquet Hall is the place to find your favorite Disney Princesses. 
Bring the whole family to enjoy a delicious buffet or sample Norwegian cheeses.
For traditional baked goods, visitors should try Kringla Bakeri Og Kafe, featuring sweet pretzels, troll horns, and sweet lefse. 
Adults can indulge in Viking Coffee with their pastry, spiked with Kamora Coffee Liqueur and Bailey's Irish Cream.
Attractions
The number one attraction in the Norway Pavilion is Frozen Ever After, a slow, musical ride through Arendelle on an ancient Nordic vessel.
Guests should consider adding Genie+ to their park ticket if they want to experience this ride –  the lines can be incredibly long, and Genie+ allows access to the Lightning Lanes.
Adult parkgoers looking for a more cultural experience can visit the Stave Church Gallery, featuring artifacts from Norway's Viking past.
Younger visitors can make their dreams come true and meet Anna and Elsa at the Royal Sommerhus on their way out of the pavilion.
11) Mexico
The Mexico Pavilion is the perfect place to end an EPCOT world tour.
Most of the pavilion's attractions are found inside a Mesoamerican Pyramid, allowing visitors to beat the heat in the summer or escape the cooler winter weather.
Food and Drinks
Guests can view the evening fireworks while enjoying dinner at La Hacienda de San Angel or head to San Angel Inn Restaurante and sit under an incredible indoor starscape – although guests won't see the fireworks from here.
There are several options within the pavilion to stop for a quick adult beverage.
Enjoy margaritas, cervezas, and a range of tequila along with Mexican-inspired bar foods by visiting Choza de Margarita, La Cantina de San Angel, or La Cava del Tequila.
Attractions
Inside the pyramid is the Gran Fiesta Tour Starring the Three Caballeros, a family-friendly boat ride. 
Live music includes Mariachi Cobre and Marimba de las Americas, two bands playing traditional Mexican music from Jalisco.
The Mexican Folk Art Gallery features art by renowned Mexican artists and other works inspired by the Disney Pixar movie Coco.
Conclusion
EPCOT's World Showcase allows guests to explore 11 different countries without ever leaving Florida.
The country pavilions transport guests to other lands through culinary, musical, and cultural experiences.
The best way to explore the World Showcase is by moving circularly around the lagoon, enjoying from one nation to the next.
Guests can sample dishes and drinks in each pavilion while enjoying the music, art, and architecture unique to each country.
For reservations at any of the World Showcase's in-table dining options, guests can book online or visit Guest Relations.