How Long Does It Take To Go Through Universal Studios Orlando? (3 Things to Consider)
Universal Studios Orlando has so many attractions it's easy to worry about how long it may take to go through the park.
There are a lot of factors that make seeing everything take longer than you'd expect so we'll go over how long you should expect to spend in the parks and answer some other common questions you may have.
Universal Studios Orlando is one of the largest resorts in Orlando, second only to Disney World.
With three theme parks and an entertainment district, you could spend days on the property without seeing everything.
If you rush, you can do both Universal Studios and Islands of Adventure in a day, but it's best to spend at least two days in the parks.
Here we'll take a look at all the factors that come into play when visiting Universal Studios so you can be prepared and enjoy your visit.
3 Things That Determine How Long a Park Takes
1. Lines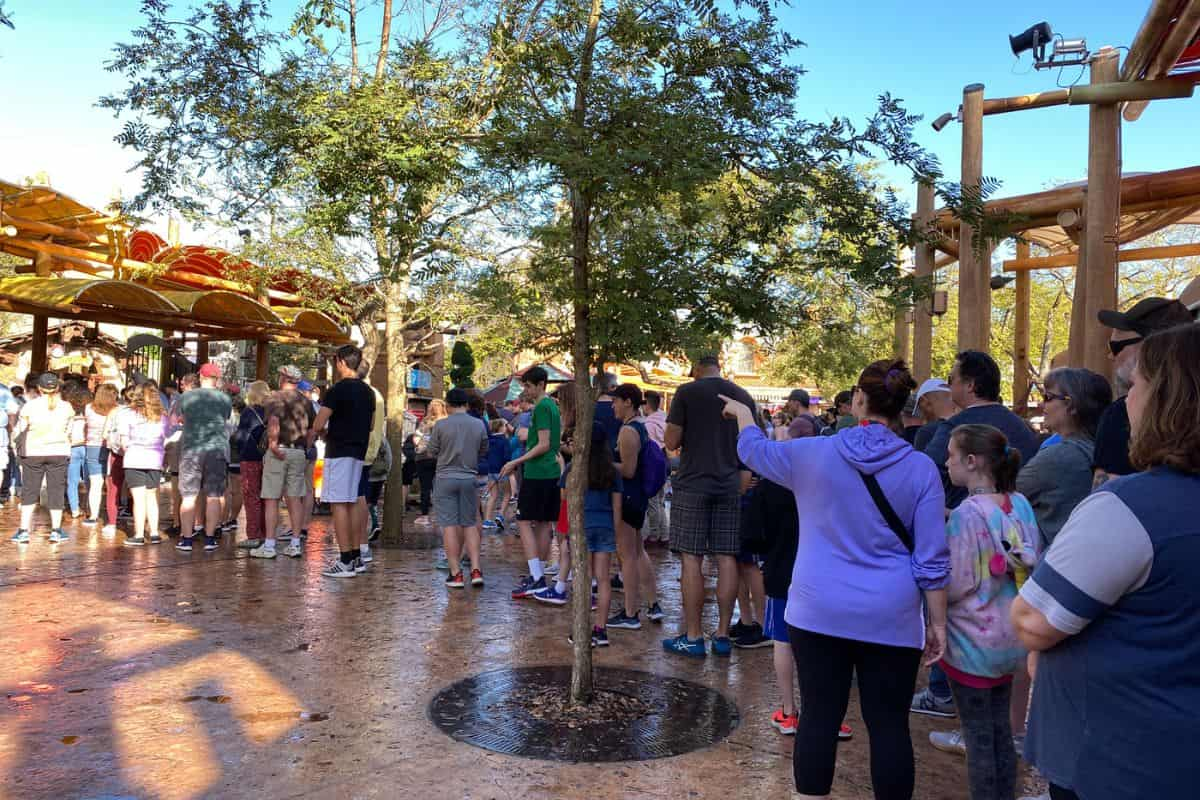 One thing everyone hates about theme parks is the long lines and queues you have to wait through to actually do anything. Rides, restaurants, shows, and attractions will all have some sort of queue.
These can take anywhere from 30 minutes to over an hour, depending on the attraction. You can find live queue times for popular attractions here.
2. How Much You Want to Do
If there are attractions you don't care to see or do, you can skip them while in the park.
This can cut down on how long the park takes quite a bit, even making it possible to go through the park in just a couple of hours.
Trying to experience everything the park has to offer is a different story. Each park in Universal Studios Orlando is a full-day experience on its own.
3. Which Attractions You Simply Must Do
Some attractions take longer than others. Combined, you might spend an hour waiting in line to get on a coaster and ride it.
An experience like Harry Potter World that includes shopping, shows, rides, and photo opportunities can be a full day by itself.
For people who have visited before, skipping shows or attractions they've already seen can save a lot of time.
In the same way, it's easier for those people to prioritize new attractions or ones they loved the last time they visited. If it's your first time at the park, expect to spend more time there.
Researching attractions in advance is great, but the parks take a lot of time to truly enjoy. When possible, it's best to not have to rush yourself.
How Long Should I Plan to Spend at Universal Studios Orlando?
Keeping the above factors in mind, you should expect to spend a minimum of two full days at the resort.
This will let you get to experience almost everything in both ride parks. If you're wanting extra time to ride some things more than once or want to go slowly, three to four days is a safer bet.
There are some ways to help maximize your time in the parks if you're on a limited schedule.
Staying on the resort property cuts down your travel time and makes it easier to get in right when the parks open.
Speaking of getting in early, Universal offers passes to let you get in before the park technically opens, around 7 a.m. instead of 9 a.m.
Typically, this is reserved for guests staying at the resort, so it ties in with staying on property.
Make a list of all the attractions you absolutely must do while at the park. By prioritizing specific attractions, you can make sure you get to do the most important things for you and spend any extra time you have on things that grab your attention.
Express passes are worth their weight in gold for rides. They allow you to use an expedited queue for participating rides and enter venues for shows before the general crowd.
Using an Express pass can cut a 45 minute wait time to less than 15 minutes almost every time.
Express passes come in two varieties. One lets you use them on participating rides once each that day, the second is unlimited in the number of uses.
There is a difference in price to upgrade to unlimited, so consider if you'll want to do some rides multiple times.
Can I Do Both Parks In a Day?
It is possible to do both Islands of Adventure and Universal Studios in a single day.
Park passes allow you to go between parks and the Hogwarts Express train ride will transport you between the park's separate Harry Potter Worlds.
Trying to do both will definitely feel rushed. You'll need to have a specific itinerary plan and a list of attractions you plan to visit before you get there.
Visiting both parks in a single day will mean you miss out on a lot of attractions, but whether that matters or not is up to you.
Can You Go Back and Forth Between Parks?
If you're looking to hop between Islands of Adventure and Universal Studios, you'll need to buy a special park-hopping ticket.
It allows you to freely go between parks throughout your day, hitting whichever attractions you most want to see.
A three-park ticket is also available, allowing you to also access Volcano Bay Waterpark at will.
Outside the parks are the CityWalk, an entertainment, shopping, and dining district. You can go here whether or not you visit the park, but it's a great place to eat if the restaurants inside the parks don't interest you.
You can leave the parks and re-enter with your ticket for the day as much as you like, so heading out to eat won't end your day at the park.
Conclusion
In general, you should expect it to take at least two full days to go through Universal Studios Orlando.
Cutting down your time in the park is doable and so is seeing the most important attractions in a single day. If you have the time, take three or even four days and see everything the parks have to offer.