Can You Go Inside The Ball at EPCOT? (Updated 2023)
When you get close to Disney's Epcot Park, one of the first things you notice is the giant silver ball at the park's entrance. This is the Epcot Ball.
This raised sphere is one of the most distinctive attractions at Disney World and has been an iconic feature of Epcot since it opened in 1982.
You can certainly go inside the ball at Epcot as it houses the educational attraction Spaceship Earth. This slow, dark ride takes you through the evolution of communication technology and has a hands-on exhibit where guests can learn while having fun with science and technology.
Is Spaceship Earth Scary?
Spaceship Earth is not scary by design.
It's a very slow and informative ride that is great for people of all ages.
Some parts of the ride incline, and it does take place in the dark, so some young children might be a bit frightened during portions of the experience.
It's not considered a thrill ride as there is no speed, surprise twists or turns, or drops involved.
Can You Use a Genie+ Pass For Spaceship Earth?
You can use your Genie+ or Lightning Lane option on Spaceship Earth, but you don't usually need to.
The line at Spaceship Earth is usually not long enough to warrant the use of a FastPass.
While this ride is a classic and something that many people enjoy when they visit Epcot, it's not really one of the most popular rides in the park.
Because it's so slow and doesn't have any real surprises, people who have ridden it once are usually in no hurry to ride it again, and many pass on it if they return to the park.
If there are other, more popular attractions you're considering (or dying to ride), it may be best to save your FastPass for those.
What Kind of Ride is Spaceship Earth?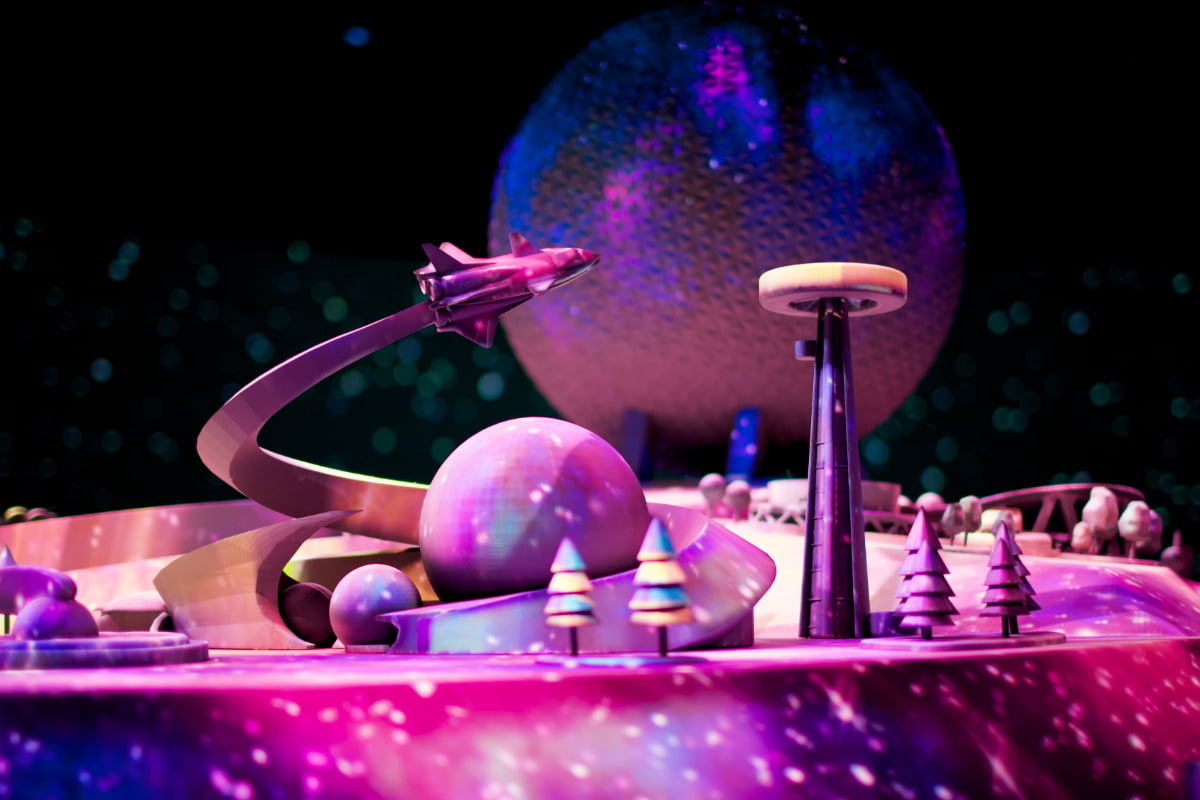 Spaceship Earth is a leisurely educational ride that takes riders through different time periods and scenes, all related to the development of human communication technology.
Guests ride on a rollercoaster-like train and watch history come to life through detailed sets and Audio-Animatronics figures.
Dame Judi Dench narrates the attraction and explains to riders how the science of communication has made progress over the years.
There are a few interactive scenes and activities within the ride as well. When the ride is over, there is a hands-on area for children and adults to experience the many different exhibits and have fun while learning.
Many people enjoy this part of the attraction more than the actual ride itself.
Is Spaceship Earth at Epcot For Kids?
Spaceship Earth is a great attraction for kids of all ages, and it's a lovely way to take a break and spend time together as a family.
It could be less than ideal for very young children who may not understand the content or for older kids who may find the slow speed and length of the ride boring.
If you've never been to Spaceship Earth or you want to go inside the Epcot Ball, this is the best way to experience it.
Kids who don't love the ride itself may love the exhibit area at the end, where they get to play with science projects and educational toys.
How Long Does Spaceship Earth Last?
Spaceship Earth is a very long ride, especially compared to others in the park.
It takes 16 minutes to complete the ride, and the interactive exhibits take longer.
You can spend as much time as you want in the exhibits, and they can get quite busy.
If your children want to enjoy all of the activities, they may have to wait for them to be available.
How Did the Epcot Ball Get Its Look?
The design of the Epcot Ball was inspired by the U.S. pavilion at Expo '67 in Montreal.
It was designed to be futuristic and to stand out against the rest of the park.
Walt Disney had a plan to make Epcot a housing complex with futuristic living as the main appeal. Instead, Epcot turned into another park but kept its scientific and futuristic theme.
The ball at Epcot was built to house Spaceship Earth, so its large size was necessary to accommodate the ride and guests.
It's the first thing people see when they get to the park and has become synonymous with Epcot.
Sometimes the ball is lit up to match the seasons or special celebrations at the park.
Can You Climb on Top of the Epcot Ball?
While you can go inside the Epcot Ball to explore it, you cannot go on top of it – the ball is not made for climbing.
Workers sometimes get on it to make upgrades/repairs or decorate for special events and holidays, but it's not safe for anyone to attempt to climb the Epcot Ball.
Moreover, there is no way to get on top of it aside from a crane or other heavy equipment.
Conclusion
The Epcot Ball is an eye-catching landmark that is hard to miss.
It contains the classic attraction Spaceship Earth that many people appreciate.
If you visit Epcot and want to go inside, Spaceship Earth is the best way to experience it.
You can use your Genie+ pass or the Lightning Lane option, but there isn't usually a need as the lines and wait times aren't long.
Spaceship Earth takes about 15 minutes, and there are fun, interactive science exhibits at the end for adults and children to enjoy.
It's a great attraction for families and people of all ages and is totally worth seeing when visiting Epcot.