Can You Go From Magic Kingdom To EPCOT?
It's easy to get from Magic Kingdom to EPCOT using Disney's complimentary transportation network of monorails, buses, and boats.
The iconic Walt Disney World Monorail System is the best way to go from Magic Kingdom to EPCOT. The journey takes about 30 mins and requires switching lines at the Transportation and Ticket Center. The monorail starts operating 30 minutes before the park opens and runs until one hour after the park closes.
You can also take advantage of the internal bus service at Disney World or drive to either park if you have a car.
How Long Does It Take To Get From Magic Kingdom To EPCOT?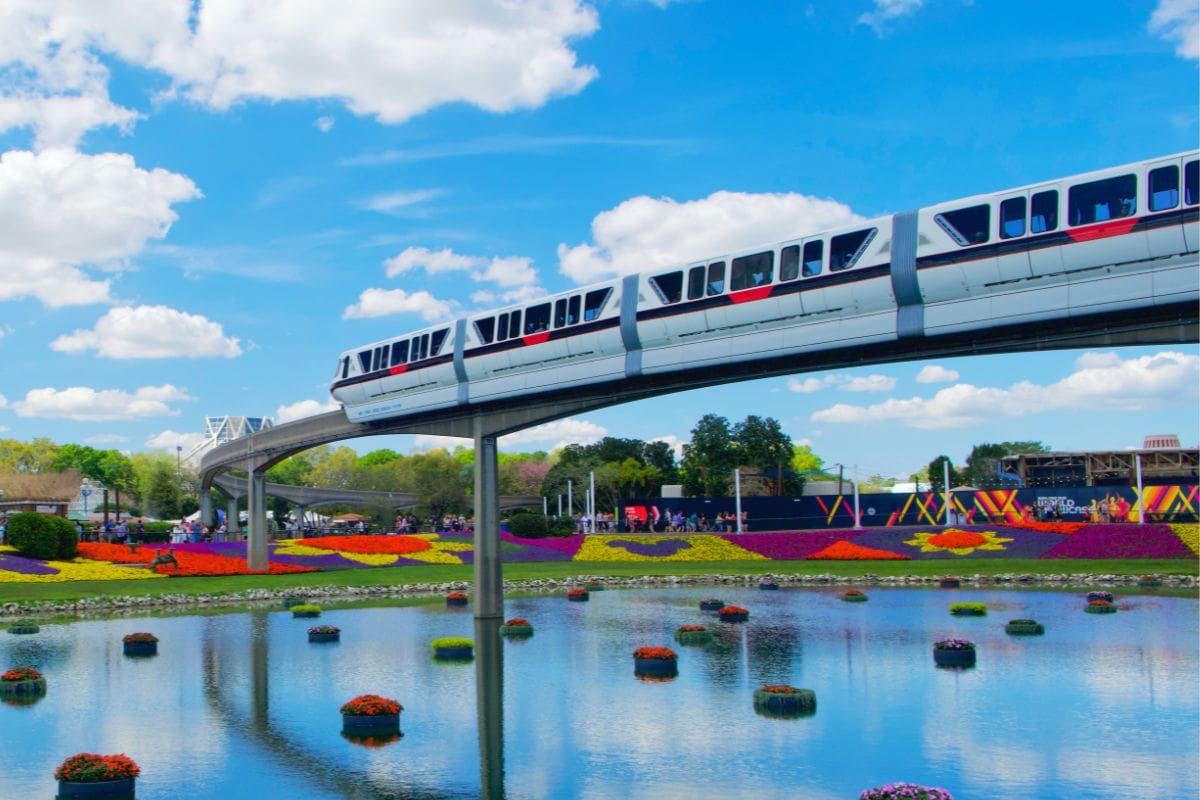 It's about a 15-minute drive from Magic Kingdom to EPCOT, depending on traffic, but it rarely takes more than 30 minutes.
The distance between Magic Kingdom and EPCOT is 4 miles (6.4 km), so walking isn't an option. (That also applies to visiting other parks from Magic Kingdom as well).
The monorail takes 10 minutes to get from Magic Kingdom to the Transportation and Ticket Center and another 10-15 minutes from the TTC to EPCOT.
The bus takes the longest as you'll need to wait 10-20 minutes for it to arrive at the bus stop, and then the bus journey itself takes around 30-40 minutes.
What Are The Operating Hours Of The Monorail?
The monorail starts half an hour before the first park opening and remains operational until one hour after the last park closing.
It's important to note, however, that actual times vary depending on the day and the route.
The easiest way to know when the monorail is available is by asking a Cast Member.
Also, remember that there are various other transport systems, so inquire whether the train is the best option for your destination.
What Are The Operating Hours For The Buses?
The buses start operating an hour and a half before the earliest park opening.
That mostly falls between 6:30 am and 7:00 am.
The main reason for the early morning start times is that Disney Resort Guests can take advantage of Early Theme Park Entry, a perk that allows them into the park 30 minutes before general opening.
The early operating hours also make it easier for guests with breakfast reservations at a different hotel to get to their destination.
Just bear in mind that these buses run less frequently as fewer guests use the service.
Buses operate until one hour after the latest park closing time, though some will run for up to two hours, and the buses between Disney Springs and Disney Resort Hotels operate until 2 am.
How Long Does It Take From Magic Kingdom To Other Parks?
Magic Kingdom To Animal Kingdom
It takes 40-45 minutes to get to Animal Kingdom from Magic Kingdom.
Due to the remoteness of Animal Kingdom, buses are the only internal transport system connecting the two parks.
Bus stops are on your left when exiting Magic Kingdom through the main entrance.
You'll need to allow 20 minutes for the bus to arrive and another 20-25 minutes to reach the parks.
Magic Kingdom To Hollywood Studios
Getting to Hollywood Studios from Magic Kingdom takes you around an hour (or more), and the bus service is the only internal transport system between the two parks.
The actual journey takes 20–30 minutes, but you need to account for stops and delays.
Does Disney World Have Other Transport Systems?
Yes, Disney has other transportation systems other than the monorail and buses.
Monorails and buses have their place, but the park also offers boats and gondolas for those seeking a different experience.
Water Transport
Disney World offers a variety of water transport systems.
Friendship boats help connect Epcot and Hollywood Studios, and Magic Kingdom has a ferry system that connects it to the other parks via the TTC.
Disney World also offers water taxis that travel between different Magic Kingdom locations.
Boats take longer to arrive depending on the destination, but they're more spacious and provide an unforgettable experience.
Gondolas
Gondolas, or cable cars, are the newest transport method at Disney World.
Called the Disney Skyliner, the system was introduced in 2019.
If you want an amazing aerial view of the parks, this is the way to get around.
You can still enjoy the scenery on a monorail, but it's nowhere near as striking.
The Disney Skyliner connects EPCOT and Hollywood Studios to Disney's Riviera Resort, Disney's Art of Animation Resort, Disney's Pop Century Resort, and Disney's Caribbean Beach Resort.
It's also the only transportation system that allows you to get to either park from the hotels.
This system is still working out some kinks, so don't be surprised if it's not operational and you'll have to take a bus to the parks.
Conclusion
Getting from one park to another at Disney World is relatively easy when using the free internal transportation network.
Depending on the destination, some methods take longer than others, but they all provide a simple and stress-free experience if it's your first time at the park.
If you'd prefer to take yourself around, you can always drive, grab an Uber/Lyft, or call a cab to shuttle you between parks.
It all comes down to your preferences, but I recommend using the complimentary services as much as possible to save a few bucks on your Disney vacation.