How To Get to Universal Orlando From Disney World Without a Car?
When vacationing in Orlando, many people choose to fly because it's fast and convenient.
Guests come from all over the world to experience the magic of Disney and the thrilling adventures offered at Universal Studios Orlando.
Luckily, plenty of transportation options are available to transport visitors between the parks, particularly when they don't have a car to drive themselves.
The easiest way to get to Universal Orlando from Disney World without a car is to take an Uber or another rideshare option. If you're staying at a Disney Resort or another hotel/resort that offers shuttle services, you can also take a shuttle from one park to the other.
Transportation Options Between Disney And Orlando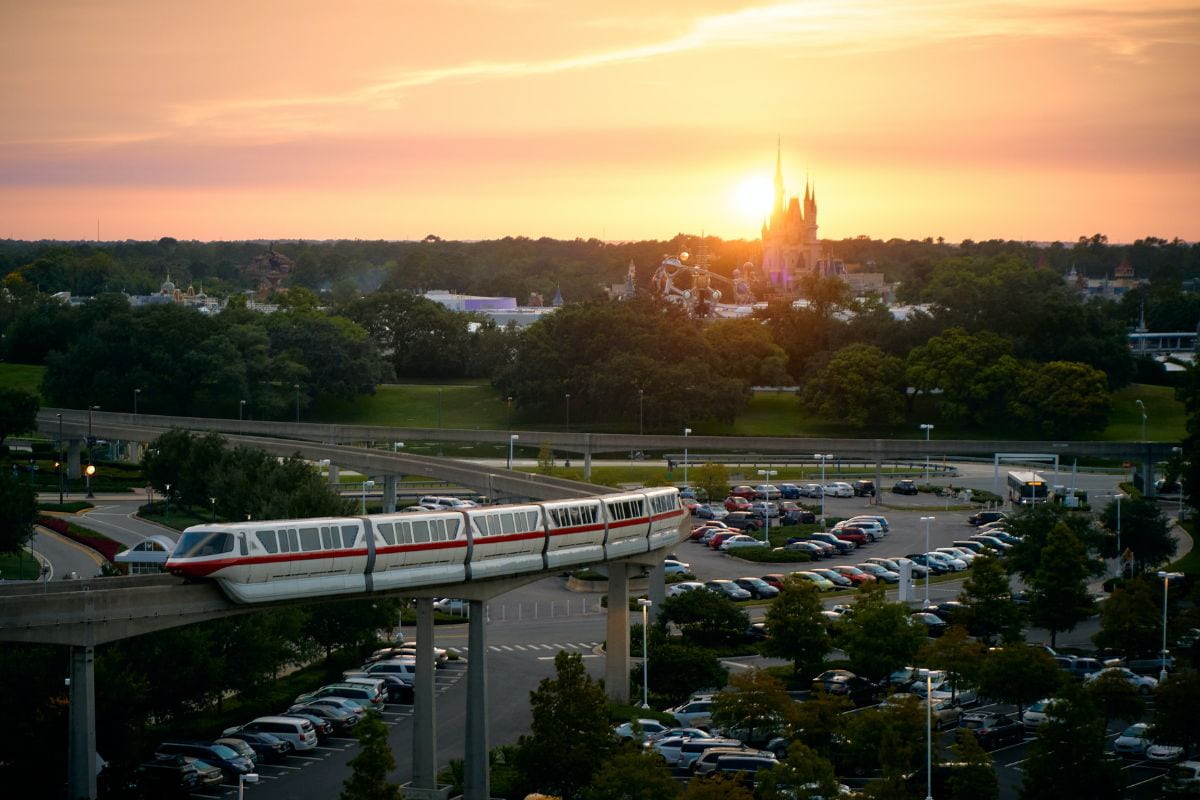 The best ways to get around Orlando and between Disney and Universal Studios without a car are:
Resort Shuttle
Many hotels and resorts in the Orlando area offer free shuttle services that take you from your hotel to the park of your choice and then pick you up at the end of the day to take you back.
Some shuttles may also transport you between different parks in the Orlando area.
Keep in mind that these shuttles operate on specific schedules, and those schedules do not always line up with the park's operating hours.
Some shuttles don't start running until late in the morning or early in the afternoon and may offer their last pickup several hours before the parks close.
If you plan to get to a park early or want to stay late, it might not be possible if you're relying on a resort shuttle.
Another thing to remember is that the shuttle may make several stops between parks.
If you are hoping to get to a park at a certain time, the shuttle may delay your plans, depending on how busy the service is each day.
Private Shuttle
If your resort doesn't offer shuttle services, but you would prefer this type of service, there are several private shuttle services in the Orlando area.
You can call a private shuttle service to schedule a specific pickup and drop-off point – just double-check their operating hours to make sure their timetables align with yours.
Private shuttles operate much like a bus or taxi service and may offer other vehicle options such as SUVs or limousines for a more premium experience.
If you're traveling as a large group, private shuttles are a notable option to get you where you need to go as they can usually accommodate several people at once.
Some shuttle services charge per trip and others charge per person.
It's a good idea to compare the cost of these services to ensure you are getting the best deal for the services you require.
You can also make friends with other individuals/families/groups at your resort and see if others would like to share a shuttle on the same day for the same route as you.
Uber
Uber is one of the most popular ways to get around any city, and in Orlando, it's a very popular service.
Uber drivers expect travelers to arrive at the airport without access to a car, and many of them are nearby waiting so they can get to customers quickly.
Rideshare options like Uber are similar to a taxi service, so once you download the app, you can customize your route as needed.
Uber drivers don't really discriminate where they drive, so you can easily get an Uber if you need to travel between parks.
The driver will meet you in the pickup area of the park's parking lot and drive you straight to the next park.
You can also call an Uber when you need a ride back to your resort.
The advantage of Uber is that it is a 24/7 service, so you aren't restricted to a set timetable if you want to get to the parks early or experience either park after dark.
Public Transportation
If you don't mind public transportation, this can be one of the cheapest ways to get around Orlando and in between parks.
There are bus routes that operate between Disney World and Universal Orlando – you'll just need to find the bus stop closest to you.
Once you're on the right bus, you can expect to be dropped off at the nearest stop to the park.
If you are hoping to be picked up and dropped off at the entrance or exit of the theme park, this is not the appropriate transportation option for you.
Public transportation can also be crowded, and the bus will likely make several stops between your pickup and drop-off locations, so expect this trip to take some time.
Public transportation may not be as comfortable as other private or semi-private options, yet many people use it regularly to get between the parks or to get around Orlando in general.
Rent A Car
Numerous companies offer cars for rent in Orlando.
Renting a car gives you control over when and where you go and how often you travel between the parks.
Rental cars are usually available to rent directly at the airport, so you can have a car as soon as you get off the plane.
You can also arrange for a rental car to be dropped off at your resort, so it's there when you need it.
Rental cars can be expensive, depending on the size you need and the type of car you choose.
There are budget options, but they may not accommodate families.
You will need to pay for parking at both Disney World and Universal Studios, which will add costs to your visit.
You will also need a specific type of insurance to rent a vehicle, and you will be expected to bring back the car clean with a full tank of gas to avoid further fees.
Taxi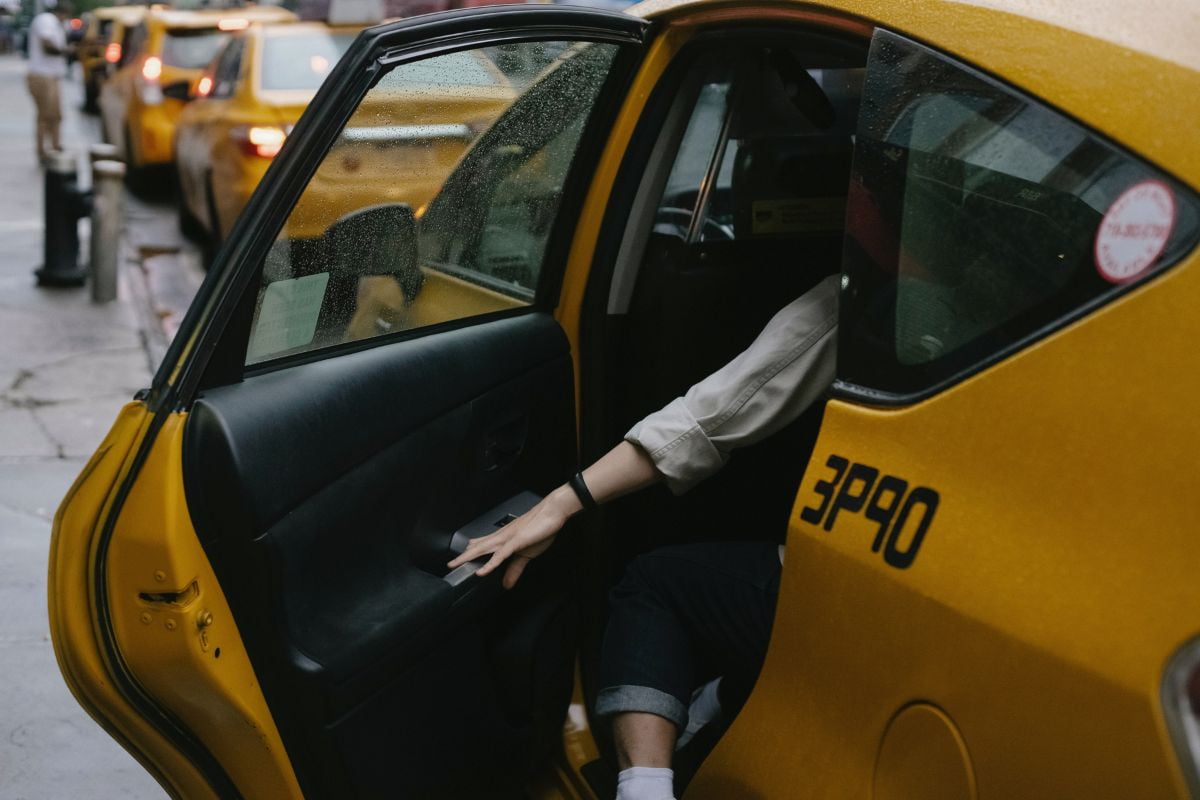 Taxis are always an option in Orlando, and you can often find them waiting at the entrances and exits of Disney and Universal.
Most people are familiar with taxis, and some prefer this type of ride over an Uber.
Taxi services may also be less costly than Ubers, but they may also be a little less comfortable.
When you use a taxi service, you can also talk with the driver about which routes are the best and make additional plans to be picked up at the park later.
Taxis may not always be available when you are ready to leave or may not always be waiting outside the park, but if you call the company, one will likely arrive quickly.
How Far Is Universal Studios From Disney World?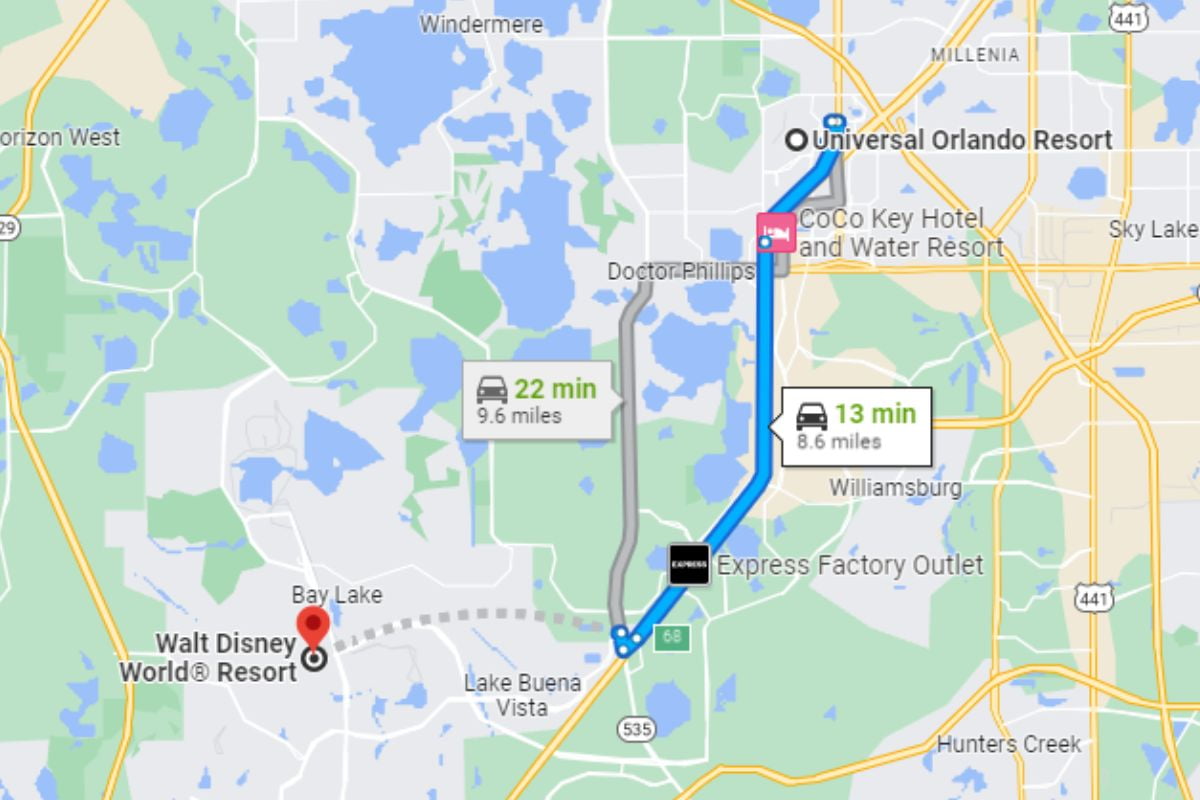 Universal and Disney are both located in the Orlando area, and they are fairly close to each other.
In fact, the two parks are only about nine miles apart.
This is a popular area to visit, so traffic can be heavy at times.
Depending on traffic, you can expect to drive between the two parks in about 15 minutes.
There are also numerous other attractions between these two parks that may interest you as well.
Conclusion
Disney and Universal are located near each other, and you can easily visit both parks in one day if you choose.
If you have flown into Orlando and aren't renting a vehicle, there are many alternative transportation options that can get you to and from each park easily.
Shuttle services or an Uber are usually the preferred methods of getting around in Orlando, but other options are worth considering, depending on your preferences, timeline, and budget.