How To Get To Magic Kingdom From Pop Century?
Disney's Pop Century Resort and the Magic Kingdom theme park are 7 miles (11km) apart, so walking isn't a good option for getting between the two.
There are three efficient ways to get to Magic Kingdom from the Pop Century Resort: bus, car, or taxi. The least expensive option is the free Disney bus system. Buses start running at least 30 minutes before the park opens, allowing you to get there in good time. The quickest way between the locations is via car or taxi.
A taxi will cost you about $20, and the wait isn't as long as with the bus.
Can I Take the Skyliner from Pop Century to Magic Kingdom?
Disney's Pop Century Resort has been a "Skyliner Resort" since Autumn 2019, but the aerial gondola system doesn't connect it to Magic Kingdom.
Along with Disney's Riviera Resort, Disney's Art of Animation Resort, and Disney's Caribbean Beach Resort, the system only links to Hollywood Studios and EPCOT.
Though you can't get to Magic Kingdom by gondola, you can glide into either Hollywood Studios or EPCOT and connect to the park from there.
That said, this route will take you quite some time, so I recommend using an alternative method to get to Magic Kingdom from Pop Century.
The only way for Skyliner Resort guests to get to Magic Kingdom, Animal Kingdom, Disney Springs, and the water parks is by bus.
It takes 10-15 minutes to arrive, though you also have to account for the 15-20 minutes you could spend waiting for the bus.
If you time it right, you can arrive at the bus stop just before it arrives and cut down your wait time.
If you are headed to EPCOT or Hollywood Studios, you can use the complimentary bus or the Skyliner.
Taking a bus to those parks is only required if the gondolas aren't operating.
If aerial travel isn't your jam and you're not big on bus transportation, you can also hail a taxi, with services like Orlando Cab and Wheeler Taxi present around the area.
Ride-sharing apps like Uber or Lyft are also viable alternatives.
Does Disney's Pop Century Have Its Own Bus Transportation System?
Yes, Pop Century has its own bus transportation system.
The Pop Century Resort and the Art of Animation Resort share the same Skyliner station, but they don't share the same bus service.
The fleets that operate to and from Pop Century are dedicated to only that route, contrary to other hotels where sharing buses is the norm.
Many see this as a positive, but you can still find long queues at the stops, especially during peak hours.
Because of this, try to get to the bus stop at less busy times to avoid waiting for too long.
The bus stops at Pop Century are outside the Everything POP Shopping and Dining store.
Most buses only go to one location, so it's easy to know which one you need.
How Do I Get to Each Park From Pop Century?
The best way to get from Pop Century to any Disney World park is via the complimentary bus system.
Disney's Skyliner, though unique, doesn't connect to that many locations at Disney World.
That's not to say the situation won't change in due time – it's just the newest transportation method at the park and not as accessible right now.
The only caveat of the bus system is that you have to account for wait times, something you don't necessarily have to worry about when hailing a cab.
The price for a taxi varies (depending on destination), and it's rare to get anywhere for less than $12.
Another way to get to any Disney park is by personal vehicle, whereby your only expense would be fuel.
How long you take to arrive at your destination is up to you, but with your own car, you can get there in less time than the bus.
The final transport option is the Minnie Van.
Available within the Lyft app, Disney's Minnie Vans have been unavailable for two years, but they're set to make a comeback in the summer of 2022.
They're the fastest Disney-offered transport method, allowing you to get to where you need to go more quickly than by bus (though they're more expensive than a regular Lyft or Uber).
To use the Disney Minnie van, follow the below steps:
Download the Lyft app
Input your current location
Set the Disney World park you want as your destination
Request a ride
Scroll through the different ride options that pop up, and click on the Minnie Van
Take note of the car's identification number and wait for your chariot to arrive.
How Do I Get to Another Disney Resort From Pop Century?
The bus is, once again, the best way to get to any other Disney Resort from Pop Century.
This time, however, you can't go straight to your destination.
Commuting to another Disney hotel requires taking one bus to Disney Springs and another to the resort.
You'll also use the same route when going back to Pop Century.
The time you'll take for a one-way trip is at least an hour, but it's common to take an hour and a half or even two.
If you're looking for the fastest way to get to your destination, hail a taxi or catch an Uber or Lyft – you'll be there in no time.
How Do I Get to Universal Orlando From Pop Century?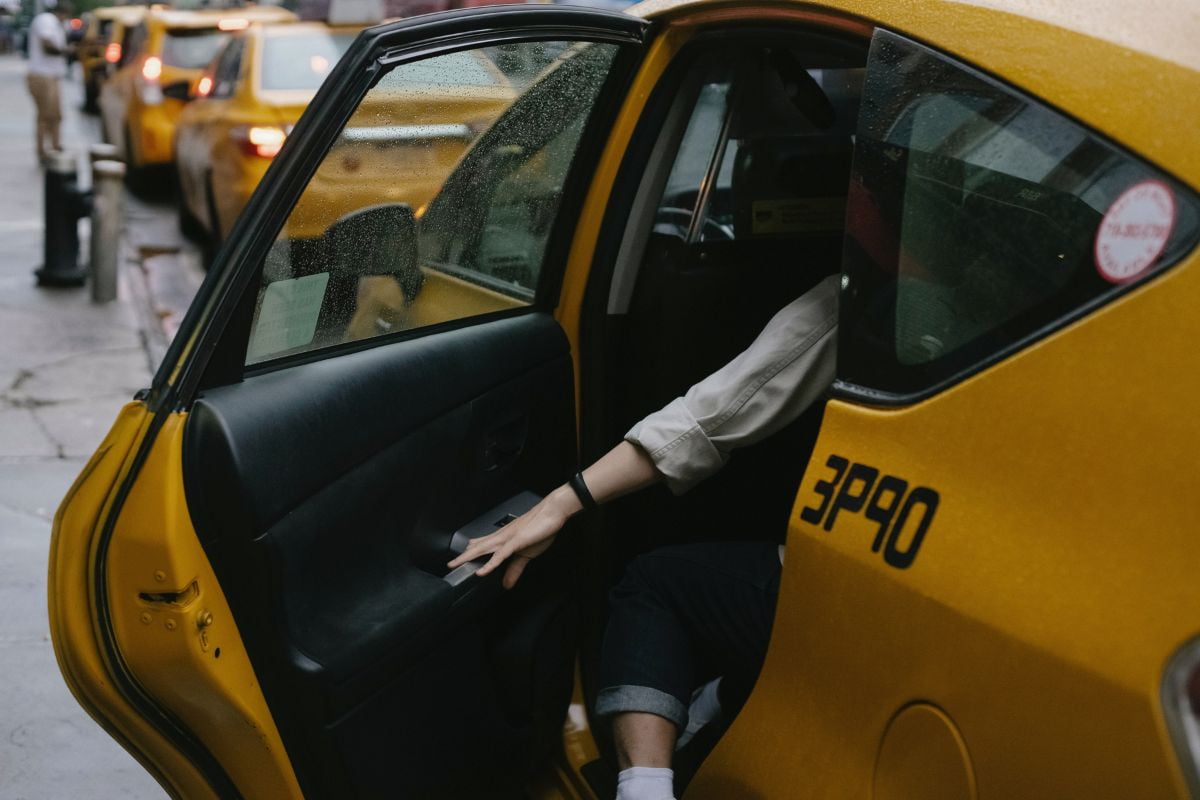 You can take a shuttle bus or hail a taxi from Disney's Pop Century Resort to Universal Orlando.
Mears Transportation shuttles cost $18 per person round trip, while taxis cost anywhere from $35 to $40 for a one-way trip.
An Uber or Lyft is about $25 for a one-way ride.
Conclusion
A stay at Disney's Pop Century Resort comes with a variety of transportation options.
The hotel is a bit far from the parks, but you can always take a taxi to order an Uber/Lyft if you're in a hurry and don't feel like waiting for the Disney bus.
If you like having control over your travel route, you can bring your own car to the Walt Disney World Resort or rent one at the Orlando International Airport for your entire stay.
Just remember to account for parking fees.