Can You Dress Up For Halloween Horror Nights At Universal Orlando?
Every fall, Universal Studios Florida transforms into a horror-filled playground.
Visitors can enjoy the park as usual during the day – before the streets flood with monsters, ghouls, and villains at dusk.
As parkgoers cautiously wander through the bizarre attractions, creepy decorations, and eerie events of Halloween Horror Nights, they'll encounter Universal Team Members in detailed costumes with realistic props.
However, Universal Orlando does not allow guests to dress up for Halloween Horror Nights. While there are still plenty of ways to display the Halloween spirit, costumes and masks are prohibited for both children and adults. This rule stops bad actors from impersonating Universal employees and helps to keep everyone safe.
The following explains Universal Orlando's Halloween Horror Nights, why costumes are restricted, and offers tips on dressing for the event without breaking any rules.
What Is Universal's Halloween Horror Nights?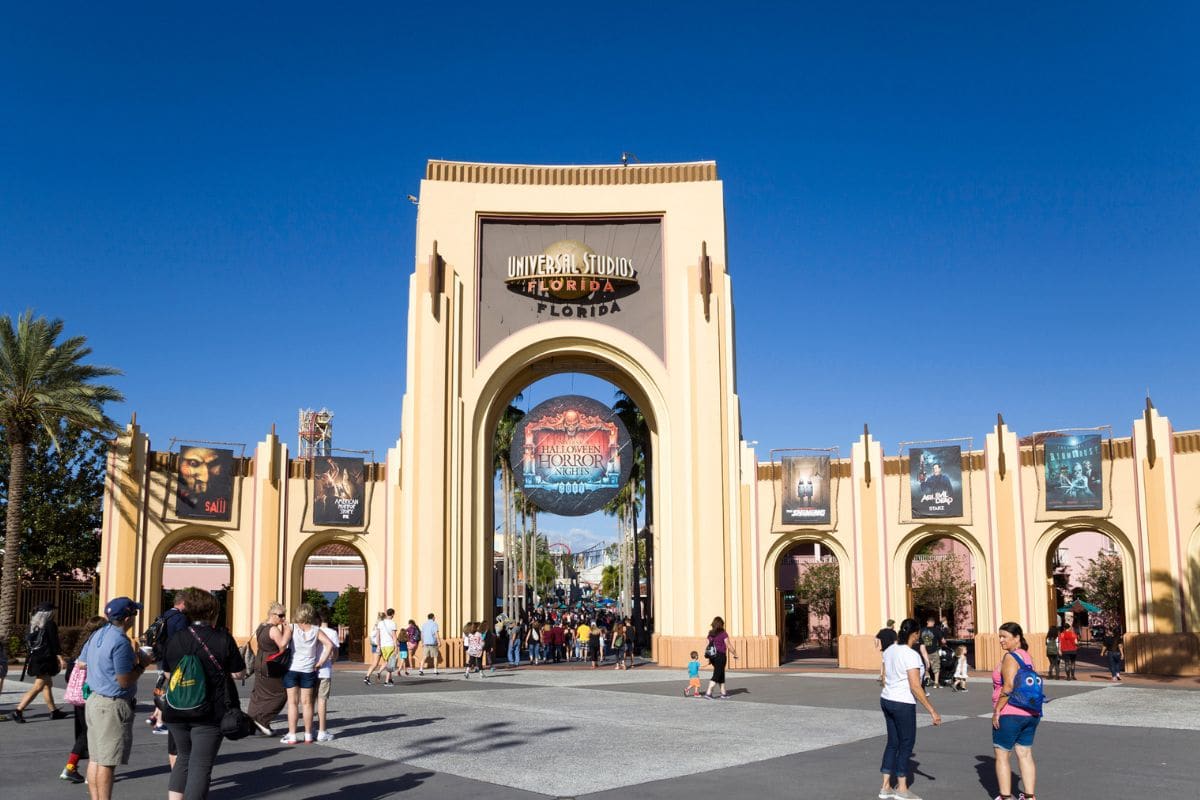 Halloween Horror Nights are Universal Studios' signature celebration of the spooky season.
It's a separately ticketed event that runs on select nights from the beginning of September to October 31st.
Throughout the fall, Universal Orlando's theme parks operate normally during the day, but as the sun sets, guests filter over to Universal Studios Florida, where the monsters come out to play.
The park's most popular rides, such as Harry Potter and the Escape From Gringotts and Revenge of the Mummy, will still run at night; however, the event's main attractions are haunted houses, scare zones, and live shows.
Guests can walk through mazes and haunted houses inspired by classic and outrageously original horror scenes or wander through scare zones populated by scare actors in horrifying costumes, searching the streets for guests to spook.
Luckily, these areas are clearly marked, allowing guests to participate in terrors at their own will.
The live shows put the terror on hold and continue the evening's festivities with thematic productions full of music, projections, and light.
Can Guests Wear Costumes at Halloween Horror Nights?
Despite the entire park getting a Halloween makeover, Universal Orlando does not allow guests to wear costumes during Halloween Horror Nights.
Because Universal Team Members are all in costume during the event, parkgoers are prohibited from dressing up to avoid confusion and to ensure no one purposefully impersonates a Universal employee.
Guests should keep this policy in mind when doing their make-up as well.
While Universal understands the difference between costume make-up and regular make-up, it's important not to style yours after a specific character.
Lastly, while wizarding robes and wands are allowed in the parks during the day, Universal doesn't allow them during Halloween Horror Nights.
Can Children Wear Costumes at Halloween Horror Nights?
Universal Orlando's costume policy applies to both adults and children.
Children are prohibited from wearing costumes for the same reasons, mainly with their safety and the safety of employees in mind.
While children of all ages are welcome to Halloween Horror Nights, the evening can be intense for some younger guests.
Be sure to check with the little ones in your group before heading to the event.
What Should Guests Wear at Halloween Horror Nights?
Florida has mild daytime weather in the fall, but the evenings can be cool and breezy.
It's best to wear (or bring) long sleeves, long pants, good walking shoes, and a light jacket when visiting the parks after hours.
Costume face masks are not allowed, but medical masks are permitted, and Universal allows Halloween-themed clothing, including graphic tees, patterned clothing, or other items with a Halloween flair.
Remember, whatever you wear, clothing must not resemble a full costume, or you will be asked to remove items, change your outfit, or leave the park entirely.
Other Ways to Embrace the Halloween Spirit at Universal Orlando
Each year Universal Orlando gives its food and beverages a spooky overhaul.
With treats like No "Chance" in Hell PB&Js and Maggot Covered Cheese Dogs, guests can experience Halloween-inspired treats at every turn.
(Don't worry about the maggots, though – they're just savory puffed rice cereal.)
Adult parkgoers can enjoy a selection of themed cocktails, like Ghoul Juice and Electric Death, and should visit The Weeknd's After Hours Bar for dreadful (and delicious!) concoctions.
Before leaving the park, visitors can pop into any Universal Orlando shop to find a mix of typical merchandise and Halloween Horror Night-inspired souvenirs to take home.
Conclusion
Halloween Horror Nights is Universal Orlando's award-winning theme park celebration in honor of the spooky season.
At this separately ticketed event, Universal Studios Florida embraces the macabre with seasonal attractions and live shows as Team Members in full costume creep around the park, frightening guests whenever they can.
While Halloween is typically marked by everyone dressing up, Universal does not allow guests to enter the parks wearing costumes, masks, and/or face paint.
This policy ensures there's no confusion between parkgoers and costumed employees and protects the safety of everyone participating.
There are still several ways to show the Halloween spirit, though.
Visitors can wear Halloween-inspired clothing, enjoy spooky treats and beverages, or pick up themed souvenirs on their way out.