Do Disneyland Rides Have a Weight Limit?
Anyone who has ever been turned away from an amusement park ride due to their size knows that it isn't a fun experience.
So, if you think your size could be a problem when getting on rides, you'll want to know each ride's limits before you get to the seat.
Most Disneyland rides do not have a weight limit and instead rely on whether the safety restraints will close around a person. If you are nervous about being turned away from a ride, you can head to Guest Services and ask them which attractions may not be able to accommodate you.
How Do I Know if I'm Too Big for a Disneyland Ride?
Well, both fortunately and unfortunately, Disneyland rides do not have set weight restrictions.
On the one hand, not having weight restrictions is good because, technically, anyone can ride all of Disneyland's rides.
However, a lack of clear boundaries means you have to get on the ride to see if you can fit, which can be quite embarrassing for some people if they have to get off.
But, there are some ways around this issue.
For one, you can visit Guest Relations and talk to them about which rides are more accessible to larger guests.
This option is pretty good because Guest Relations employees know the rides well, so they'll be able to tell you which rides are best for you.
Additionally, some rides have seats at their gate so that you can see how well you fit before you wait in line.
Attractions that have seats you can try out include Mr. Toad's Wild Ride, Mad Tea Party, and Dumbo.
And finally, I've listed out below some rides that are and aren't that great for plus-sized guests.
Best Rides for Plus-Sized Disneyland Guests
Not all rides at Disneyland are the same, and some are much more comfortable for plus-sized guests than others.
Thus, I've listed out a few rides that are easily accessible for larger guests.
The best rides for plus-sized guests in Disneyland Park include:
The Disneyland Railroad
Jungle Cruise
Haunted Mansion
Pirates of the Caribbean
Sailing Ship Columbia
Walt Disney's Enchanted Tiki Room
The Mark Twain Riverboat
Casey Jr. Circus Train
Storybook Land Canal Boats
Indiana Jones Adventure
The King Arthur Carrousel
Dumbo
The best rides for plus-sized guests in Disney's California Adventure Park include: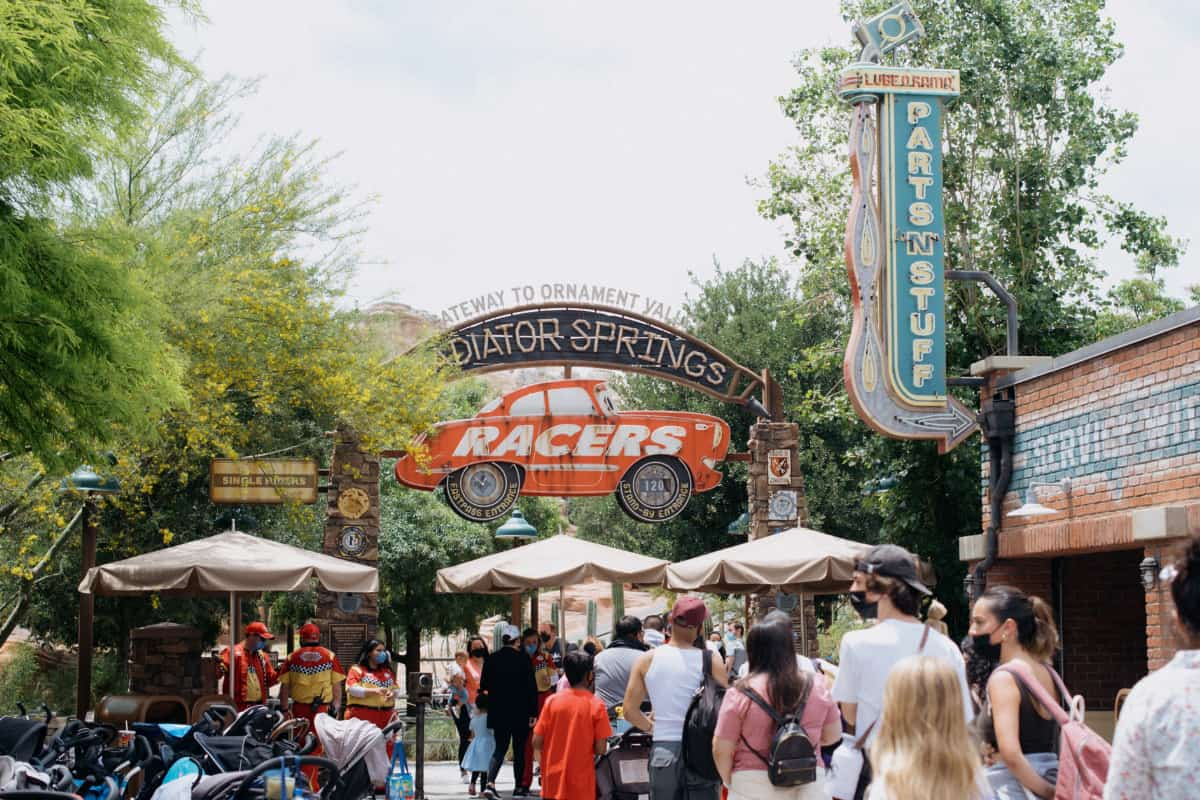 The Red Car Trolley
Ariel's Undersea Adventure
Grizzly River Run
Mater's Junkyard Jamboree
Radiator Springs Racers
Golden Zephyr
Luigi's Rollickin' Roadsters
Inside Out Emotional Whirlwind
Soarin' Around the World
Guardians of the Galaxy – Mission Outbreak
Toy Story's Midway Mania
Mike and Sully to the Rescue
Disneyland Rides That Aren't Great for Plus-Sized Guests
Although plus-sized guests will find that they fit on most rides at Disneyland, some can be downright uncomfortable for larger patrons.
I chose these rides as particularly uncomfortable either because they have tight restraints, are challenging to get into, or the turnstiles before the ride are quite small.
Disneyland Park rides that aren't great for plus-sized guests:
Astro Orbitor
Autopia
Alice in Wonderland
Big Thunder Mountain
Davy Crockett's Explorer Canoes
Finding Nemo Submarine Voyage
Matterhorn Bobsleds
Mr. Toad's Wild Ride
Peter Pan's Flight
Splash Mountain
Snow White's Scary Adventures
California Adventure rides that aren't great for plus-sized guests:
Goofy's Sky School
Jumpin' Jellyfish
Mickey's Silly Symphony
General Tips for Overweight People at Disneyland
Accessing a theme park when you are overweight comes with unique challenges.
So, I want to share some more tips on navigating Disneyland if you are plus-sized so that you can have the best possible time in the park.
Getting Around the Park
Those of us who are overweight know that being on our feet for long periods can come with some uncomfortable consequences, like foot and joint pain, swelling, and breathlessness.
So, to prevent these feelings, you should make a plan so that you don't get tired out quickly.
And one great way to prevent fatigue is to park at the Toy Story Parking area on the east side of Disneyland Resort and take the shuttle bus to the gate.
Also, you can rent a mobility scooter at Disneyland if you fear you'll get tired out before the rest of your group.
Some people feel uncomfortable about renting scooters due to their weight, though, or don't want to add the extra expense to their trip.
If so, you can rest assured that Disneyland has plenty of benches so that you can have a seat whenever you need to do so.
Making Your Day More Comfortable
I personally get painful and stiff feet when I have to walk for too long, so I highly advise anyone else with this issue to purchase some quality shoe inserts.
You can even buy ones designed specifically for your feet, and, in my experience, these are the best at ensuring your soles don't ruin your day out.
Additionally, if you chafe when you move around a lot, you should apply some anti-chafing gel or powder before leaving for Disneyland and bring some with you to re-apply later.
And finally, never wear uncomfortable clothes or shoes to Disneyland, or your day may not go as well as you hoped it would.
Purchasing Plus-Sized Clothing at Disneyland
Unfortunately, it can be a bit difficult to find plus-sized clothes at Disneyland.
Generally, sizes in most stores on the Disneyland Resort only go up to XL or possibly XXL or 3XL if you're lucky.
But, if you're looking for larger sizes, a lot of clothes on shopDisney.com go up to 4XL.
What if I Can't Get Through the Front Gate Turnstiles?
If you can't get through the front gate turnstiles, don't panic.
Just ask a Disneyland employee to let you through the wheelchair and stroller gate.
Could I Be Too Tall for a Disneyland Ride?
Fortunately, for those blessed with height, you can ride all the rides at Disneyland no matter how tall you are because there are no maximum height restrictions on any rides.
However, if you are much taller than average, you may find that some rides are impossible for you to get into or uncomfortable, especially if you are overweight as well.
And most of the rides that don't fit tall people well are those with lap bars because they sometimes won't close over their legs.
If this happens to you, the Disneyland employee at the ride will have to ask you to get off because you could get injured if the lap bar doesn't fit properly.
But, if you are worried about not being able to enjoy certain rides because of your height, you can always talk to Guest Relations about which rides don't accommodate tall people well.
Also, many rides have attendants that stand in front of their entrance, and you can talk to them if you have concerns about whether you'll fit on a particular ride.
Conclusion
Overall, Disneyland is pretty accommodating to their plus-sized guests.
However, if you are overweight or very tall, you should be aware of the information above to ensure you have the best possible time on your Disneyland trip.