Does Disney World Check Age?
If you plan to go to Disney World with your toddler, you'll be happy to know that children under the age of three (3) get into the park for free.
But don't worry, you don't need to bring your kid's birth certificate to the park.
Parents don't need to show proof of age for their children when entering Disney World. Disney operates on the honor system – if you say your child is under three years old, the cast members will let you in.
Don't take advantage of the system, though: if your child is between 3 and 9 years old, you must buy a youth ticket, and individuals 10 and older pay the standard adult admission rate.
What Happens If My Child Turns Three During the Vacation?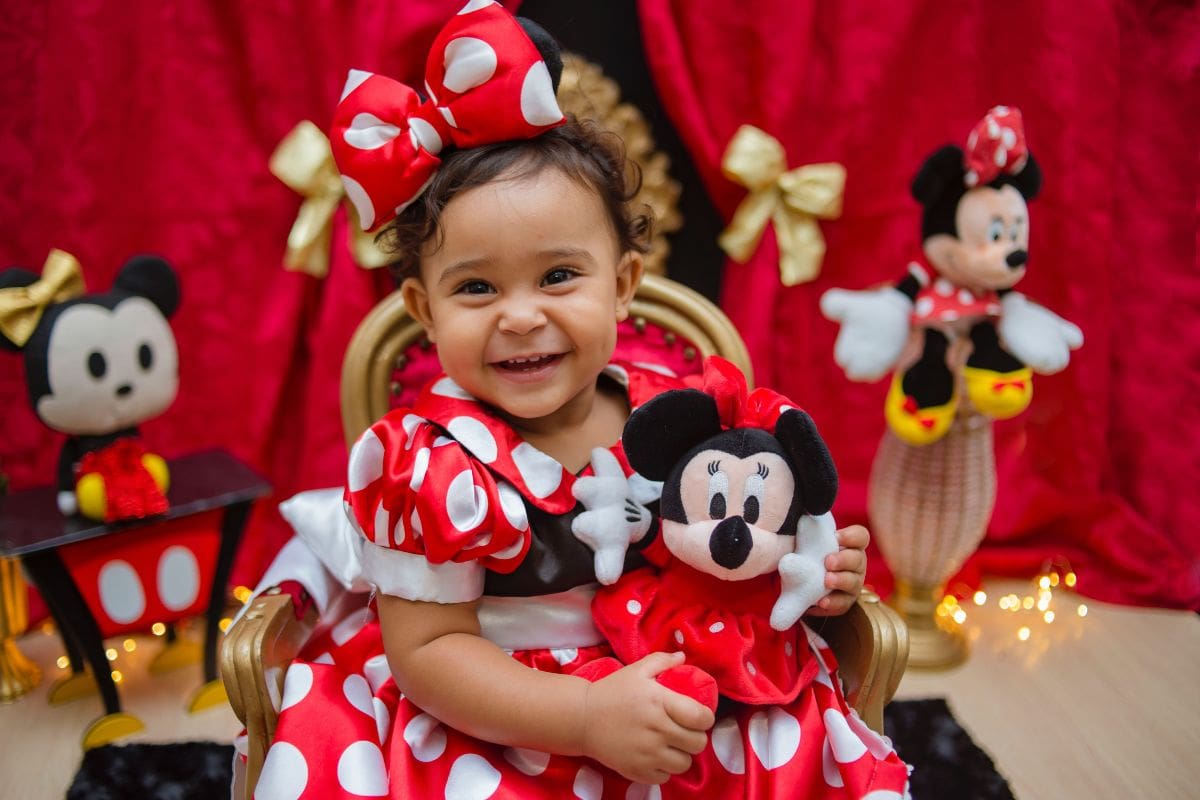 If your child is under three for your first day at the park but turns three during your trip, they still get in for free.
So, for example, if you attend on the 20th of the month and your child turns three on the 21st, you don't need to buy them a ticket.
However, if you plan on going to Disney World starting on your kid's third birthday, they'll need a ticket and park pass reservation to gain admission.
Can A Two-Year-Old Enjoy Disney World?
There are a lot of activities at Disney World that suit kids under 3.
They might be too young for some of the rides, but the park has play areas, festivals, and character meet and greets that all provide a fun experience for your little one.
Magic Kingdom is the best park for small children as everything from the theming to the activities is geared to bring smiles to children's faces.
A significant feature is how seamlessly it brings a world of fantasy into reality, something even adults can't help but adore.
The only problem with taking a child under 3 to Disney is they're unlikely to remember anything from their time at the park.
The solution is to take as many photos as possible so you can show them when they're older.
Which Theme Park is Most Suitable For My Child?
There are four major theme parks at Disney World.
Children can have a great time at any of them, and they all have features geared to specific audiences.
Magic Kingdom: Best for Toddlers to 10-Year-Olds
Children under 12 are likely to make the most out of their time at Magic Kingdom.
With only three rides having height requirements, it's arguably the most 'magical' area at Disney World.
This park features spectacular fireworks, the famed Cinderella Castle, and kid-friendly rides like Dumbo and "It's a Small World."
From toddlers to tweens, there's something for everyone at this Disney park.
Animal Kingdom: Best for Ages 6+
As the name might suggest, Animal Kingdom is for anyone who appreciates animals and nature.
The park has attractions like the Expedition Everest ride and the Avatar Flight Passage 3D flying simulator.
It also features the Kilimanjaro Safaris, where you can see exotic animals like hippos and giraffes.
If your kid gets a little fidgety at zoos, you might have to rethink Animal Kingdom, but overall, anyone over six years old can have a wonderful time here.
Hollywood Studios: Best for Ages 10+
Hollywood Studios suits teenagers better than other age groups.
It provides a different, more mature experience than Magic Kingdom, but it's not so adult that you're worried about what your kid may be exposed to – it's still Disney, after all.
The park is an ode to Hollywood and features attractions such as the Hollywood Boulevard and the recently opened Mickey and Minnie's Runaway Railway (2020).
Seven of the nine rides at the park have height requirements, so make sure your child is tall enough before visiting.
Epcot: Best for Ages 10+
Epcot is the more adult-friendly theme park at Disney World.
I can still make a case for how kids can have a great time, but if I'm being honest, they'll have much more fun at the first two parks.
The primary features that make Epcot the go-to destination for adults are that most spots serve alcoholic beverages, and the food options and overall dining experience are more sophisticated.
Still, if your kid is over ten years old, they'll likely enjoy the experience.
Do Certain Park Areas Have Age Restrictions?
Yes.
All theme parks and water parks require kids under 14 years of age to be accompanied by a guest aged 14 and above.
Kids under seven also need to be with someone 14 years old (or older) to hop on any ride.
Disney World also offers Children's Activity Centers where potty-trained kids can enjoy themselves and play some games while their parents visit more adult-friendly areas.
Does the Disney Cruise Line Have Age Restrictions?
Yes.
To board a Disney Cruise Line ship, children need to be at least six months of age on the day of sailing.
If the ship is set for the Transatlantic, Panama Canal, and Hawaii itineraries, your child needs to be at least one year old.
If you do board a ship with a toddler, you can take advantage of the many child-related services available, including complimentary diapers, bottle warmers, cribs, strollers, and high chairs.
You can even ask for freshly pureed vegetables from room service!
Keep in mind that the nurseries on the ship only cater to kids aged six months to 3 years old (or 1 to 3 on the Transatlantic, Panama Canal, and Hawaii-bound cruise lines).
What's the Best Age For a Kid To Visit Disney World?
Kids under four years old aren't likely to remember much from their time at Disney World.
On the other hand, teenagers might feel like they're too old for princesses and Mickey ears.
That makes the best age to visit Disney World somewhere in between (but honestly, it depends on how much your kid loves Disney).
Six and seven-year-olds tend to enjoy a trip to Disney World more than children of other ages.
They're in that sweet spot where they're likely to be familiar with most of the characters but haven't yet outgrown them like older kids.
Can Adults Have a Good Time at Disney World?
Yes, adults can have a great time at Disney World!
Epcot and Hollywood Studios already provide an environment geared to older individuals.
Animal Kingdom offers an experience unique to any other location, and the Magic Kingdom is true to its name – full of that awe-inspiring Disney magic we all know so well.
Adults can also experience different cuisines all over the theme park and participate in festivals like the EPCOT International Food & Wine Festival.
An adult-only visit also allows you to stay at hotels more suited to grown-ups, like the Port Orleans Resorts and the Coronado Springs Resorts.
If you want a break from the Disney-themed everything, staying off-site is also a legitimate option.
Overall, don't let the costumes and pixie dust fool you into thinking Disney World is exclusively for kids.
Adults have been known to enjoy themselves just as much.
Conclusion
You don't have to worry about age-related issues when visiting Disney World, and you don't need to show proof of age for your kids when entering the park.
As long as you (or another responsible adult) accompany the kids, you're pretty much good to go.
Disney is quite strict about who's allowed where and who's not, but there's a lot of information available to remove the guesswork.
The park offers something for everyone, so it's no surprise that adults and children alike have a magical experience at Disney World.