Top 10 Coolest Things To Do At Disney World (Updated 2023)
Walt Disney World was built to be one of the most remarkable places on Earth.
That said, certain attractions stand out as the most fun and interesting things to do in the parks.
The top ten coolest things to do at Disney World are:
Explore EPCOT's World Showcase
Climb all the mountains at Magic Kingdom
Hit the classic rides
Get surfing lessons at Typhoon Lagoon
Collect and trade Disney Pins
Hop on a safari at Disney's Animal Kingdom
Sign up for EPCOT Seas Adventures
Venture through Star Wars: Galaxy's Edge
Soar above Disney Springs in a hot-air balloon
Experience Disney Enchantment at Magic Kingdom
This article provides the inside scoop on the top ten coolest things to do at Disney World, including where to find them, what to expect, and what makes them worthy of attention.
1) Explore EPCOT's World Showcase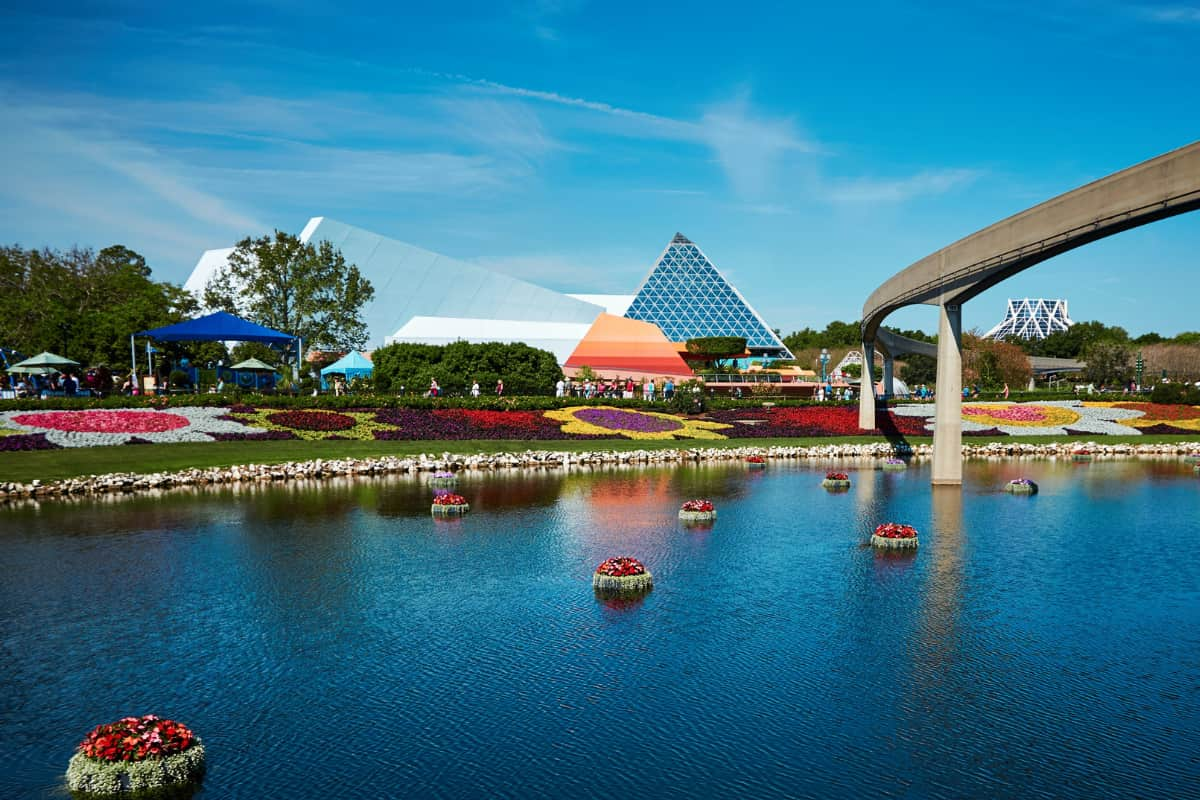 At EPCOT's World Showcase, parkgoers can travel the world in just one day through 11 international pavilions.
These pavilions expose visitors to the unique history, geography, architecture, culture, and cuisines of the following countries:
Canada
China
France
Germany
Italy
Japan
Mexico
Morocco
Norway
United Kingdom
United States.
The culinary experience is a huge draw for guests visiting the World Showcase.
Every country serves delectable and traditional dishes, from custard-filled School Bread in Norway to fresh sushi in Japan.
EPCOT's World Showcase also inspires festivals like the EPCOT International Food & Wine Festival and the EPCOT International Festival of the Arts.
This expertly crafted attraction is perfect for those with a diverse palette, a case of the travel bug, or a love for learning.
2) Climb all the Mountains at Magic Kingdom
Magic Kingdom is home to the three most iconic mountains at Disney World: Big Thunder Mountain, Splash Mountain, and Space Mountain.
For the ultimate Disney experience, thrill-seeking guests should make it their quest to conquer them all.
Big Thunder Mountain Railroad
Big Thunder Mountain Railroad is located in Frontierland at Magic Kingdom Park and is the tamest of the three mountains.
This thrill ride races on a rickety track that jolts riders through tunnels, an abandoned mine shaft, a cursed cavern, canyons, and the eerie ghost town of Tumbleweed.
What makes this ride so cool is its ability to send visitors back to the old-timey days of the American West while raising adrenaline levels.
Splash Mountain
For a more thrilling (and damp) experience, guests can jump on Splash Mountain, also located in Frontierland.
This ride is packed with quirky animatronics and whimsical music – not to mention 950,000 gallons of water, three dips, and an epic five-story (16.5 m) drop.
That's an incomprehensible 3,596,141L of water for our readers who only speak metric!
Splash Mountain is rad because it has the element of surprise.
The ride nudges guests through a dim bayou before plummeting them into the Florida sun.
Space Mountain
Space Mountain is the ultimate thrill ride of all three mountains.
In Tomorrowland at Magic Kingdom, Space Mountain blasts riders into space on a rocket.
During this speedy launch, a futuristic soundtrack bellows out tunes while shooting stars and satellites scurry by.
Riders encounter streaking orbs of light, comets, and meteors before being tugged back by gravity into a wormhole.
Space Mountain has the perfect blend of special effects and coaster features that make the experience feel otherworldly.
3) Hit the Classic Rides
The cool ride to-do list doesn't end there – there are also some classic rides that guests have to try out during their visit.
Pirates of the Caribbean
This classic dark ride in Adventureland at Magic Kingdom is full of amazing sets, animatronics, and designs.
Aboard a weathered barge, guests encounter rowdy pirates, the haunted Dead Man's Cove, cannon fire, and the one and only Captain Jack Sparrow.
This ride hits different because it leaves riders in awe of vintage Disney, consuming them with its captivating storyline and craftsmanship.
The Twilight Zone Tower of Terror
This classic thrill ride stands tall on Sunset Boulevard at Disney's Hollywood Studios.
On the late 1930s-era Tower of Terror, riders are lifted and dropped intensely within an abandoned elevator shaft.
This attraction is one of the coolest at Disney World because of its fear factor, nostalgic theming, and immersive theatrical atmosphere.
"it's a small world"
This chipper boat cruise in Fantasyland at Magic Kingdom takes riders for a tour past a chorus of characters from around the world.
While singing the celebrated song, "It's a Small World (After All)," animatronics dance and harmonize in front of intricate backdrops.
The creative production and friendly feel of this Disney masterpiece appeal to guests of any age.
4) Get Surfing Lessons at Disney's Typhoon Lagoon
Active visitors love to learn how to surf in private lessons at Disney's Typhoon Lagoon Water Park.
Avoid the unpredictability of ocean tides and slice through a hundred waves during a 3-hour session in North America's largest outdoor wave pool.
These lessons are cool because they are customized to each guest's skill level. They can even include add-ons like meal packages and professional photographs.
Space is limited, so visitors should book a lesson in advance.
Parkgoers can book their private session and check pricing info by visiting the events with Disney website.
5) Collect and Trade Disney Pins at Each Park
Disney Pins give guests tangible keepsakes of their favorite attractions, parks, shows, or Disney characters.
Parkgoers can add to their collection and purchase Disney Pins at:
Visitors can gather exclusive pins by trading store-bought ones with Disney Cast Members.
To initiate a trade, guests can ask to swap their pins with one found on a Cast Member's lanyards or pinboards.
This Disney activity is one of a kind because it allows guests to hang on to precious memories and interact with beloved Disney characters.
6) Hop On a Safari at Disney's Animal Kingdom
Kilimanjaro Safaris are an excellent way for guests to observe wildlife at Disney's Animal Kingdom.
These safaris send visitors out for an 18-minute guided tour of a staged African Savanna.
Parkgoers will see 34 species of live free-range animals as they journey through the Savanna in an open-air vehicle.
Some of these animals include lions, hippopotamuses, giraffes, and baboons, and the experience is even cooler after dark when guests can see nocturnal animal behavior that often goes unseen.
7) Sign Up for EPCOT Seas Adventures
EPCOT has its own way of connecting humans and animals via EPCOT Seas Adventures – DiveQuest and EPCOT Seas Adventures – Dolphins in Depth.
Both aquatic experiences take place in World Nature at EPCOT.
With EPCOT Seas Adventures – DiveQuest, guests plunge into a saltwater aquarium among 2000 sea creatures, including sea turtles, reef fish, stingrays, and sharks.
To participate, divers must be SCUBA certified.
Uncertified visitors can try EPCOT Seas Adventures – Dolphins in Depth as a great alternative.
With Dolphins in Depth, aspiring marine biologists and sea-life enthusiasts get a 2-hour meet and greet with bottlenose dolphins and the experts that work with them daily.
In this encounter, guests can enter the water with the dolphins or remain ashore.
Both activities have limited capacity, so reservations are essential.
To book either experience, guests can make online reservations through the My Disney Experience App.
Same-day reservations are subject to availability.
8) Venture Through Star Wars: Galaxy's Edge
Nothing says cool like a whole world devoted to Star Wars.
At Star Wars: Galaxy's Edge in Disney's Hollywood Studios, guests can embark on thrilling galactical rides like Millennium Falcon: Smugglers Run or Star Wars: Rise of the Resistance.
Parkgoers can make their way to Savi's Workshop for custom merch, like a personalized lightsaber powered by kyber crystals.
Another feature of Galaxy's Edge is thematic dining.
Visitors can eat full meals at Docking Bay 7 Food and Cargo or try the Milk Stand to gulp down Batuu's iconic blue or green milk.
Star Wars has touched people's lives since 1977, and at Disney's Galaxy's Edge, multiple generations of fans can come and experience the franchise in person.
9) Soar Above Disney Springs in a Hot Air Balloon
Disney Springs' Aerophile, located at West Side, lets guests see how wonderful Disney World is from above.
Float 400 feet (121.9 m) up in this 8-minute hot-air balloon ride that mesmerizes visitors with a panoramic view of the park.
The balloon was custom-built in Paris and is the largest hand-painted helium balloon in the world.
Talk about a record-breaking experience!
Tickets are sold on a first-come, first-served basis at $25 per adult and $20 per child, excluding tax.
10) Experience Disney Enchantment at Magic Kingdom
It makes sense to complete this list with the ultimate closing ceremony at Disney World.
Disney Enchantment takes place nightly around Cinderella's Castle on Magic Kingdom's Main Street, U.S.A.
The castle is illuminated with magical lighting during the show, and the sky crackles with extravagant fireworks.
Disney characters guide the performance and encourage guests to find the magic within them as they witness enchantment all around them.
Somewhere between the melodies of classic Disney songs and the residual pixie dust that falls from the sky, guests have a once-in-a-lifetime experience.
Nightly showtimes are posted on the My Disney Experience App.
Conclusion
The top ten coolest things to do at Disney World include:
Exploring EPCOT's World Showcase
Climbing all the mountains at Magic Kingdom
Hitting the classic rides
Getting surfing lessons at Typhoon Lagoon
Collecting and trading Disney Pins
Hopping on a safari at Disney's Animal Kingdom
Signing up for EPCOT Seas Adventures
Venturing through Star Wars: Galaxy's Edge
Soaring above Disney Springs in a hot-air balloon
Experiencing Disney Enchantment at Magic Kingdom
For more information on these memorable opportunities (like directions, amenities, and hours of operation), guests should refer to the My Disney Experience App.