25 Cheapest Places To Eat At Disney World in 2023
There is no denying that a trip to Disney World can be expensive.
Whether going alone or taking the whole family, park tickets, hotel rooms, meals, and souvenirs can definitely add up quickly.
Luckily, there are some things you can do to save a few dollars that make a world of difference.
One way to cut costs at Disney World is to find dining options that won't break the bank. Here's a list of the 25 best and cheapest places to eat when visiting Disney World:
The Friar's Nook
Casey's Corner
Columbia Harbour House
Aloha Isle
Sleepy Hollow
Kringla Bakeri Og Kafe
Les Halles Boulangerie-Patisserie
Kabuki Cafe
Sommerfest
Yorkshire County Fish Shop
Yak & Yeti Local Foods Cafe
Flame Tree Barbecue
Eight Spoon Cafe
Restaurantosaurus
Satu'li Canteen
Woody's Lunchbox
Ronto Roasters
Backlot Express
Dockside Diner
ABC Commissary
Morimoto Asia Street Food
Earl of Sandwich
The Polite Pig
The Daily Poutine
Cookies of Dublin.
The following showcases 25 different restaurants at Disney World offering meals for less than $15 per adult (before tax). The list is organized by theme park and includes bonus recommendations for Disney Springs.
An Important Note About Dining at Disney World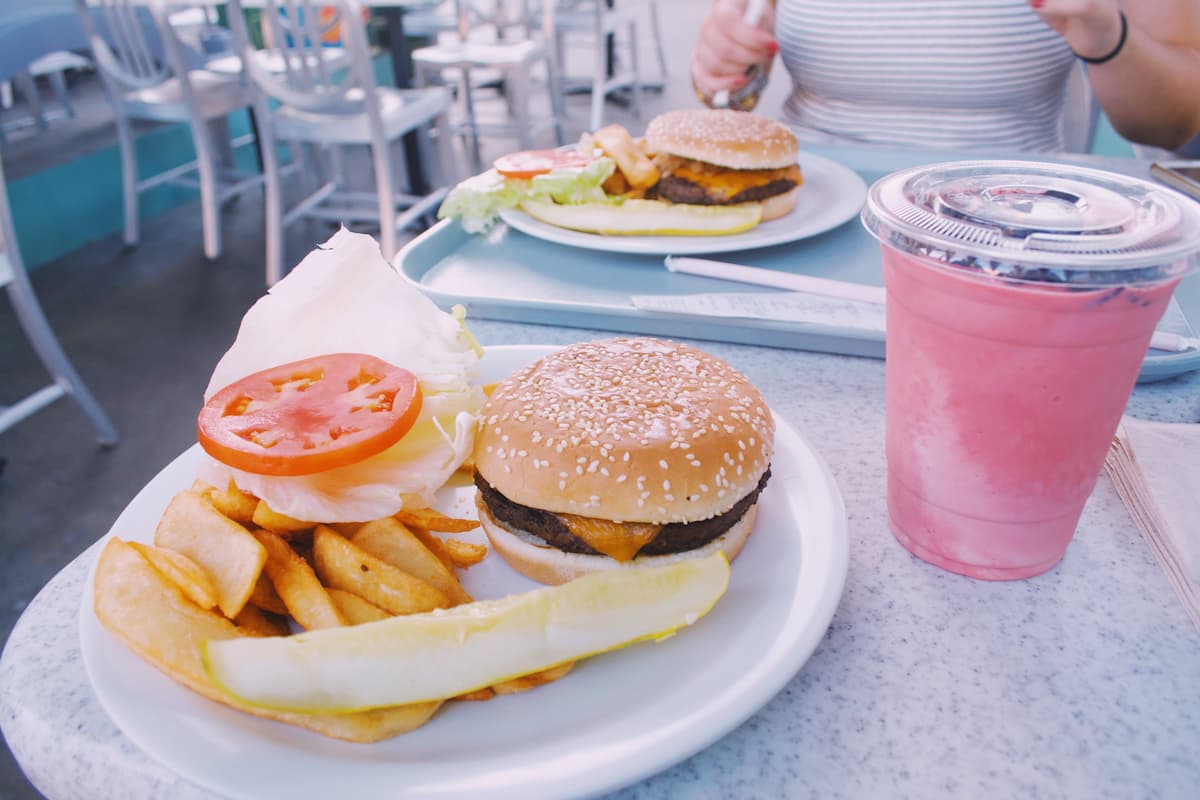 This list includes 25 dining options across Disney World's four parks.
Most descriptions quote the average or maximum amount adult guests can expect to spend on a meal before tax and tip.
These prices are subject to change, so it's always a good idea to check Disney World's website to see current pricing before visiting.
Magic Kingdom
1) The Friar's Nook
Our first stop in Magic Kingdom is The Friar's Nook.
This Fantasyland eatery serves up a constantly changing menu of American classics.
Choose from Creamy Bacon Mac, Cheese Tots, or the Famous Wild Toad Burger.
Visitors can expect to spend $15 or less per person for breakfast, lunch, or dinner.
2) Casey's Corner
Hop over to Main Street U.S.A. for another inexpensive take on American favorites at Casey's Corner.
With Chicago-style Hot Dogs, Chili Cheese Fries, and the plant-based Loaded Slaw Dog, this baseball-themed cafe offers lunch and dinner for $15 or less per adult.
3) Columbia Harbour House
Find New England-style comfort food at Columbia Harbour House in Liberty Square.
Guests are transported to the coast of Maine with entrees like Grilled Salmon, Shrimp Skewers, and Sea Captain Catch – all for under $15.
Coming in at the same price is the Doom Burger, a plant-based crab cake sandwich sure to please all vegetarians.
Diners who don't mind spending a bit more can also try out a Lobster Roll or New England Shrimp Boil.
4) Aloha Isle
What would a list of Disney World's cheapest restaurants be without the famous Dole Whip?
Aloha Isle in Adventureland delivers a full menu of this classic frozen pineapple treat served in a variety of ways.
Almost everything on the menu is less than $8, but for $11.99, guests can have their Dole Whip in a souvenir Tiki Cup.
5) Sleepy Hollow
Seated next to Cinderella's Castle in Liberty Square is Sleepy Hollow, a perfect spot to satisfy any sweet tooth.
Pick up a Fresh Fruit Waffle Sandwich, Funnel Cake with Strawberries, or Chilling Chamber Cake Pop for under $10.
EPCOT
6) Kringla Bakeri Og Kafe
Travel to Norway and sample native specialties like School Bread or Norwegian Kringla at Kringla Bakeri Og Kafe.
Located in the Norway Pavilion at EPCOT, this bakery serves new and exciting sweets from Scandinavia.
Wash down your Eplekake (apple cake with caramel drizzle) with a Viking Coffee or Nordic Draft Beer.
All sweet treats and coffee are $15 or under, though guests will pay more for alcoholic beverages.
7) Les Halles Boulangerie & Patisserie
Dine in a Parisian cafe for under $15 at Les Halles Boulangerie & Patisserie in the French Pavilion.
Serving a variety of sweet and savory French favorites, this cafe is a must-try at EPCOT.
The Bisque de Homard (Lobster Bisque), fresh baguettes, and everything from their pastry case makes Les Halles a true stand-out.
8) Kabuki Cafe
Kabuki Cafe is a sushi snack spot found in the Japan Pavilion.
Stop by for a quick bite or enjoy several small Japanese plates for lunch.
Guests can choose between three (3) different sushi rolls, an array of shaved ice, or edamame, and more mature visitors can sample imported beers and Sake for an extra cost.
9) Sommerfest
Inside the German Pavilion lives Sommerfest.
Inspired by Oktoberfest, this quick-dining option serves German sausages, Pretzel Bread Pudding, and even a plant-based Jumbo Pretzel.
Sticking to its native roots, Sommerfest also offers a great beer selection in large pints.
Guests can enjoy this taste of Germany for $15 or less, not including drinks.
10) Yorkshire County Fish Shop
The Yorkshire County Fish Shop offers one entree for lunch and dinner: traditional English fish and chips.
Adults can stop by to enjoy this English mainstay's specialty with a pint of English or Irish beer.
The shop also has two side dishes for younger guests – chips and mandarin oranges.
Animal Kingdom
11) Yak & Yeti Local Foods Cafe
The one-of-a-kind Yak and Yeti Local Foods Cafe is an Animal Kingdom favorite serving breakfast, lunch, and dinner at an affordable price.
Breakfast features classic American grab-and-go options, like breakfast bowls and English muffin sandwiches.
Lunch and dinner are the best times to stop by for Asian-inspired meals like Rib Tips, Vegetable Tikka Masala, and Sweet and Sour Tempura Shrimp.
12) Flame Tree Barbecue
Discovery Island is home to Flame Tree Barbecue, an American-style smokehouse.
This quintessential BBQ joint has something for everyone with a plant-based option, lighter fare, and grilled meat staples.
Most adults can expect to spend under $15 for lunch or dinner, but some of the larger plates, such as the Ribs and Chicken Combo or the St. Louis Rib Dinner, are certainly worth the splurge.
13) Eight Spoon Cafe
The hungrier, the better at Eight Spoon Cafe in Discovery Island.
This quick-service American snack bar has a small menu of extravagant snacks.
Go for familiar favorites like the Baked Macaroni and Cheese, or take a walk on the wild side with a Pulled Pork Jelly Doughnut Sandwich.
Regardless of what you order, the Eight Spoon Cafe can refuel anyone after a big morning at the park for under $10 per meal.
14) Restaurantosaurus
Restaurantosaurus surrounds guests with dinosaur and paleontological jokes and artifacts as they chow down on American fare.
With meals big enough to satisfy a T-Rex, guests can easily split lunch or dinner.
Most meals come in around $12, including ⅓ lb Angus Cheeseburger or All-Beef Foot-long Hot Dog.
Restaurantosaurus is sponsored by Impossible Foods – a plant-based meat substitute – so despite the meat-heavy menu, they have a spectacular Impossible Spicy Southwestern Burger.
15) Satu'li Canteen
Head over to Pandora and check out the Satu'li Canteen, whose menu will amaze any newcomer.
Immersed in the art and culture of the world of Avatar, guests can choose between inventive bowls like the Chopped Wood-Grilled Chicken Bowl or Chili-Spiced Crispy Fried Tofu Bowl for under $13.
A trip to Satu'li Canteen would be incomplete without an order of the Cheeseburger Steamed Pods, a whimsical fusion of cheeseburgers and Vietnamese Bao Buns.
Hollywood Studios
16) Woody's Lunchbox
Join Andy and his toys in this playground-inspired walk-up cafe serving American classics for breakfast, lunch, and dinner.
Located in Toy Story Land at Hollywood Studios, Woody's Lunchbox specializes in elevated childhood favorites – all for under $14.
Open up your lunchbox to discover a Smoked Turkey Sandwich on Multigrain Bread, Grilled Three-Cheese Sandwich, or Plant-Based "Totchos."
17) Ronto Roasters
Our next stop on this tour of cheap eats is Ronto Roasters, an exotic meat stall in Star Wars: Galaxy's Edge.
Ronto Roasters specializes in wraps made with grilled meats and/or vegetables.
Star Wars fans can eat their fill at breakfast, lunch, and dinner with Ronto's extensive menu that includes plenty of plant-based options.
18) Backlot Express
The Backlot Express offers up easy lunch and dinner fare in Echo Lake.
Choose between a Teriyaki Chicken Bowl, Cuban Sandwich, or Southwest Salad with Chicken for $13 or less.
If guests have any room left, they can check out some of the Backlot's wonderful desserts or beverages.
19) Dockside Diner
Experience California in the 1950s in this tramp steamer-themed diner.
Located in Echo Lake, guests can "Dock n' Dine" at the Dockside Diner with a curated menu of West Coast-inspired American dishes.
The Dockside Diner offers guests inspired creations like the Bacon, Macaroni, and Cheese Hot Dog or the California BLTA (Bacon, Lettuce, Tomato, Avocado) Dog for under $13 per person.
They also have a range of seasonal cocktails for visitors over 21.
20) ABC Commissary
Sit down among posters of ABC Studio's most beloved shows while enjoying a variety of international offerings at the ABC Commissary in Commissary Lane.
With an array of sandwich and salad options, guests can choose between Mediterranean, Mexican, or American dishes for a reasonable price.
The Pork Carnitas Tacos and Buffalo Chicken Grilled Cheese Sandwich are menu standouts at this fun eatery.
Disney Springs
21) Morimoto Asia Street Food
The Weekday Small Plates and Dim Sum Lunch menu is a hidden gem at Disney's Fine Dining establishment, Morimoto Asia Street Food.
Guests can sample small East Asian dishes crafted by the Iron Chef for $15 or less, including Blistered Shishito Peppers, Pork Dumplings, and Pork Shumai.
22) Earl of Sandwich
Fitting its name, Earl of Sandwich serves up an extensive menu of delicious sandwiches.
Coming in at under $10 per sandwich, guests can enjoy familiar favorites like The Earl's Club or The Full Montagu.
23) The Polite Pig
The Polite Pig is a casual BBQ with a list of wood-fired meals to accompany their extensive beverage selection.
Perfect for a quick stop, guests can pick up the Low and Slow Brisket or a Tomato Watermelon Salad on their way into or out of Disney Springs.
24) The Daily Poutine
Find creative takes on a Canadian classic at the Daily Poutine.
Known for their large portions, parkgoers and Disney Springs shoppers can gorge on fries topped with Korean Barbeque or Butter Chicken for under $11.
25) Cookes of Dublin
Our last stop on the tour is Cookes of Dublin, an Irish pub serving burgers, fish 'n chips, and delicious brownies.
Change up a classic burger with a side of Curry Sauce or Crushed Garden Peas for $15 or less.
Conclusion
Disney World can be an expensive adventure for any guest.
While there are several ways to cut down on costs, an easy one is choosing inexpensive restaurants.
Luckily, Disney makes this easy and delicious with so many cheap options throughout the parks.
This list of 25 restaurants, cafes, and quick-service counters will keep guests happy and their wallets full while enjoying the magic of Disney.