Can You Buy Volcano Bay Tickets At The Gate?
Universal Orlando is home to three incredible theme parks: Universal Studios Florida, Islands of Adventure, and Volcano Bay.
As Universal Orlando's newest – and wettest – theme park, Volcano Bay is perfect for anyone trying to escape the Florida heat.
Whether planning a visit or heading to the park spontaneously, guests at Volcano Bay can expect a fun-filled day of exciting water slides, thrilling rides, luxurious poolside cabanas, and much more.
Parkgoers can buy tickets to Volcano Bay either online or at the ticket office outside the park's main entrance. Using a credit card or cash, guests can buy single-park admission tickets for Volcano Bay or multi-day/multi-park passes for any (or all) of Universal's theme parks.
This article will explain how to buy Volcano Bay tickets at the gate, what kinds of tickets are available, and the pros and cons of buying them at the park.
Does Volcano Bay Sell Tickets at the Gate?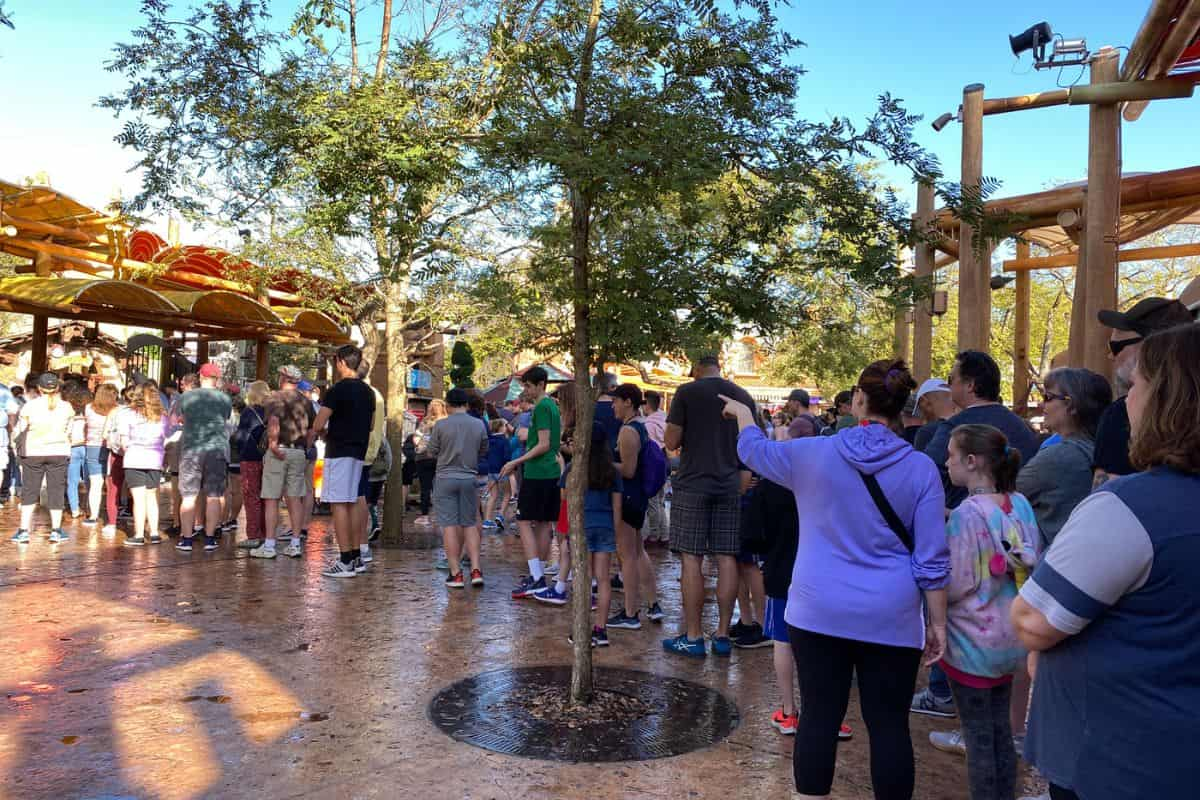 Guests can purchase tickets to Volcano Bay at the Ticket Offices near the entrance gate to the park.
Admission to Volcano Bay is also available by purchasing multi-park passes at either Islands of Adventure or Universal Studios from their respective Ticket Offices.
Universal Orlando Annual Passholders can upgrade their 2-Park Passes to 3-Park Passes at the gate as well – they'll just need to pay the price difference.
Tickets and upgrades can be purchased anytime using cash or a credit card.
Upon purchase, all visitors need a valid, government-issued photo ID (e.g., a driver's license or passport).
A driver's license or alternate photo ID with an address is required for locals looking to take advantage of Florida resident discounts.
Is There a Wait to Buy Volcano Bay Tickets at the Gate?
For same-day ticket purchases, it's best to arrive early – Ticket Office lines can get pretty long, especially when Volcano Bay opens in the morning.
Overall, arriving early is generally recommended, as even ticketed guests might have to wait to get through security and enter the park.
Which Volcano Bay Tickets Can I Buy at the Gate?
Universal Orlando offers several ticket options for visiting Volcano Bay – all of which are available for purchase either online or at the gate.
One-day single-park admission to Volcano Bay costs around $80 for adults and $75 for children, excluding tax.
Guests who wish to visit Volcano Bay and one (or more) of Universal's other theme parks can buy multi-park tickets (i.e., 2- or 3-Park Passes).
Multi-park tickets are also available as multi-day tickets, ranging from two to five days.
Guests purchasing multi-day, multi-park tickets can opt for One Park per Day or Park-to-Park admission.
One Park per Day tickets allow guests to visit each park for a full day and are typically cheaper than buying two single-park, single-day tickets.
Park-to-Park Passes allow guests to visit more than one park in a single day and are the most expensive ticket option.
Another option for fans of Universal Orlando is an Annual Pass, which allows multiple entries to the parks for one year.
It's important to note, however, that only 3-Park Annual Passes include Volcano Bay.
What Happens When Volcano Bay Hits Capacity?
Volcano Bay is a popular destination for Florida residents and guests from all over the world.
As such, the park has been known to reach maximum capacity, especially during the busier seasons.
Universal Orlando will suspend ticket sales when they reach capacity, and guests waiting to purchase tickets will be turned away.
While Universal Orlando does increase capacity when possible, being denied entry is still a risk of waiting to buy same-day tickets at the gate.
Are Reservations Needed For Volcano Bay?
Volcano Bay does not take reservations.
The only way to guarantee your visit is by purchasing your tickets ahead of time.
Advanced tickets can be purchased online or at the park Ticket Offices.
Visitors can also purchase tickets online through a third party.
The prices offered by third-party vendors can vary, and it's important to thoroughly research ticket sellers to ensure they're legitimate.
Is it Better to Purchase Tickets Online?
There are several advantages to buying Volcano Bay tickets online.
First, purchasing tickets in advance ensures visitors can enter the park on their desired date.
If guests are planning to visit during peak seasons, they risk being turned away if the park reaches maximum capacity before they've bought their tickets.
Secondly, Universal Orlando offers a best-price guarantee and will match ticket prices offered by authorized third-party vendors if lower than their online price.
Thirdly, guests may be eligible for discounts by purchasing tickets online.
Occasionally, Universal will run sales on park admission, giving those who plan ahead a better rate on tickets.
Conclusion
Guests looking to visit Universal Orlando's Volcano Bay can certainly buy their tickets at the gates as long as the park hasn't reached maximum capacity and suspended ticket sales.
Ticket Offices are located near the entrance to the park, and visitors can purchase either same-day tickets or passes for an upcoming date.
Potential parkgoers can also buy tickets to Volcano Bay at the Ticket Offices or Guest Services locations in Universal Studios Florida or Islands of Adventure.
Occasionally there are long ticket lines or limited same-day passes available at Volcano Bay, so the best way to guarantee admission is to purchase park tickets online and in advance.