Can You Bring Portable Chairs to Disneyland?
Walking around a huge park and standing in lines all day can take a toll on any of us, especially children and those with disabilities.
Thus, many people want to bring along a chair or stool to rest during their day out.
However, you can not bring most portable chairs or stools to Disneyland. You can only take chairs that are medically assistive, like cane chairs and wheelchairs, through the gate. Yet, you will find that there are plenty of places to sit and rest throughout Disneyland.
What Kind of Portable Chairs Can I Bring to Disneyland?
At the moment, Disneyland only allows portable chair devices that a person requires for a disability.
For example, Disney lets guests bring a cane chair or walker/rollator device into the park.
And, of course, you can use a wheelchair through the resort.
However, Disneyland prohibits other folding chairs, stools, or tripod chairs.
Are There Places to Sit in Disneyland's Parks?
Luckily, there are lots of places to sit and rest while you are in Disneyland.
You will find benches all over both parks, and many of them are in shady areas so that you can get away from the sun.
There are even seating areas outside of practically every big ride so that those who don't want to ride can sit comfortably and wait for their group.
Furthermore, Disneyland has several fun areas in their parks where you can sit down and watch a show or just enjoy the atmosphere.
Some of these spots include:
The Main Street Opera House
The Disney Animation Building
Redwood Creek Challenge Trail
Tom Sawyer's Island
The Main Street Cinema
Can I Bring a Stroller to Disneyland?
Yes, you can bring a stroller to Disneyland, but there are some rules.
For one, your stroller can not be larger than 31 x 52 inches.
Additionally, you can not bring a stroller wagon or any other kind of device that you pull behind you.
Disney has decided to enforce these regulations to make the parks less crowded and increase foot traffic flow.
Should I Bring a Stroller to Disneyland?
If you have a young child under the age of about six or seven, it's probably a good idea to bring a stroller.
Although most kids of this age can, for instance, walk the mall without getting tired, Disneyland is one of the largest parks in the world, meaning little legs can get tired out quickly.
You should especially consider bringing a stroller if your child has difficulty walking long distances.
Yet, if you aren't sure if your kid will need a stroller, you can always just rent one at the park if required.
Disneyland has lots of rental strollers, which you can find right outside the park gates.
It will cost you $18 to rent a single stroller for the day or $36 for a double stroller.
Can I Bring a Mobility Scooter to Disneyland?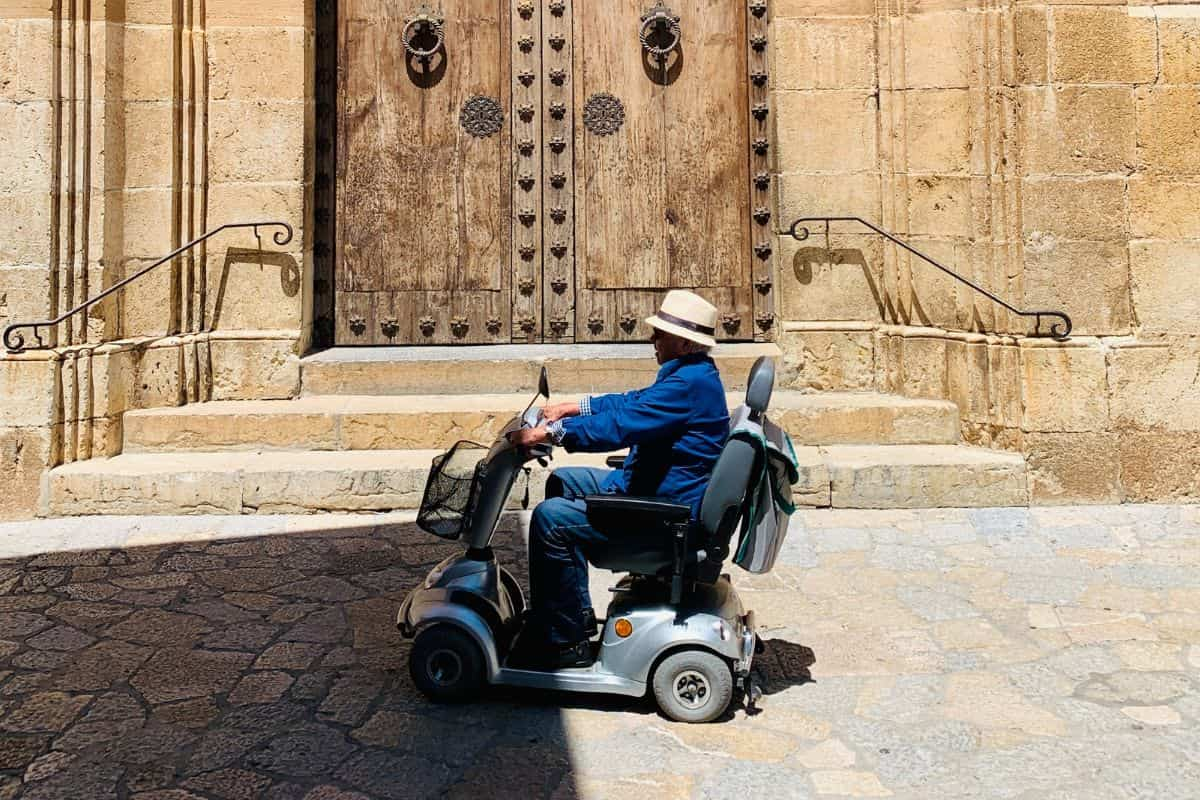 Yes.
According to Disneyland, you can bring and use your ECV (Electronic Conveyance Vehicle) to the resort and use it anywhere.
You can also rent an ECV at Disneyland.
But, there are a limited number of ECVs available at the resort, and Disney rents them on a first-come, first-serve basis.
Thus, if you need an ECV, you should plan on getting to the park early.
Should I Use a Mobility Scooter at Disneyland if I'm Pregnant?
Whether pregnant mothers should use a mobility scooter at Disneyland depends on their situation.
Generally, I think that most pregnant mothers, even those in their last trimester, won't need a mobility scooter since there are so many places to sit down and rest in Disneyland.
However, you should consider your personal predicament when deciding whether or not you should use a mobility scooter at Disneyland.
I would also advise that you talk to your doctor before going to Disneyland so that you know the best way to enjoy the park safely.
Are the Disneyland Parks Accessible for Mobility-Disabled People?
Yes, Disneyland does a pretty good job of making sure everyone can have a great day at the park.
Thus, anyone in a wheelchair or ECV or who uses another type of mobility aid shouldn't have a problem navigating the park.
Also, Disneyland really does its best to ensure mobility-disabled people can go on as many rides as possible.
In fact, you will find that each ride has a sign that tells you how to get on a ride or experience an attraction if you use a wheelchair or ECV.
A sign of a person in a wheelchair (the same symbol you see on handicapped parking spaces) means you can remain in your wheelchair or ECV.
A sign that shows a person getting up from their wheelchair means you will have to transfer from your wheelchair or ECV to a seat on the ride.
While unfortunately, a sign with a person standing means that a person needs to be able to walk to take part in that attraction.
Does Disneyland Have Handicapped Parking?
You can find handicapped parking spots at the Mickey and Friends parking structure and the Toy Story parking lot.
Overall, though, if you or a person in your group has trouble walking long distances, the Toy Story lot is the best place to park.
When you park in the handicapped parking spots in the Toy Story lot, you will be close to the buses, which can take you right to the security checkpoint by the park gates.
Plus, if you aren't going to take a bus, the walk from the Toy Story lot isn't quite as far from the park gates as the Mickey and Friends structure.
Can I Bring a Segway to Disneyland?
No, you can not bring any two-wheeled transporting device to Disneyland, including Segways, skateboards, or hoverboards.
Can I Bring a Bicycle to Disneyland?
You can not bring bicycles, tricycles, or unicycles into Disneyland's parks.
You also can not wear skates or any other shoes with wheels.
Additionally, Disney has banned scooters that are not for a disability.
Conclusion
Sadly, you can not bring any chairs to Disneyland unless they are assistive devices.
However, Disneyland has plenty of places for you and your family to sit and relax if you need a break.