Can You Bring Food Into Volcano Bay?
Universal's Volcano Bay offers parkgoers many food and beverage options to fuel their fun.
That said, guests with allergies, budget constraints, or dietary preferences may want to bring their own snacks, and knowing what's acceptable to pack for park snacking is essential.
Visitors can bring food into Volcano Bay as long as it follows Universal Orlando's guidelines. These conditions outline what's allowed, such as snacks that don't need heating and anything required for medical or dietary needs. Likewise, these regulations note what can't be brought, like glassware or picnic lunches.
This article will explain what food and drinks are permitted at Volcano Bay, discuss the pros and cons of bringing food into the park, and explore alternative dining options.
What Are Volcano Bay's Outside Food Rules?
Universal Orlando understands guests may want (or need) to bring their own food into the parks.
That said, there are some rules that visitors need to know before bringing their own snacks to Volcano Bay (or any Universal Orlando theme park).
Acceptable Food Items
Guests are allowed to bring the following items into Volcano Bay:
Small snacks that don't require heating
Bottled water (max 2 liters)
Any food required for medical or dietary needs
Baby food and formula
Soft-sided cooler bags (maximum size of 8.5" wide x 6" high x 6" deep/21 cm x 15 cm x 15 cm)
Parkgoers can bring snacks like sandwiches or other packaged food as long as they fit in the cooler bag.
Prohibited Food Items
The following items are not allowed in the park:
Glassware/glass containers
Open containers or drinks containing alcohol
Hard-sided coolers
Soft-sided coolers exceeding 8.5" wide x 6" high x 6" deep (21 cm x 15 cm x 15 cm)
Picnic lunches (any food that needs to be heated up or refrigerated, or folding chairs)
All bags are subject to inspection upon entry.
Is it Worth it to Bring Food to Volcano Bay?
Bringing food to Volcano Bay might be worth it for parkgoers traveling on a budget, have certain dietary restrictions, or prefer to eat homemade food.
Bringing food might not be worth it for guests who want to travel light, avoid locker fees, or experience the dining options at Volcano Bay.
Pros of Bringing Food to Volcano Bay
To Accommodate Dietary Needs
Guests with particular allergies or dietary restrictions often find it challenging to eat out.
For this reason, a home-packed snack might be a safe choice.
To Save Time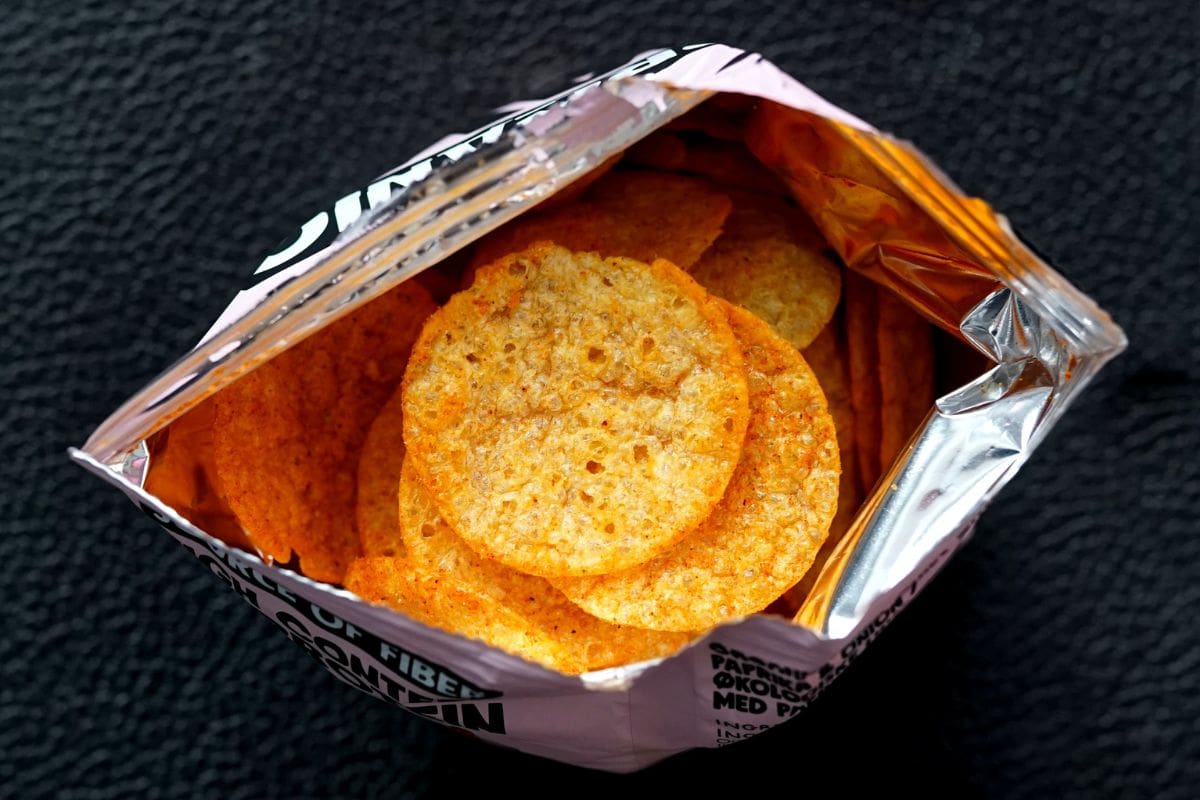 It's much faster to open a snack bag than it is to wait in line to purchase food.
Visitors who want to eat in a hurry and get back to the action may prefer having their snacks readily available.
To Save Money
Bringing food from home or purchasing snacks at a grocery store may be less expensive than dining at the park.
Parkgoers looking to cut down on costs tend to bring their own food to the parks.
Cons of Bringing Food to Volcano Bay
Carrying Extra Bags
Bringing extra food usually means carrying extra bags.
A trip to Volcano Bay already requires additional gear, like a change of clothing, waterproof shoes, sunscreen, hats, etc.
Adding even a small cooler or a meal's worth of snacks means lugging an extra bag around or adding weight to an existing one.
Paying For Locker Storage
If packing food means bringing a larger bag, guests might need to rent a locker to enjoy the rides without worrying about their stuff.
Many attractions at Volcano Bay offer complimentary standard-sized lockers for the duration of the ride.
Bags that require more room will need to be placed in a larger locker.
Standard lockers measure 5.5" high, 14" wide, and 16.9" deep (13.9 cm x 35.5 cm x 42.9 cm).
Large lockers are 13" high, 12" wide, and 16.9" deep (33 cm x 30.4 cm x 42.9 cm) and cost $2 per attraction.
Universal Orlando also offers all-day locker rentals with unlimited access throughout the day.
These lockers vary in price and come in three sizes (mini, regular, and family).
Guests who want to pay for all-day lockers can find them in the Rainforest Village, River Village, and Wave Village, but they're only available on a first-come, first-served basis, so there may not be enough for all visitors.
Missing Out on the Volcano Bay Dining Experience
Volcano Bay hosts nine unique dining options, offering over 50 different menu items suitable for most diners.
For the full park experience, guests might want to try one (or more) of Volcano Bay's themed restaurants just to see what they're like.
What Are the Dining Options at Volcano Bay?
Volcano Bay provides several dining options for parkgoers – some are great for kids, and some are geared to more refined adult tastes.
Interested guests can find restaurant menus and make reservations on Universal Orlando's mobile app.
To get you started, here's a quick overview of the dining options at Volcano Bay.
Located in the Rainforest Village, this bamboo-structured oasis serves a simple, kid-friendly menu of burgers, fish, chicken, and salads.
These flavourful entrees are under $25, and guests can view Bambu's menu on the official Universal Orlando website.
Located in Wave Village, this cool canoe-inspired canteen offers frozen drinks, tropical cocktails, and snacks.
For a preview of the drink menu, parkgoers can visit Universal Orlando's official website.
Some specialty drinks to look out for are Vol's Fire Punch, the Toasted Coconut Pineapple, or the Blue Hawaiian.
Guests can indulge in island-inspired cuisine at the base of the Krakatau volcano.
Kohola Reef Restaurant's menus are also available online, and savory entrees include Mango BBQ Pulled Pork Sandwiches, Coconut Crusted Fried Chicken, and healthy options like Quinoa Edamame Burgers.
Most entrees are priced under $20.
Kunuku Boat Bar gets its name from the mythical fish who guided Waturi islanders to Volcano Bay.
Beneath the sails of a Chinese junk rig, guests can cool off with frozen drinks, cocktails, fountain sodas, and draft beers.
Visit Universal Orlando's official website for a sneak peek of the drink menu.
This frog-shaped quick-service counter offers patio seating where guests can enjoy thirst-quenching drinks and tasty snacks.
Features include the Poke Poke Bowl, chicken tacos, and loaded nachos.
Parkgoers can hop on over to the menu on Universal Orlando's website and explore more food options under $20.
With Volcano Bay Premium Seating and VIP treatment, visitors can make mobile food and drink orders delivered directly to their reserved seating area.
To browse the menu options, guests can use the mobile app or check out Universal Orlando's official website.
Guests can recharge in the shade with a quick treat and refreshing beverage at Wave Village's convenient snack kiosk, offering a variety of hearty rice bowls, crisp salads, sushi, and bottled drinks.
Find your favorites on the menu through Universal Orlando's mobile app.
Island cuisine enthusiasts will love eating Whakawaiwai's tropical meals alongside the river.
Here, guests will find delectable options from Jerk Shrimp Mac & Cheese to longboard pizzas.
For the full spread, guests can also view the menu on the official website.
Does Volcano Bay Dining Accommodate Dietary Needs?
Volcano Bay accommodates dietary needs by offering several menu options for guests with restrictions, allergies, and intolerances.
Guests should browse menus beforehand, check with restaurants once they arrive, or contact [email protected] in advance for religious accommodations.
Conclusion
Parkgoers can bring their own food to Volcano Bay as long as it follows Universal Orlando's rules and regulations.
Packing food might be convenient for those with dietary constraints, a tight budget, or particular preferences but guests should remember that large bags will give them more to carry, may subject them to locker fees, and will have them missing out on Volcano Bay's delicious dining options.
The eateries at Volcano Bay offer a variety of reasonably-priced food and beverages that guests can explore in advance on Universal Orlando's official website or mobile app.