Can You Bring Food Into Universal Studios? (Complete Guide)
Guests can bring their own food to Universal Studios; however, the park has specific guidelines on what's allowed.
Visitors may bring:
Bottled water (maximum 2 liters)
Small snacks that do not require heating
Any food required for medical purposes
Any food required for special dietary needs
Baby food/baby formula
Soft-sided insulated bags no larger than 8.5" wide x 6" high x 6" deep.
Universal Studios theme parks prohibit:
Alcohol and marijuana
Glass containers
Open containers
Large coolers of food
Hard-sided coolers
Soft-sided coolers larger than 8.5" wide x 6" high x 6" deep
Coolers, suitcases, or bags with wheels
Picnic lunches or any food that requires heating or refrigeration.
Bags and personal items are subject to inspection at security, so understanding what you can and cannot bring helps avoid inconveniences at the gate.
If you're looking to save money, you can definitely pack a few sandwiches for lunch and bring small, portable snacks, especially if you have children.
Universal Studios is loose with its rules on how much food you can bring; just ensure your food storage bag meets the size guidelines.
That said, I do recommend budgeting for some in-park snacks as well – after all, taking advantage of these culinary treats can be a fun part of the theme park experience.
What Snacks Can I Bring To Universal Studios?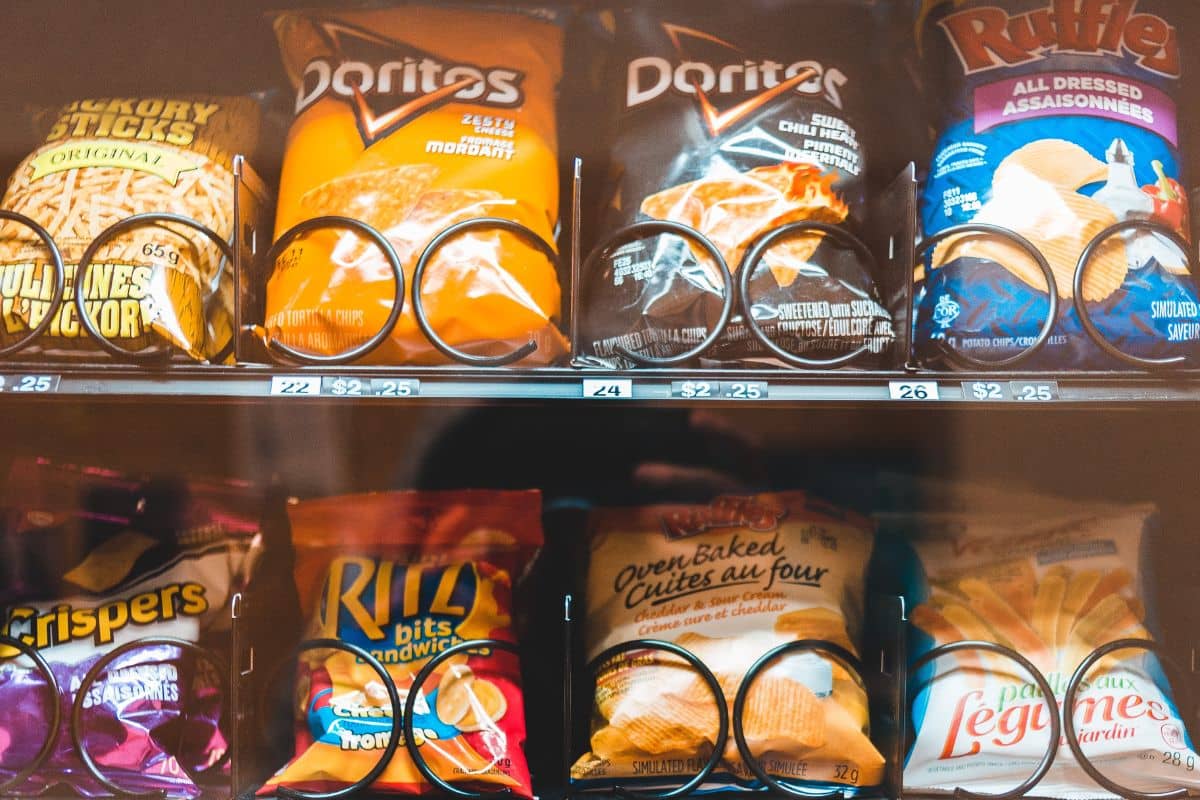 In general, the snack possibilities are endless – you can bring pretty much whatever you'd like.
It mainly comes down to logistics and what you want to carry.
Try to be sensible about what you pack as you'll be walking for most of the day, and dragging around heavy bags of food is not exactly ideal.
Granola bars and energy/protein bars are perfect snacks for theme parks.
They're a convenient size, and you can make them at home if you avoid store-bought or prepackaged snacks.
Pretzels, crackers, and cheese sticks are good on the go, but remember, there's a size limit on soft-sided insulated bags (8.5" wide x 6" high x 6" deep), and there's no place to refrigerate anything.
Chips and popcorn bring a classic snacky vibe, while the likes of cookies, chocolate bars, candy, and mini muffins would satisfy any sweet tooth.
Just note that it can get hot at Universal Studios, so you may want to reconsider anything that spoils or melts.
If you're not into traditional sweet or salty snacks, trail mix, fresh or dried fruit, and/or nuts are good healthy alternatives.
If you have small children (or even if you don't), I also suggest raisins, fruit snacks, or small containers of dry cereal in addition to anything mentioned above.
Also remember that Universal doesn't allow picnics or foods that require heating, so if you're in the mood for a meal, you'll either have to leave the park or eat somewhere on-site.
What To Eat at Universal Studios
Universal Studios has several spots that make for a memorable dining experience, including (but not limited to) the Three Broomsticks and Hog's Head Pub, Krusty Burger and Lard Lad Doughnuts in the Springfield zone, and the Jurassic Café (exclusive to Universal Hollywood).
No matter where you go in the park, the food may not be the cheapest, but it's good quality, and the experience is worth it.
While limited in breakfast options, the dining locations at Universal Orlando and Universal Hollywood offer a variety of lunch and dinner options.
Most in-park locations are quick-service spots, with most table-service restaurants located in CityWalk.
Both Universal Hollywood and Universal Orlando are also committed to accommodating food allergies, intolerances, and religious requirements.
You can check out Universal Hollywood's Dietary Food Guide and Universal Orlando's policies for Dietary Needs on their websites.
1. The Three Broomsticks & Hog's Head Pub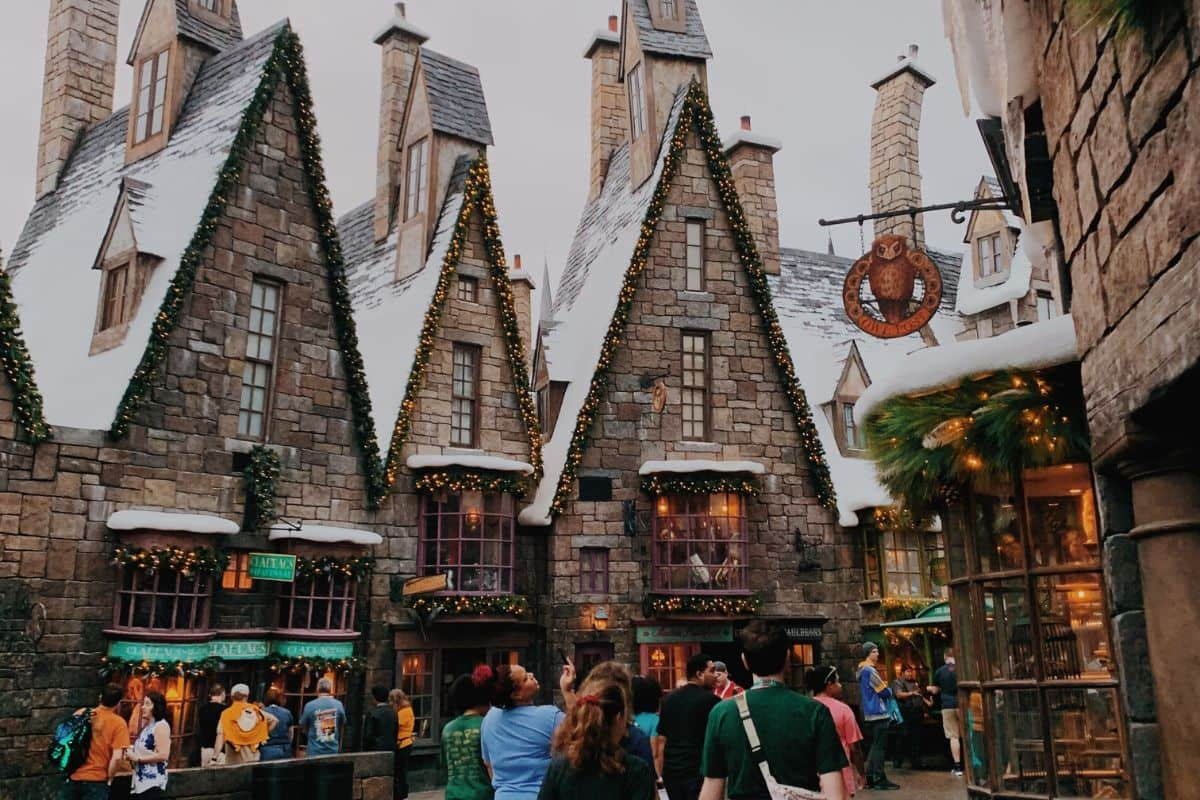 Located inside The Wizarding World of Harry Potter, the Three Broomsticks is arguably the most popular dining establishment in the Universal Orlando and Universal Hollywood parks.
It's located in Hogsmeade in Islands of Adventure at Universal Orlando and in the Upper Lot of Universal Studios Hollywood.
The Three Broomsticks is one of the few spots with a breakfast menu, providing several options (including a full English breakfast) if you skip breakfast at your hotel.
Its main fare is British-inspired dishes and other menu items you'd find at a good American restaurant.
Eating at the Three Broomsticks is less about the gourmet experience and more about the ambiance – you're unlikely to have fish and chips or a burger in such a magically eerie atmosphere outside of the theme park (unless you eat in a shady alley or something).
The Hog's Head Pub is inside the Three Broomsticks and exclusively serves drinks.
The pub offers alcoholic options like wine and draft beers and non-alcoholic alternatives like Butterbeer and Pumpkin Juice.
Both should be at the top of your list of dining spots to visit at Universal Studios.
Each offers something different, and you're unlikely to find a similar experience at either Universal park.
2. Springfield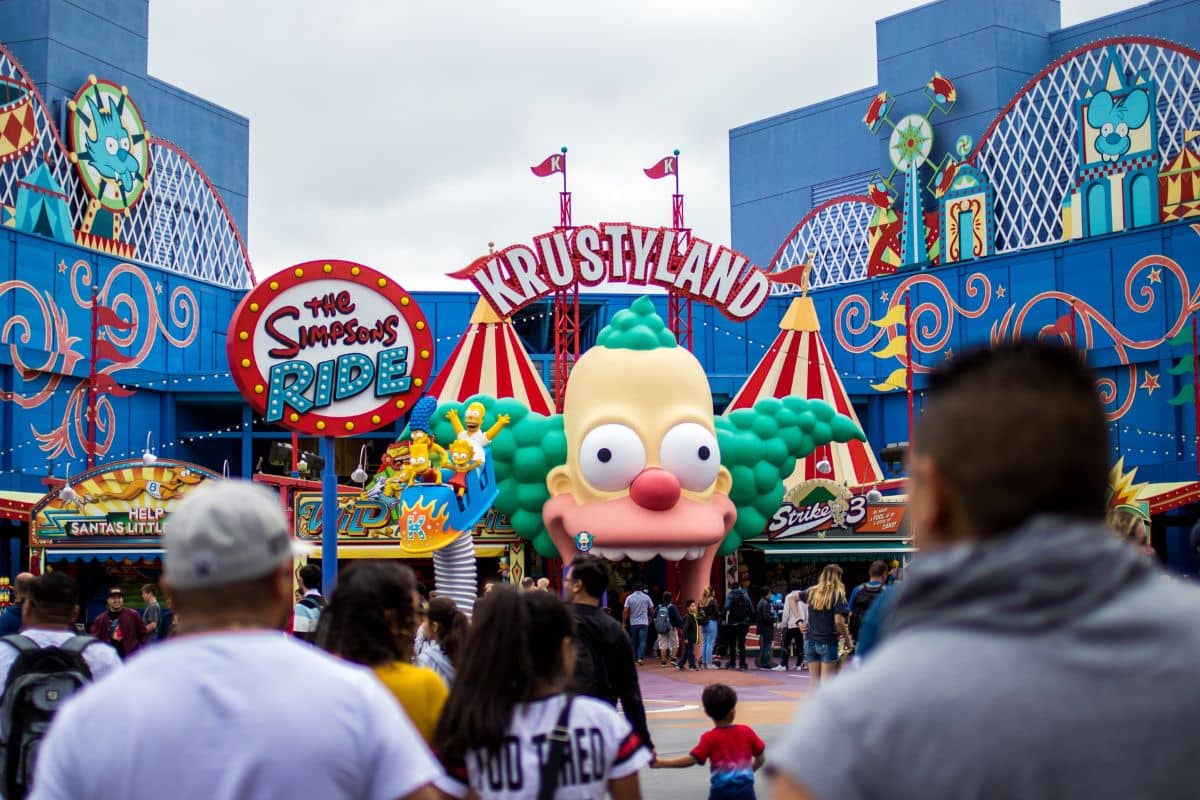 Both Universal Orlando and Universal Hollywood have a Springfield area that acts as the real-life version of The Simpsons' fictional hometown.
It not only hosts some of the most thrilling rides in the park but also offers a variety of eateries.
Starting with Luigi's, the place serves Italian-inspired favorites, with pizza and pasta at the top of that list.
You can also get a full meal at the Krusty Burger by ordering the Krusty Burger Combo – a ⅓ lbs burger served with 'kurly' fries and a regular shake.
A few steps down the road, Lard Lad Doughnuts has some of the best doughnuts and ice cream in the park, while Cletus' Chicken Shack is famed for its delicious fried chicken.
When you include Moe's Tavern and Bumblebee Man's Taco Truck, Springfield has some of the most diverse dining options across Universal Orlando and Universal Hollywood.
3. Jurassic Café
Jurassic Café is only in Universal Hollywood, but it's still worth mentioning due to its versatile menu.
Inspired by Costa Rican cuisine, this full-service restaurant offers a variety of creative but delicious dishes.
It also offers some of the usual fare (like burgers and salads) for those not feeling adventurous.
The spot has some refreshing drinks, offering something tasty to adults and children alike.
From roasted mahi-mahi to turkey leg platters, you're likely to leave the Jurassic Café feeling satisfied.
How To Save on Food at Universal Studios
Aside from accommodation and park tickets, you're likely to spend more on food than everything else.
That means finding ways to keep your budget reasonable and discovering tricks to save on dining.
Here are my top three tips to save money on food at Universal Studios:
1. Eat Breakfast Before Arriving
Most guests end up eating dinner at their hotels, so if you also have breakfast before getting to the park, you're only going to spend on lunch and snacks.
Furthermore, if you bring your own food and snacks, you can avoid spending a penny on theme park eats.
Just avoid bringing food items that require heating or refrigeration.
I still believe that the giant, crazy snacks at Universal add a lot to the overall experience, but if you're all about mega savings, eat breakfast at the hotel and pack your own food.
2. Get a Refillable Cup
Universal offers a new refillable cup at $16.99, granting you free drink refills throughout the park.
If you have a cup from previous visits, you can recharge it at $10.99 to save on drinks for your upcoming visit.
There are various refillable cups, but the Coke Freestyle cup is the most popular.
It's allowed in most locations across the park, hence more savings if you're big on beverages.
3. Consider an Annual Pass
Consider getting an annual pass over a regular ticket when visiting either the Orlando or Hollywood theme parks for five days or more.
You get more value as annual passes offer numerous perks like Early Park Admission and merch discounts.
Depending on the tier of annual passes you choose, you can expect up to a 15% discount on food purchased at the parks.
At Universal Hollywood, these are the Gold and Platinum Passes, and at Universal Orlando, these are the Preferred and Premier Passes.
You'd have to do some math to determine if buying an annual pass makes sense, but they're worth considering if you're looking for more savings overall.
Conclusion
Food will be a major part of your budget when planning a trip to Universal Studios.
While the theme parks don't prohibit outside food, they have clear guidelines on what's allowed and what's not.
Bottom line, though, regardless of your group size, you will save money by bringing your own food.
That said, part of the adventure is tasting the weird and wondrous foodstuffs offered at a theme park.
Universal Orlando and Universal Hollywood have many different eateries if you want to experience the food inside the parks, so you're more than likely to find something that caters to your budget, tastes, or dietary needs.
For the optimal experience, I suggest a combination of bringing your own food and eating on-site so you can save a little money while making the most of your Universal vacation.