Can You Bring Food Into Disney World?
With over 350 restaurants and dining experiences spanning 20+ culinary traditions, Walt Disney World has a lot to offer guests.
That said, parkgoers with food allergies, budgetary considerations, or dietary preferences may want to bring their own snacks to fuel their fun.
When packing for a day at the parks, knowing Disney's outside food rules is important.
Disney World allows guests to bring in outside food but has certain restrictions. Visitors can bring snacks and non-alcoholic beverages that don't require heating, refrigeration, or processing as long as these items aren't packed in glass containers or have strong odors. Coolers must be smaller than 24″ long x 15″ wide x 18″ high (61 cm x 38 cm x 46 cm) and cannot be filled with loose ice.
This article discusses everything parkgoers need to know about bringing food into Walt Disney World, whether restaurants can accommodate dietary restrictions, and how to enjoy eating at the theme parks on a budget.
What Foods Can Guests Bring Into Walt Disney World?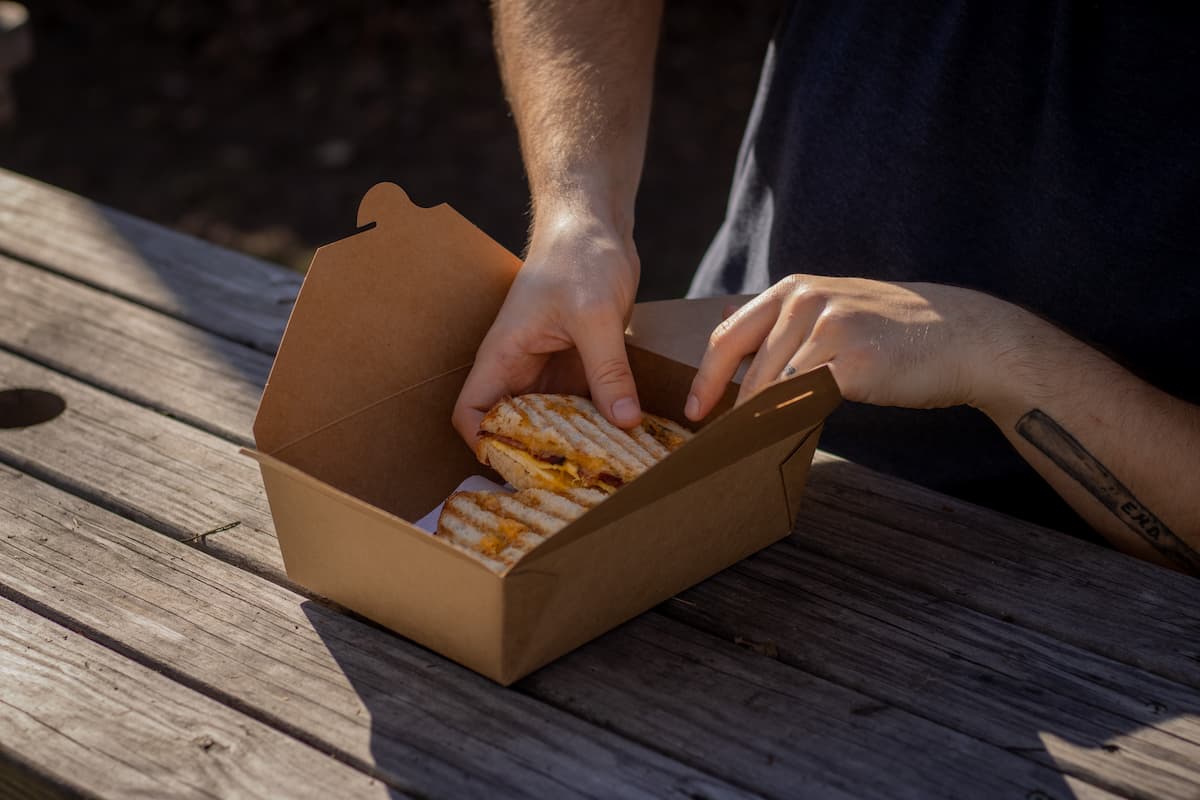 Visitors can take food and beverages into Disney World theme parks and water parks as long as they conform to the guidelines.
Generally, guests can bring whatever snacks they'd like – it mainly comes down to logistics and what they want to carry as they walk through the parks.
Disney World allows food and non-alcoholic beverages that do not require refrigeration, heating, reheating, or processing as long as they do not have strong-smelling odors.
Bags, suitcases, and coolers must be no larger than 24″ long x 15″ wide x 18″ high (61 cm x 38 cm x 46 cm) and cannot contain loose or dry ice or glass containers (except for baby food or medications in small jars).
When packing for a day at Disney World, visitors can consider bringing granola bars and energy/protein bars as they are a convenient size and can be made at home.
Pretzels, crackers, and cheese sticks are good on the go, and chips and popcorn are classic snacks – good for parkgoers of all ages.
Cookies, chocolate bars, candy, and mini muffins should satisfy any sweet tooth, and trail mix, fresh or dried fruit, and/or nuts are good healthy alternatives to traditional snacks.
Guests with small children (or even those without) can bring raisins, fruit snacks, or small plastic containers of dry cereal in addition to anything mentioned above.
Just note that it can get hot at Disney World, so avoid packing anything that spoils or melts.
All bags are subject to security screening, and when entering the parks, guests should inform the Cast Members if they have food in their bags.
Food Allowed at Walt Disney World Resorts and Hotels
Disney World Resort and Hotel guests can bring in food from outside the property; however, they cannot have outside items that need to be cooked or heated.
Florida's State Laws prohibit Disney's Culinary Cast Members from cooking, heating, or reheating foods brought in by hotel guests.
The restrictions for outside foods are similar to those at the theme and water parks.
Hotel guests can bring snacks, non-alcoholic beverages, and foods that do not require heating.
Alcoholic beverages purchased outside the Disney property, even those in cans, cannot be taken into resorts and hotels.
Visitors who need a fridge in their room can request one from the front desk at their resort, but this amenity may come at an additional cost.
Does Disney World Accommodate Dietary Requirements?
Dietary restrictions, allergies, medically-restrictive diets, and other special meal requests can be challenging for families on vacation.
Guests with these needs often struggle to find suitable meals when they're away from home, but many don't want to bring their own food to the parks.
Disney World is aware of these circumstances and makes an effort to accommodate dietary requirements within the parks.
While not every restaurant can accommodate every diet, many offer appropriate alternatives, and parkgoers should confirm menus with the dining establishment before booking a table.
Guests with dietary requirements should also contact Disney's Special Diets team by calling (407) 824-1391 or emailing [email protected] to find out how they can order their preferred meal.
Allergy Restrictions
Food allergies are common among visitors to Disney World.
Because many of these allergies can have fatal consequences, Disney does its best to inform guests of potential exposure to allergens and offers several options for parkgoers with these concerns.
Disney's Culinary Cast Members can prepare dishes that accommodate allergies to wheat, eggs, dairy, tree nuts, fish, shellfish, peanuts, soy, sesame, and more.
Visitors can make reservations at allergy-friendly dining establishments but should inform the Special Diets team of their needs at least 24 hours in advance.
Medically-Restrictive Diets
Many Disney World guests must follow a medically-restrictive diet.
Fortunately, restaurants at the theme parks, water parks, resorts, and hotels can provide meals for special diets, including (but not limited to) low protein, no-sugar, low sugar, pureed, low sodium, and celiac disease.
Visitors should contact the Special Diets team at least 24 hours in advance to confirm which restaurants can accommodate their requirements.
Kosher and Halal Meals
Visitors who require Kosher or Halal dishes can call their desired restaurants at least 24 hours in advance to arrange meals.
With enough notice, most dining establishments can provide Kosher or Halal meals, and the following restaurants don't require pre-ordering.
For Kosher meals:
For Halal meals:
Guests can also contact the Special Diets team if they have additional questions.
Organic, Vegetarian, and Vegan Options
Disney World offers hundreds of vegetarian and vegan options at theme parks, water parks, Disney Springs, and all Disney Resorts and Hotels.
Visitors can identify Plant-Based dishes by looking for the green leaf icon next to the menu item.
The selection of organic options at Disney World is less extensive than their plant-based menu items; however, some restaurants use organic ingredients when possible and note that on the menu.
While organic, non-GMO foods are not readily available at Disney World, guests can visit the closest grocery store to buy what they need and bring it to the parks.
Hotel guests can also use a grocery delivery service to have organic food brought to their resort.
Visitors bringing their own organic food into the parks must follow Disney's rules for outside food items.
How Can Visitors Eat Without Overspending at Disney World?
Many parkgoers want to enjoy the full Disney Experience on a budget, and there are a few ways to do so.
As mentioned, guests are welcome to bring snacks and non-alcoholic beverages to the parks as long as these items follow all guidelines.
Visitors staying in a non-Disney hotel can also drive to the parks and leave a cooler stocked with sandwiches or other foods in the car.
They can also leave the parks during the day and eat at less-expensive establishments off-site.
Guests staying at a Disney World Resort or Hotel can stock up their rooms with easy cold meals and return for lunch or dinner breaks during the day.
Conclusion
For guests who want to experience Walt Disney World on a budget, bringing food into the parks and resorts is a less-expensive option.
Visitors can carry outside food as long as the items do not require refrigeration, heating, reheating, or processing before being consumed.
Bags and coolers cannot be larger than 24″ long x 15″ wide x 18″ high (61 cm x 38 cm x 46 cm) and cannot be packed with loose or dry ice.
In addition, guests cannot take strong-smelling foods, most glass containers, or alcoholic beverages into the parks.
Some parkgoers have dietary limitations but don't want to pack their own food.
Fortunately, the Culinary Cast Members at most Disney World restaurants can prepare special meals if the Special Diets team is notified at least 24 hours in advance.