Can You Bring a Backpack to Disneyland?
Since you'll probably be at the park all day, you'll want to bring some stuff with you.
And what better way to carry your belongings than with a backpack?
You can bring a backpack to Disneyland, but there are some rules. The main one is that the backpack must be smaller than 24 inches by 15 inches by 18 inches (61 cm x 38 cm x 46 cm). Also, you can not bring any wheeled backpacks that you pull along behind you.
What Kind of Backpack Can I Bring to Disneyland?
As stated above, there are a few rules regarding the type of backpack you can bring into the park.
For one, you can not bring a backpack larger than 24 inches by 15 inches by 18 inches (61 cm x 38 cm x 46 cm).
Thus, you can take most backpacks to Disneyland because the average school-type bookbag is only 19 inches (48 cm) high and 13 inches (33 cm) wide.
The second rule states that you can not have any wheeled backpack that you pull behind you.
You can't bring these backpacks because they block the flow of guests, especially on crowded days.
What Else Can I Bring to Disneyland to Carry My Items?
You will be glad to know that Disneyland allows you to bring several different types of bags to the park besides just backpacks.
You can take other small bags with you through the gate, such as purses, fanny packs, diaper bags, sling bags, and camera bags.
They just can't be larger than the dimensions above.
You can also bring a stroller into the park to carry some of your possessions, but there are a few rules with these as well.
For starters, your stroller can not be more than 31 inches (79 cm) wide and 52 inches (132 cm) long.
Additionally, you can not have any wagon-type strollers that you pull behind you.
What Should I Bring With Me to Disneyland?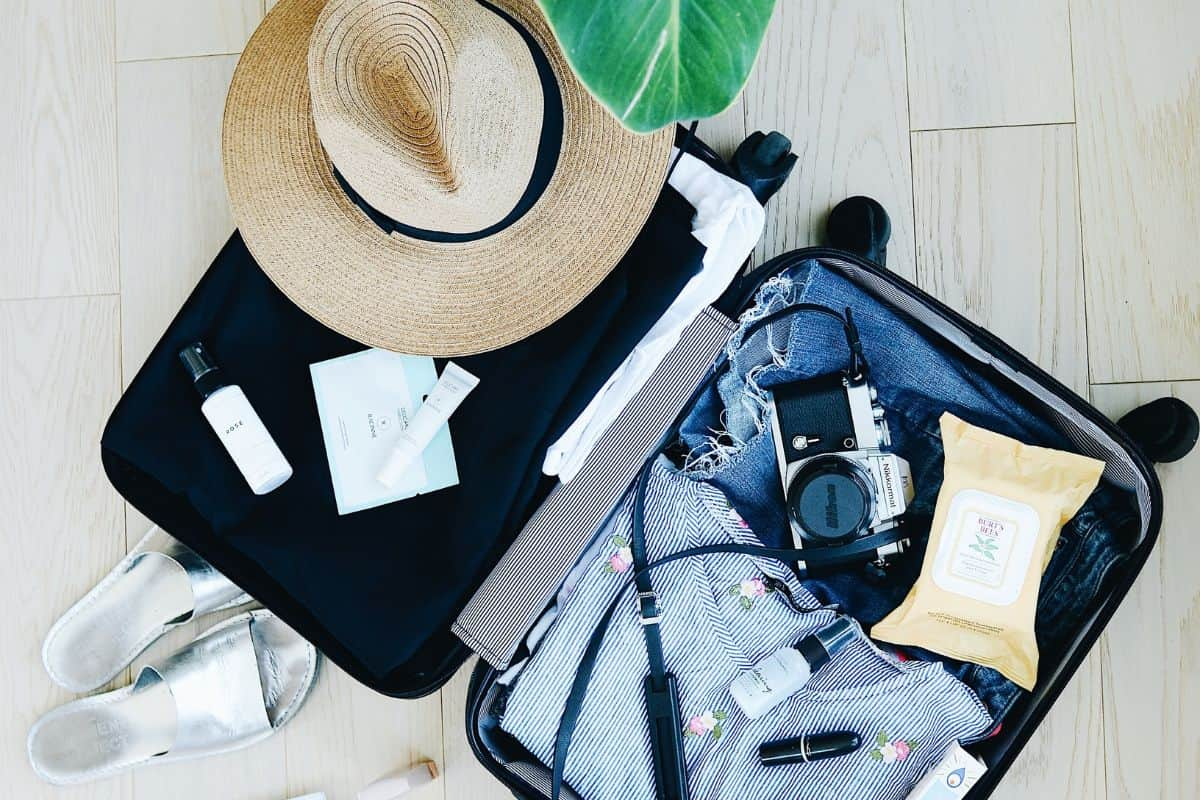 Of course, every person is going to have different things they will want to bring to the park, but there are some general items that everyone should consider carrying.
Everyone who visits Disneyland should think about bringing:
Mobile phone charger (Power packs are best because they don't require an outlet)
Lip balm
Sunscreen
Park tickets
Medication (Advil or ibuprofen are always good choices to treat minor aches and pains)
Refillable water bottle (Remember, though, that Disneyland prohibits glass bottles)
Snacks (Just make sure you follow Disneyland's rules regarding outside food)
Sunglasses
Umbrella or rain poncho (Even if the forecast doesn't call for bad weather)
Wallet (Including your passport or US ID)
Keys (Either to your car or your hotel)
Cash
And here are some more items you should think about taking, depending on your needs:
Autograph book (To get signatures from Disney characters)
Bathing suit
Water shoes
Jackets and hats
Hand sanitizer
Plastic bags for wet clothes
Lotion
Camera
Camera tripod (Must be small enough to fit in your backpack)
Pennies (For use in the Disney pressed coin machine)
Chafing cream or powder
Tissues
Band-aids
What Can I Not Bring in My Backpack?
Just as important as knowing what to bring with you is understanding what to leave at home.
So, let's take a look at what Disneyland does not allow in the parks.
Items that Disneyland prohibits from bringing through the gates include:
Skateboards
Remote controlled toys
Skates
Hoverboards
Loose or dry ice
Alcohol
Marijuana and any product containing marijuana
Any drugs that are illegal in the United States and the State of California
Selfie sticks
Glass containers, except for those containing baby food
Sporting goods, such as balls and Frisbees
Weapons, even those that are legal in California
Items that look like weapons
Self-defense items, such as mace and tasers
Handcuffs and zip ties
Just about anything with a sharp blade, such as box cutters and razor blades
Disruptive items, like laser pointers and air horns
Cremated remains (Both human and animal)
Tools
Wrapped gifts
Clothing or accessories with spikes, such as bracelets or belts
Can I Bring Cigarettes and a Lighter in My Backpack When I Go to Disneyland?
Yes, you can bring cigarettes, e-cigarettes, and lighters into Disneyland in either your bag or pockets.
However, just remember that Disneyland has the right to tell you that you can't bring something in if it could harm other people.
Thus, it's best to leave torch-style lighters at home.
You should also note that you can only smoke in designated areas.
Will Disneyland Search My Bag?
A Disneyland security officer might search your bag.
In 2020, Disneyland rolled out new security systems, which are much better at scanning for weapons than the older models.
Basically, you walk through a detector, and it scans for suspicious items.
So, if you have anything in your bag that the scanner picks up on, a security officer will check your bag.
However, you get to pull the items out of your bag yourself, meaning that no one else should have to touch any of your belongings.
They just need to see that there is nothing dangerous or prohibited in your bag.
And on that note, you may also have to take items out of your pocket if the scanner picks up on them.
Furthermore, while I'm on this topic, I can go ahead and answer another popular question by saying that your backpack does not have to be transparent because security checks for anything dangerous anyway.
Can I Bring a Backpack on Disneyland Rides?
Unlike the rules at most amusement parks, you can bring your backpack or any other small bag with you on any Disneyland ride.
But, you should note that each ride may have its own rules about how to secure your bag while you are riding.
Therefore, if you have a bag, you need to listen to Disneyland employees when they ask you to place your bag in a particular spot on the ride.
Conclusion
You can totally bring a backpack or another type of bag to Disneyland.
You just can't carry a bag larger than Disney's specified dimensions or one that rolls behind you.