Best Time To Buy A Universal Orlando Annual Pass
Universal Orlando offers Annual Passes to guests who want to enjoy the parks many times throughout the year without paying for a single-day or multi-day ticket.
Annual Passes help guests save money per visit and come with many benefits throughout the year.
The best time to buy a Universal Orlando Annual Pass is any day of the year. There are four tiers of Annual Passes, each with different perks and benefits. All Annual Passes are valid for 365 days after first use, even if the first visit is several months after purchase. They can be paid upfront in full or split into monthly payments using FlexPay.
A Universal Orlando Annual Pass is an excellent (and cost-effective) way to enjoy the parks numerous times throughout the membership year while also receiving exclusive discounts and extras.
This article describes the types of Annual Passes available for Universal Orlando guests and explains how to use them.
When Should You Buy a Universal Orlando Annual Pass?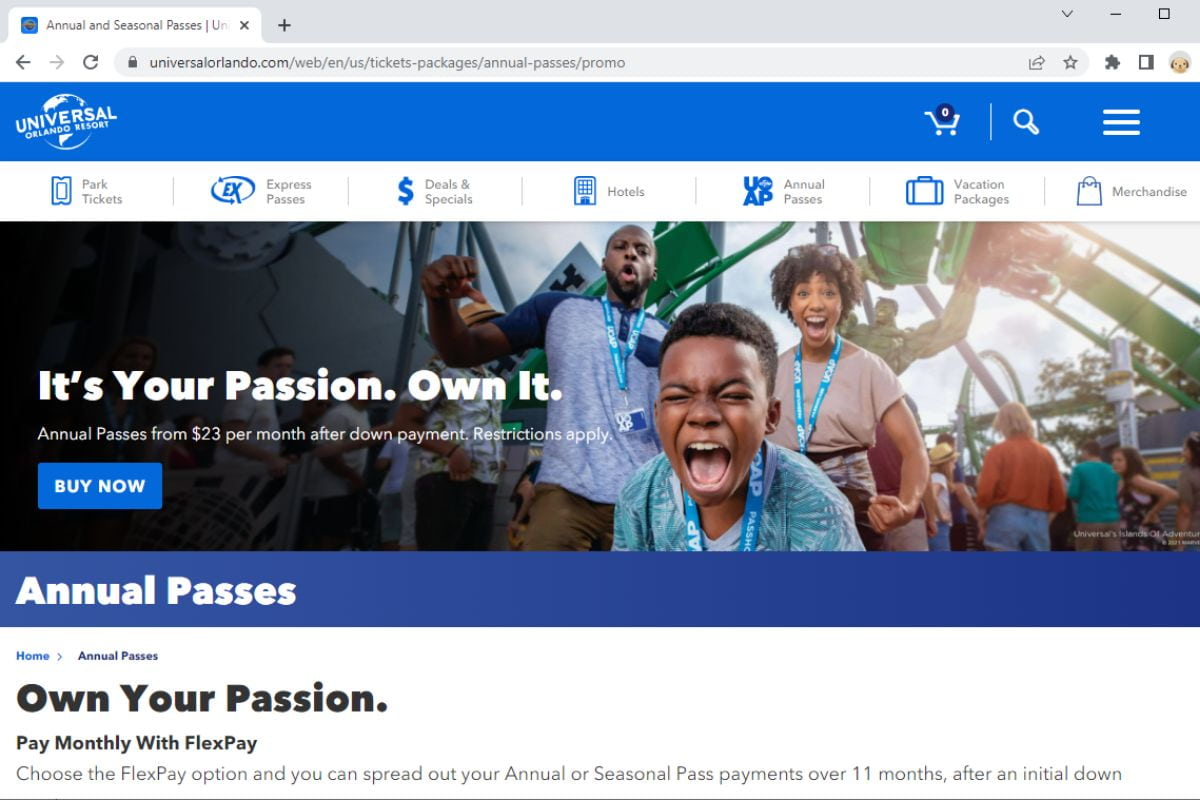 Anyone can buy a Universal Orlando Annual Pass at any time of the year.
Guests who know they'll visit the parks several times within a year should seriously consider purchasing an Annual Pass to save money on park admission and receive exclusive membership benefits.
Annual passes do not activate until the day you first use them to enter the parks, even if your first visit is weeks or months after purchase.
Once an Annual Pass has been used for the first time, Passholders are entitled to enter the parks for one year before they expire.
Occasionally, Universal Orlando offers promotional sales that include additional months for free with the purchase of an Annual Pass.
The number of months offered can vary, and no one knows in advance when the promotion will occur.
These sales are an excellent way to extend an Annual Pass at no extra cost; however, these deals sometimes come with restrictions.
For example, guests may have to activate the pass before a specific date to receive the additional time.
What Types of Passes Does Universal Orlando Have?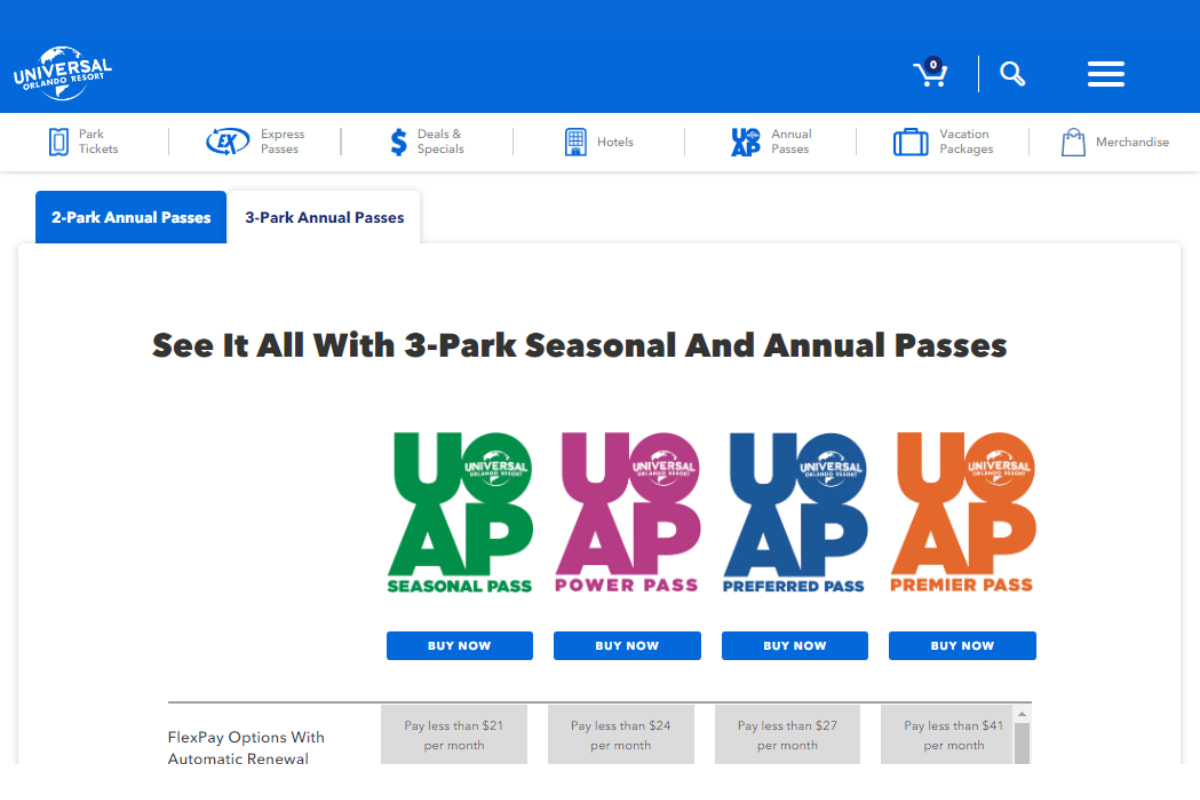 Universal Orlando has four tiers of Annual Passes, each allowing entry into two parks or three.
The four types of 2- and 3-Park Annual Passes are:
The Seasonal 2-Park Pass is the least expensive, but it comes with the fewest perks and the most blockout dates.
The other three tiers of Annual Passes have fewer (or no) blockout dates and have increasing benefits, depending on the level.
The Power Pass is the least expensive, followed by the Preferred Pass.
The Premier Pass is the Annual Pass with the most privileges and the highest price.
What are the Benefits of Each Annual Pass at Universal Orlando?
Seasonal and Annual Passes have several benefits, depending on the tier and the year.
All Passholders receive discounts at Universal Orlando Hotels and Resorts and on select theme park and special events tickets.
Annual Passholders also have Park-to-Park access and entry to the UOAP Lounge, although there are blockout dates for Seasonal and Power Passholders.
Seasonal Passes
The Seasonal Pass offers a few perks with membership, though entry during the major holidays and free access to special events are mostly blocked.
Power Annual Passes
Power Passholders receive 50% off daytime Self-Parking and can attend some concerts and events like Mardi Gras.
Guests with a Power Pass have more days to access the parks than Seasonal Passholders, but blockout dates apply during Spring Break and the Winter Holiday Season.
Preferred Annual Passes
Preferred Passholders have no blackout dates for regular admission, including Park-to-Park access between Universal Studios Florida and Islands of Adventure; however, there are some blocked dates for Early Park Admission.
Preferred members with 3-Park Passes also have blockout dates at Volcano Bay.
Self-Parking is free for Preferred Passholders after their first visit, and these members receive discounts on special event tickets, in-park food, and merchandise.
Premier Annual Passes
The Premier Pass is the top-tier pass and offers full park access every day of the year, including Park-to-Park access and Early Park Admission.
Self-Parking, Preferred Self-Parking, and Valet Parking are all free on the second visit for Premier Passholders.
In addition to the hotel discounts, special event discounts, and discounts on in-park food and merchandise, Premier Passholders also get an Express Pass after 4 PM, one free Halloween Horror Nights Ticket on select nights, and free access to the CityWalk Club.
Additional Perks of the Universal Orlando Annual Pass
One of the perks of being an Annual Passholder is access to the UOAP Passholder Lounge in Universal Studios Florida from 11 am – 4 pm daily.
Passholders can stop by the UOAP Lounge to take a break from the heat, charge their cell phones, purchase beverages, and shop for gear such as lanyards, t-shirts, and mugs.
Other exclusive benefits for Annual Passholders include invitations to Passholder Appreciation Days and offers for exclusive vacation packages.
How Much Does a Universal Orlando Annual Pass Cost?
Universal Orlando Annual Passes vary in price depending on the type, entry into two or three parks, and Florida residency status.
Florida residents always pay less to enter Universal Orlando.
When purchasing any tier of Annual Pass, guests can pay in full, or if they're purchasing a Power, Preferred, or Premier Annual Pass, they can opt for FlexPay.
With FlexPay, Passholders make a downpayment and then pay monthly until the end of the membership year.
For non-Florida residents, Seasonal Passes and Power Annual Passes cost less than the price of three visits to Universal Orlando with a 2- or 3-Park Pass.
Preferred Annual Passes cost less than three visits with a 2-Park Pass and pay for themselves after less than four visits with a 3-Park Pass.
A 2-Park Premier Annual Pass can pay for itself in less than four visits before using any of the perks, and the 3-Park Annual Pass covers its cost in less than five visits.
The extra perks offered with a Premier Annual Pass can add up quickly when purchased individually, making this the best deal for visitors who visit the parks often.
Can an Annual Pass Be Renewed?
All Annual Passes are renewable.
Seasonal Passes are renewed by paying the full cost using a credit card at the end of each membership year.
Guests who enroll in FlexPay for the Power, Preferred, or Premier Passes have a different renewal process.
With FlexPay, at the end of the first membership year, the monthly payment automatically readjusts to one-twelfth of the annual cost, and the credit card is charged accordingly.
Any Annual Pass, except for the Premier Pass, can also be upgraded to take advantage of additional perks.
To upgrade an Annual Pass, visit a concierge at the Annual Passholder Lounge at Studio Styles on Hollywood Boulevard in Universal Studios Florida.
Guests who pay in full receive a 20% discount when they renew their Annual Pass.
Conclusion
The best time to buy a Universal Orlando Annual Pass is when you realize you want to visit Universal's theme parks more than three or four times a year.
There are four tiers of Annual Passes – Seasonal, Power, Preferred, and Premier – each offering different perks and discounts.
​​Power, Preferred, and Premier Passes are eligible for FlexPay, the monthly payment option available at Universal Orlando, and passes automatically renew unless canceled.
For guests who visit Universal Orlando several times a year, all the benefits of a Premier Pass make it the best deal.