7 Best Restaurants At Islands Of Adventure in 2023
Every year, millions of people enjoy the rides and attractions at Universal's Islands of Adventure.
It is easy to spend the entire day wandering around the park, soaking up all the fun, but when it is time to eat, it can be hard to decide which restaurant to choose.
Islands of Adventure has many excellent restaurants, cafes, diners, and more, but the best-rated restaurant is Mythos Restaurant. It's an award-winning, full-service restaurant serving lunch and dinner. Compared to other park eateries, it has the most reviews with the highest overall rating. The second-best restaurant is the Three Broomsticks, which serves breakfast, lunch, and dinner.
No one wants to overspend at Islands of Adventure and suffer through poor quality food and slow service.
This article will cover the best restaurants for whatever food craving or refreshing beverage guests might want while wandering through the park.
Best Food and Drinks at Islands of Adventure
Islands of Adventure has 26 restaurants throughout the park.
Guests can choose from full-service restaurants, to-go restaurants, snack shops, drink stops, dessert places, and bars, each offering a culinary experience to fit almost any craving.
Food types include Greek food, Italian food, Classic American fare, British food, Mediterranean food, and all kinds of dessert options.
Some restaurants have vegan options, gluten-free choices, and foods that accommodate other dietary restrictions.
Best Breakfast Food at Islands of Adventure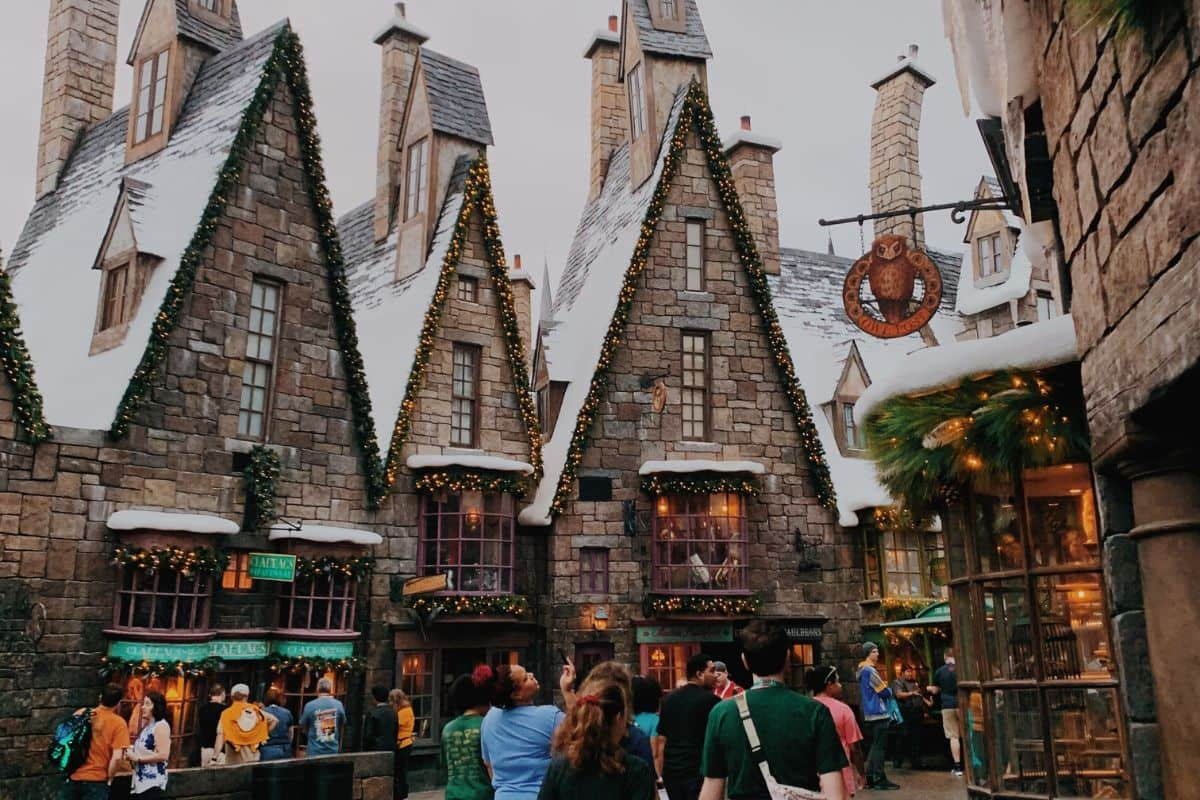 Visitors who arrive at Islands of Adventure early to get a jump on the rides and short restaurant lines can find breakfast in the park.
The best breakfast is at the Three Broomsticks in Hogsmeade.
The full English breakfast with its beans and black pudding may not be to everyone's taste, but it is delicious to those who like it.
For those who don't want to try black pudding, the classic American breakfast with either pancakes or scrambled eggs is a good alternative.
A simple Continental breakfast and even porridge (aka oatmeal) are also on the menu.
Children have the same breakfast options as adults but with smaller portion sizes.
When eating breakfast at the Three Broomsticks, try the pumpkin juice.
Regular coffee, tea, and "muggle" juices (orange and apple) are also available.
However, the best part of eating at the Three Broomsticks is not the food – it's the magical atmosphere of the restaurant.
Harry Potter fans will truly feel like they're enjoying a meal in the wizard town of Hogsmeade.
Best Lunch at Islands of Adventure
Most of the restaurants in Islands of Adventure open around 11 AM, just in time for lunch.
Many options and foods are available, and it can be challenging to make the right choice.
The best place to eat lunch is the Green Eggs & Ham Cafe in Seuss Landing.
It's easy to find because the roof is a giant green ham with a fork sticking out.
This fabulous restaurant is open for lunch and dinner, serving tater tots in various ways.
They have the Green Eggs and Ham Tots menu that will make this fun Dr. Seuss-themed restaurant a big hit.
Children and adults will be quoting their favorite lines from Dr. Seuss while enjoying these tasty taters.
In addition to green eggs and ham, tater tots come loaded with carnitas, pizza, buffalo chicken, corned beef (Who Hash), or vegan pizza toppings.
The cafe sometimes has long lines because of its popularity; however, it's worth the wait.
Best Dinner at Islands of Adventure
Visiting Islands of Adventure requires hours of walking in the Florida sun and standing in lines.
While the experience is amazing and fun, it can be tiring.
At the end of a long day, most people want to sit down in an air-conditioned restaurant and eat dinner without waiting in a long line.
The Mythos Restaurant in The Lost Continent is the best place to eat in Islands of Adventure, and visitors should make reservations in advance to be sure a table is available.
The food served here offers a selection of Greek and Mediterranean flavors to suit almost any taste and dietary requirement.
Some favorite menu items are the Grilled Lamb Meatball appetizer, the Beef Loin Medallions, and the Fork, Knife, and Spoon Grilled Cheese.
Adults can enjoy a full bar menu with wine, beer, and cocktails that pair well with the food.
The restaurant has won the award for Best Theme Park Food several times. But while the food is good, the decor inside is captivating.
Guests feel like they are within a mysterious cavern full of waterfalls and fountains.
Best Restaurant for Classic American Food at Islands of Adventure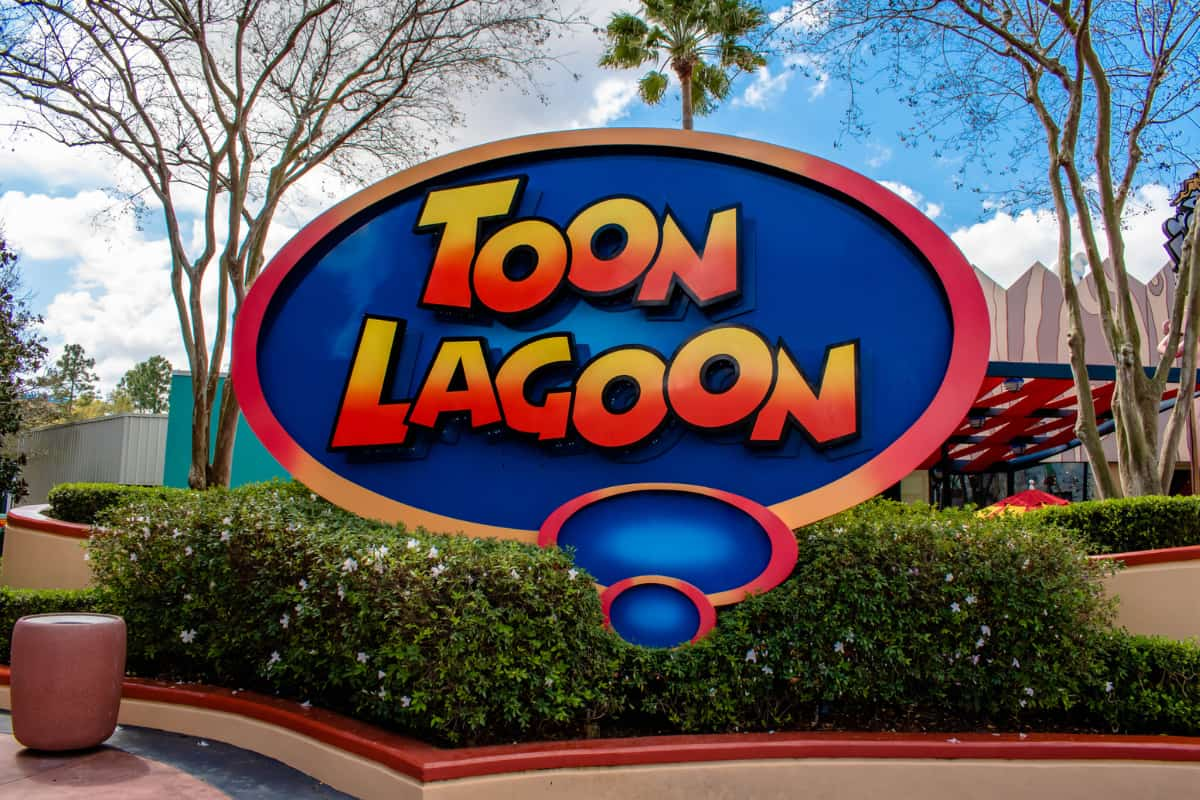 Sometimes, people just want a standard, all-American hamburger; however, not all hamburgers are created equal.
For the best burger at Islands of Adventure, head to Wimpy's in the Toon Lagoon.
Open for lunch and dinner, Wimpy's has a simple menu with only three main entrees, making it easy to choose what to eat.
The mains at Wimpy's are the Wellington Cheeseburger Platter, a Chicken Finger Platter, and a Vegan Supreme Cheeseburger Platter. Sides include curly fries or chips.
Gluten-free visitors should ask if gluten-free buns are available.
Diners at Wimpy's should be aware of one thing: the portions are big, so come hungry or ready to share. Most people love this about the place – that and the shorter wait times.
Visiting this restaurant is ideal for parkgoers who are soaking wet after riding Dudley Do-Right's Ripsaw Falls and Popeye & Bluto's Bilge-Rat Barges.
If tables are available outside, you can dry off in the sun while refueling for the next adventure.
Best Non-Alcoholic Beverage at Islands of Adventure
Most people who visit Islands of Adventure try all kinds of beverages.
It is hard to spend the day under the intense Florida sun without becoming parched and looking for something to drink.
One of the most popular non-alcoholic beverages in the park is Butterbeer.
This lovely, unique, sweet drink is found in Hogsmeade Village in The Wizarding World of Harry Potter.
Both the Three Broomsticks and the Hog's Head serve it, and if guests want a commemorative cup, they can pay a little extra and take home a nice souvenir.
Visitors can get a cool, refreshing Butterbeer fresh from the tap any day of the year; however, sometimes the Butterbeer is served differently depending on the season.
In the summer, frozen Butterbeer is available, while hot Butterbeer is served in winter.
The butterscotch and shortbread flavors are also a delicious way to experience some of the magic of Hogsmeade.
Butterbeer is an excellent beverage choice for everyone except vegans and individuals with dairy allergies.
Best Alcoholic Beverages at Islands of Adventure
Adults enjoy Islands of Adventure just as much as children, so when it's time to get a refreshing beverage, many like to have a cold beer or cocktail.
The best place to do that is at the Backwater Bar at the Port of Entry.
Located adjacent to Confisco Grille, the Backwater Bar offers adults a quiet place tucked away from the crowds.
They have a shady seating area outside the bar with some small tables, and the bartenders serve beer, wine, and just about any cocktail imaginable. One of the cocktail favorites is a spicy jalapeño margarita.
If you don't have time to sit, you can get a drink to go.
Because adult guests can consume alcohol (responsibly) throughout the park, the friendly bartenders will pour a beer, wine, or cocktail into a takeaway cup so you can continue your journey in the park.
Best Desserts at Islands of Adventure
With so many wonderful foods on offer at Islands of Adventure, it is hard to imagine eating dessert.
But anyone with a sweet tooth should save some room for the best desserts at Islands of Adventure found at the Croissant Moon Bakery.
The variety of desserts at Croissant Moon Bakery in the Port of Entry makes it difficult to choose which one to get.
Their display cases contain eclairs, danishes, tarts, cheesecakes, and pies. The cheese danishes and key lime pie are some of the favorites for returning guests.
In addition to pastries, the bakery serves breakfast, lunch, dinner, specialty coffees, beers, and wines.
For gluten-free visitors, they have gluten-free bread and a gluten-free brownie available.
The Truth Behind Dining at Islands of Adventure
An important thing to remember when visiting Islands of Adventure is that during peak park times, the crowds can be massive.
As a result, the restaurant experience may not be as great. Many people encounter long wait times, less-quality food, and grumpy staff.
When visiting during the peak times of the year, eating at a CityWalk restaurant or a restaurant that accepts reservations may be easier.
This way, you can avoid the long lines and other inconveniences that arise when you want to eat at the same time as thousands of other people.
Conclusion
Visitors to Universal's Islands of Adventure can enjoy many different food and beverage options without looking very hard.
Some restaurants have better food than others, but generally, everyone can find something they like, even if they have dietary restrictions.
For breakfast, lunch, dinner, and every meal in between, parkgoers can find fun and amazing food wherever they find themselves.