What Is The Best Park at Disney World For One Day Vacation?
Deciding which park to visit at Disney World for one day depends a lot on the interests and age group of your traveling party.
Some may wish to experience as many rides as possible while others in your group are more interested in learning about different cultures.
The best park for a one-day visit to Disney World if, for instance, you want a classic trip and the opportunity to experience the magic of the park is the Magic Kingdom. If you're into thrill rides, you should opt for Disney's Hollywood Studios.
As far as Disney's Animal Kingdom is concerned, it is great for families with young children. Lastly, we have Epcot, a theme park that is particularly ideal for adults who wish to learn about different cultures from around the world.
To make things easier for you, let's go through all four theme parks of Disney World in detail so you can understand which theme park suits you and your traveling party the most.
A Detailed Look at the Four Disney Theme Parks
Magic Kingdom
Magic Kingdom holds the distinct honor of being the most-visited theme park in the world.
This is where you get to meet your Disney characters and marvel at the sight and sound of their realm courtesy of parades, live shows, and enchanting fireworks.
What makes this park particularly suitable for young ones is the fact that most of the rides here don't have a height requirement.
As such, even the littlest of kids can truly enjoy the attractions to their heart's content.
Once there, I'm certain your child will lead you to Fantasyland, directly behind Cinderella's Castle.
In Fantasyland, you will see attractions such as Jungle Cruise, Dumbo: The Flying Elephant, and the Tomorrowland Speedway—rides all suitable for kids.
Though Magic Kingdom has been primarily designed to cater to the interests of children, it has amazing thrill rides for adults too.
Some notable examples include Space Mountain, Pirates of the Caribbean, Haunted Mansion, The Seven Dwarfs Mine Train, Big Thunder Mountain Road, and Peter Pan's Flight.
As you can deduce, this theme park has something for everyone, making it ideal for first-timers to Disney World and large families with children.
Epcot
The Experimental Prototype Community of Tomorrow, also known as Epcot in short, is exactly as its name suggests.
This theme park gives visitors a chance to experience the different cultures of the world through sight, sound, and taste.
Additionally, this place is also home to Disney's Frozen characters.
As such, Epcot offers young children a chance to meet and greet Anna & Elsa and the opportunity to truly immerse themselves into the realm of Frozen via the Frozen Ever After Ride.
Kids from ages 10 to 14 will also enjoy some of the major thrill attractions at Epcot.
Attractions such as Mission: SPACE and Test Track are guaranteed to evoke some sense of adventure in them.
However, with all things considered, I'd still classify Epcot as an adult-friendly park.
In a nutshell, Epcot is easily the best park at Disney World for elderly folks who love dabbling in other people's cultures, food, and surroundings.
Disney's Hollywood Studios
Disney's Hollywood Studios is Disney's attempt at honoring the cinematic world.
When in Hollywood Studios, you'll quickly see that everything there, from attractions, restaurants, rides, to live shoes, are a tribute to cinema.
The theme park doesn't have a dearth of thrilling rides either.
Some of the park's most popular attractions include The Twilight Zone Tower of Terror, Slinky Dog Dash, and Rock 'n' Roller Coaster Starring Aerosmith.
However, the main attraction of Hollywood Studios is its offering of the Star Wars Universe.
Once here, you can meet Kylo Ren and Chewbacca, watch plenty of fun Star Wars-themed live shows, and also enjoy the Star Wars: Galactic Nights fireworks.
And, if that weren't enough, you can also enjoy the Star Wars universe and live out your Star Wars dream through the two immersive rides, Star Wars: Rise of the Resistance and Millennium Falcon: Smugglers Run.
From what I've gathered, it seems that Disney's Hollywood Studios is perfect for fans of Disney movies, especially Star Wars, and young children who love Disney Junior.
Disney's Animal Kingdom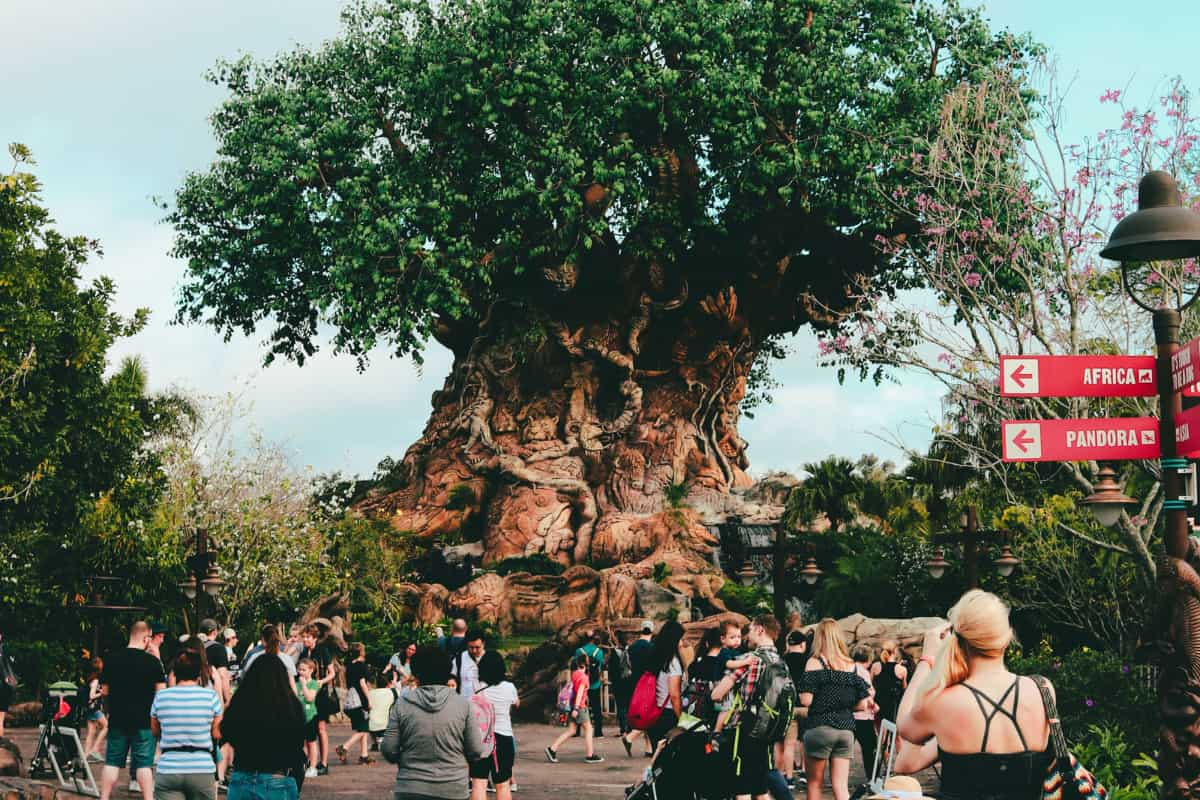 As its name indicates, Disney's Animal Kingdom puts the limelight on animals. This theme park operates similar to a zoo but on a much glorified and grander scale.
Once there, you'll notice that the theme park focuses on teaching guests about animal conservation and the places where they can find exotic animals, without making the experience dull.
You'll also see plenty of animal-themed attractions and rides. As is the case with all Disney parks, Disney's Animal Kingdom also has themed areas.
However, things are a bit different here as the themes are based on countries such as Asia and Africa instead of Disney characters.
Disney's Animal Kingdom offers you the chance to get up close and personal with tortoises, cotton-top tamarin monkeys, lions, and yellow-naped Amazon parrots, making it ideal for zoo lovers and families with young kids.
Despite being centered around animals, Animal Kingdom also boasts of shows and themes that give it the 'Disney' flavor.'
While there, you can enjoy shows based on Disney characters too such as Finding Nemo: The Big Blue….and Beyond!, and the fan-favorite, "A Celebration of Festival of the Lion King."
If all that doesn't work for you, Pandora- The World of Avatar, a themed area inspired by James Cameron's Avatar, will certainly amaze you.
Covering an area of 12 acres, the World of Avatar features two major attractions, Na'vi River Journey and Avatar Flight of Passage.
Conclusion
Now that we've reached the end of the article, let me quickly summarize the main takeaways.
Disney World, on the whole, does its best to offer something for everyone with each of its parks. However, not all parks are created the same.
As a result, a park that may be a decent choice for adults may excel as an attraction for kids.
So, it's essential to get down to the nitty-gritty to categorize the parks more appropriately.
If you're traveling with a large family and have kids with you, Disney's Animal Kingdom and Magic Kingdom will be the best park for you.
If action-packed, thrilling rides are what you're looking for, Disney's Hollywood Studios will satisfy your thirst for adventure.
However, you should understand that such fear-inducing rides make Hollywood Studios less family-friendly.
Lastly, we have Epcot, a park ideal for the family who likes to eat and learn new things about cultures worldwide.