How Far is Animal Kingdom from Magic Kingdom?
Magic Kingdom and Animal Kingdom are two of the most popular Disney World theme parks and offer very different experiences.
With a park-hopper pass, it's possible to visit both of the parks on the same day, and getting from one to the other isn't difficult.
So how far apart are Magic Kingdom and Animal Kingdom?
The two parks are located 7.3 miles apart but are connected by World Drive. Guests can drive between the lots for each park, but the monorail doesn't run to Animal Kingdom. Instead, Disney operates buses every fifteen to twenty minutes that ferry guests between the two.
Magic Kingdom to Animal Kingdom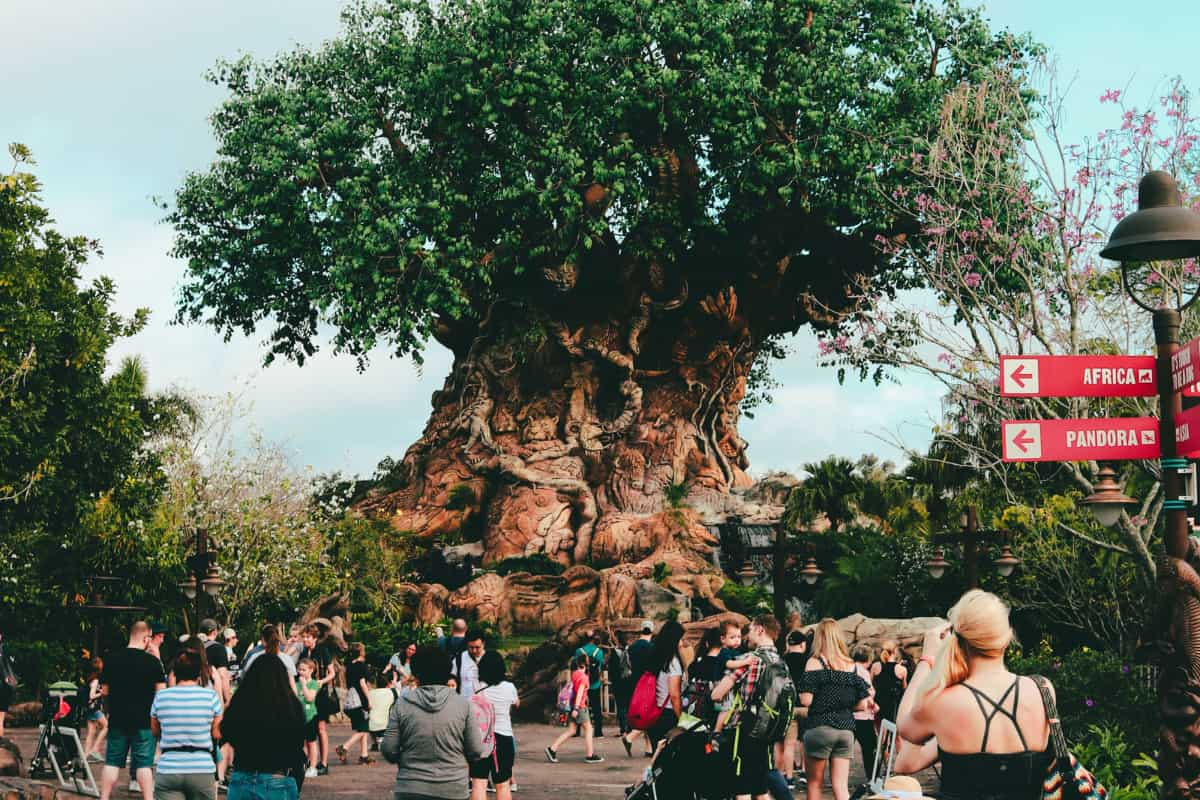 The Disney World resort is massive, encompassing huge areas of land to accommodate the four major theme parks, two water parks, several hotels, and other amenities.
Thankfully, Disney operates a few different modes of transportation around the resort, allowing guests to get around easily and spend their entire vacation on the property.
The drive between Animal Kingdom and Magic Kingdom is around 7.3 miles and typically takes 13 to 15 minutes.
This is via World Drive, the main road through the Disney resort, and takes guests from the Ticket and Transportation Center parking lot to the Animal Kingdom parking lot.
For guests who don't want to drive, the Transportation Center is the perfect place to go. Since the lot for Magic Kingdom is connected to this area, it's a good starting point for our journey.
Buses run from the Transportation Center to each of the theme parks, resort hotels, and Disney Springs.
A bus to Animal Kingdom should arrive every twenty minutes and guests will take a 15-20 minute bus ride to reach Animal Kingdom.
Unfortunately, there are no ferryboat rides to Animal Kingdom and the monorail only runs between Magic Kingdom Park, Epcot, Disney's Contemporary Resort, Disney's Grand Floridian Resort & Spa, Disney's Polynesian Village Resort, and the Transportation and Ticket Center.
Guests staying at resort hotels can catch buses from their hotel to all of the parks as a complementary part of their stay.
Disney World is incredibly easy to get around without a vehicle.
Their transportation system of boats, buses, and the monorail allow guests to get anywhere on the resort from any park or hotel.
Can You Walk Around Disney World for Free?
While admission tickets are required to enter any of the theme parks or water parks (Magic Kingdom, EPCOT, Animal Kingdom, Hollywood Studios, Blizzard Beach, and Typhoon Lagoon), the rest of the Disney resort is open to the public and doesn't require fees.
All of the resort hotels are worth a visit and you can walk around them without paying for any tickets.
Disney Springs, as well as the resort hotels, have plenty of shopping, dining, and entertainment opportunities. They should have free parking and don't charge fees to go in.
Some of the resort hotels, walkways, marinas, and "free" areas are great viewing locations for the fireworks shows at Magic Kingdom and EPCOT.
You can still get a great view of the show from outside of the parks and don't need to pay to watch them.
One important thing to remember is that most of the Disney Resort is still a natural preserve area and is not pedestrian-friendly.
While there are some amazing places to go walk around and just see what there is to see, be sure to stay in the proper areas to avoid trouble.
Which Disney Parks are Closest to Each Other?
EPCOT and Hollywood Studios are the closest Disney World theme parks and they're also the only two parks where guests can walk between the entrance gates.
The path between the EPCOT gate and the Hollywood Studios gate is a little over one mile.
Aside from those two, the parks are separated by major roadways that aren't pedestrian-friendly. Here's the driving distance between each of the parks:
Magic Kingdom to Animal Kingdom driving distance: 5.5 miles
Magic Kingdom to EPCOT driving distance: 4.0 miles
Magic Kingdom to Hollywood Studio's driving distance: 6.7 Miles
EPCOT to Hollywood Studio's driving distance: 4.3 miles
EPCOT to Animal Kingdom driving distance: 7.3 miles
Hollywood Studios to Animal Kingdom driving distance: 3.0 miles
Keep in mind that Disney World covers roughly the same land area like San Francisco.
While they make it easy to get around via transportation hubs, it isn't safe for people to walk everywhere in the resort.
Does Animal Kingdom Take a Whole Day?
Animal Kingdom has added quite a few attractions in the last few years that have taken it from a "half-a-day" park to a park worthy of your entire day.
Pandora — World of Avatar is the latest attraction at the park that brings in quite a lot of guests and tends to have the longest wait times.
The area is inspired by the Avatar movie, allowing guests to take a 3D ride across the planet, hike through floating mountains, and take in a few shows.
Some other exhilarating rides include the Kali River Rapids, Expedition Everest, and DINOSAUR.
Shows like A Bug's Life are a good change of pace to sit down for a while and are a good way to extend your day at the park.
Animal lovers will easily spend the entire day at Animal Kingdom, as the park functions not only as a theme park but are also quite a good zoo.
The Kilimanjaro Safaris is the perfect way to view animals from the African savannah. In total, 2,000 animals from over 300 species can be found at Animal Kingdom.
Conclusion
Magic Kingdom and Animal Kingdom are situated around 7.3 miles apart, front gate to front gate.
Guests can board a bus from the Ticket and Transportation Center to go from Magic Kingdom to Animal Kingdom, or take a bus to and from any of the resort hotels.
The parks are not close enough to walk between and the roadways are not safe for pedestrians.
Thankfully, both parks can be visited in a single day without needing to drive between the two!