What is the Best Age to Visit Disneyland?
Disneyland dishes out enough magic to entertain and enchant guests of all ages.
Between kid-friendly rides and play areas, thrilling attractions for teenagers, and festivals or fine dining for adults, Disneyland really does offer something for everyone.
All things considered, any age is the best age for visiting Disneyland. While Disney is known for its family-friendly atmosphere, guests at any stage of their lives can definitely enjoy their experience at the park. Disneyland's rides, attractions, shows, dining, and shopping offer magical moments for every visitor – from babies to adults and everyone in between.
This article highlights what's offered at Disneyland for different age groups and provides tips on maximizing a visit to Disney at any age.
Are Infants 12 Months and Under the Best Age Group for Disneyland?
Nothing brings more joy than seeing a baby smile, giggle, and bounce with joy.
The wide variety of approachable, colorful, and engaging characters and entertainment at Disneyland might make taking an infant under 12 months worth it.
However, while parents and older siblings will remember a family trip to Disney, the baby likely won't – they're just too little at that age to form meaningful memories of the experience.
That's not to say the infant won't enjoy themselves – Disneyland has a handful of elements that make bringing a baby to Disneyland both fun and manageable.
Firstly, babies get free admission to the park, so if their parents (or siblings) are Disney fans, it's certainly worth bringing them along.
Additionally, rental strollers are available to keep tiny parkgoers comfortable, shaded, and mobile.
The main downside to bringing a baby to the park is the extra baggage they come with, such as changing necessities and baby formula.
Luckily, Disneyland has Baby Care Centers where tired parents can take a load off and change, nurse, or feed their infants.
Are Toddlers the Best Age Group for Disneyland?
Toddlers between the ages of 2 and 3 tend to be more familiar with Disney movies and television shows, so Disneyland's characters, entertainment, and rides might be more recognizable and exciting to them.
There's little doubt that children this age will be completely awestruck by Disneyland's play areas and atmosphere.
Unfortunately, there's also the chance they'll be overwhelmed by the crowds, long lines, loud noises, and startling features.
Moreover, height restrictions at rides could also be disappointing for these younger guests.
Thankfully, guests can avoid meltdowns by downloading the Disneyland Mobile App.
This app helps parkgoers plan their itineraries by displaying show times, parade schedules, ride wait times, height requirements, intended audiences, and attraction/event descriptions.
Disneyland also has a handy Rider Switch Service if a toddler isn't tall enough for a ride their parents or siblings want to try.
Rider Switch lets one parent or guardian enjoy the ride while the other waits in line with their little one.
Once the first adult completes the ride, the other can board without going through the queue again.
Park visits are also more tolerable for toddlers if their schedules aren't overly disrupted, including nap times.
For this reason, it's a good idea for families with toddlers to stay at a Disneyland Resort hotel near the parks they're visiting.
Are Children Aged 4 to 6 the Best Age Group for Disneyland?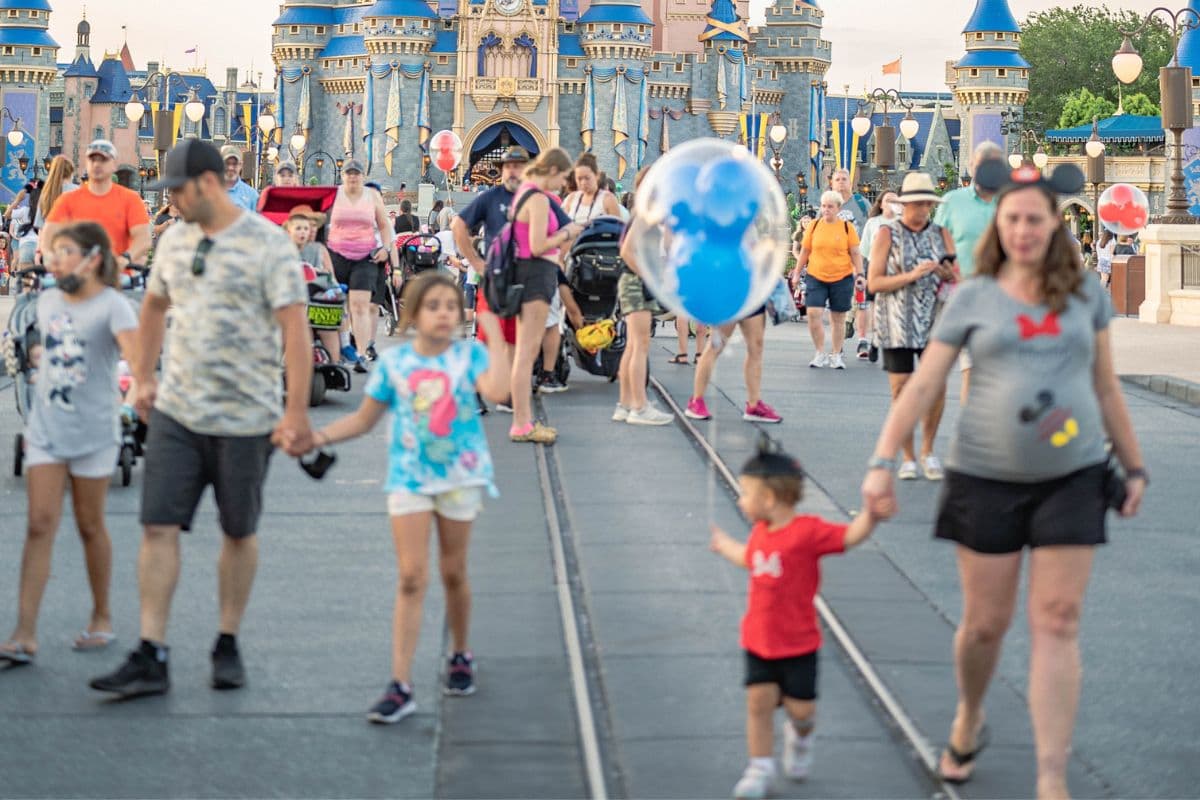 Kids ages 4 to 6 meet the milestone where magic is real, and memories are a bit more tangible.
At this age, character experiences are a must, and ride height requirements become less of a worry.
However, even if a child this age might be tall enough for most attractions, it doesn't mean some of the rides' themes won't make them uncomfortable.
Parents can take advantage of the Disneyland app to check if an attraction is appropriate for their children and ensure that everyone is aware of the ride features at hand.
Parkgoers should also be aware that this age group might be grabby when it comes to souvenirs – kids are excitable and like to bring a little Disney home with them!
To soothe a sulky shopper, parents can set expectations about how many souvenirs and how much their child can spend before getting to the parks.
Are Children and Tweens Aged 7-12 the Best Age Group for Disneyland?
Children aged 7-12 tend to have the best time at theme parks – they're still young enough to believe in the magic but are old enough to handle long days walking around and waiting in lines.
More importantly for them, kids this age and tweens are most likely tall enough (and mature enough) to ride any attraction they want.
For parents only planning to visit Disneyland once with their kids, 7 to 12-year-olds are more likely to remember the trip and treasure the memories into adulthood – meaning this age range is one of the better ones for making the most of a Disney experience.
Are Teenagers the Best Age Group for Disneyland?
Two types of kids over 12 visit Disneyland: the excited Disney fan who wants to do everything and the bored teen who would rather be anywhere else.
Trip planners will have the impossible task of determining which one their teenager will be when it's time to visit the parks.
If the teen loves all things Disney, they will likely thrive on the exciting and adrenaline-boosting aspects of the park and will love hopping on daring rides like the Incredicoaster or Guardians of the Galaxy – Mission: BREAKOUT.
The other type of teenager may be more difficult to entertain and may find the trip childish.
As a result, these kids might find more excitement inside their phones than they would in the park, and there isn't much anyone can do to make them appreciate the moment.
That said, have the teen download the Disneyland app and Play Disney Parks app – that way, they can choose the rides and activities they want to do and/or participate in the side quests available in the Play Disney app.
Is Disneyland Actually Best for Adults?
Any adult booking a trip to Disneyland is likely a Disney fan and a great guest to have at the parks.
Disneyland provides a space where grown-ups can step away from day-to-day stresses and remember what it's like to be a kid again.
They can suspend reality for a second and immerse themselves in the magic and nostalgia of a simpler time in their lives.
Adults traveling with children also get to watch their kids fall in love with the same characters, movies, and magic they once adored.
Admittedly, another perk that comes with visiting Disneyland as an adult is the opportunity to experience Disney's fine dining, food and wine festivals, and thematic adult beverage menus.
Conclusion
The best age for visiting Disneyland is any age, really – especially if parkgoers are Disney fans – however, certain guests will likely have a better, more memorable time than others.
For example, babies, toddlers, and younger children might enjoy their experience and love the enchantment of Disney, but they aren't going to remember meeting the characters or receiving their first set of Mickey ears.
In contrast, kids aged 7 to 12 are not only tall enough to ride every ride (in most cases), but they also have the stamina to explore everything Disneyland offers.
These children are more likely to immerse themselves in Disney magic and appreciate the memories they make at the parks.
At the end of the day, there's no best age to visit Disneyland, and it's only worth going if you know you and your group will have a good time.